California

Car Accident Lawyers
PAY NOTHING UPFRONT

OVER $

400

MILLION RECOVERED

ZERO-FEES UNTIL WE WIN
You May Be Entitled To Compensation

California Car Accident Lawyers with Decades of Experience and Record-Breaking Verdicts
The flourishing state of California is a hotbed for potential car accidents. Navigating 405, 101, 10, 15, 210, 57, 110, 710, 605, or the 5 on your commute is often bumper-to-bumper, with plenty of opportunities for rear-end collisions. Motorcyclists are free to lane split, running the risk for sideswipe incidents or collisions merging lanes.
Getting around downtown involves hundreds of pedestrians and bicyclists. Drivers must pay strict attention at all times. A car crash can occur in the blink of an eye. Driving anywhere in California is risky. The majority of collisions, however, are preventable. In fact, 94% of all accidents are attributable to human error.
Attention to the road, competence behind the wheel, and proper vehicle maintenance can reduce the odds of getting into a collision. Negligence, recklessness, and breaking the law are at the heart of most "accidents." Our acclaimed car accident law firm has represented clients in dozens of car crash cases.
We understand the common causes, defendants, and how to fight for compensation for collision-related injuries. Whether you suffered burns, broken bones, brain injury, a spinal cord injury, or other damages, talk to our award-winning California car accident lawyers. The road to recovery starts just a phone call away. Call (888) 488-1391 right away.
Car Accident Laws in California
In our decades of practicing California personal injury law, we've seen a wide range of car accident types and causes. We have the ability to assist you in an accident involving a road rage driver, a rear-end collision, whiplash injuries, catastrophic injury, and wrongful death.
1
No matter what the circumstances of your car crash, you have options in front of you.
Talking to a California car accident lawyer before speaking to an insurance claims adjuster can give you all the information and confidence you need during this difficult time.
2
Speaking with an attorney is often the first step in getting your medical bills paid.
Your accident may have left you with significant hospital costs, ambulance fees, surgeries, medical equipment, disability, rehabilitation, or live-in care. As the bills stack up, you might wonder when you'll receive payment for your damages. An experienced California car accident lawyer can help move your case along with insurance companies or the judicial system, resulting in quicker payment for your bills.
3
In California, you have two years from the date of your accident or discovery of injuries to bring a claim.
The sooner you call us, however, the sooner you can start the process toward receiving compensation. Reach out to an experienced car accidents attorney from California quickly to get your case moving.
After a settlement negotiation or court verdict, you will receive a check in the agreed-upon amount. Then you can focus entirely on healing from your injuries.
Our client was driving with his wife and son on a two-lane highway when a drunk driver crossed the double yellow lines, causing a head-on collision that claimed the life of a loving wife and mother.
– 
Arash Khorsandi
What To Do After a Car Accident in California (10-Step Checklist)
No one can predict a car accident, but you can prepare for one. Having a car accident checklist in your glove box can help you stay calm and organized after a car crash. It can tell you what to do and what not to do, and how best to protect your rights. When in doubt, give us a call. Keep our phone number, (888) 488-1391, in your phone or written down in case the worst occurs. You aren't alone after a serious collision. Here's what to do:
Follow this checklist and you can come away from a disastrous car accident with hope for the future. You would have protected your rights, said nothing to place blame on yourself, and sought immediate medical attention for injuries. These are actions that can help should you need to file a claim with the California civil courts to pursue damage compensation.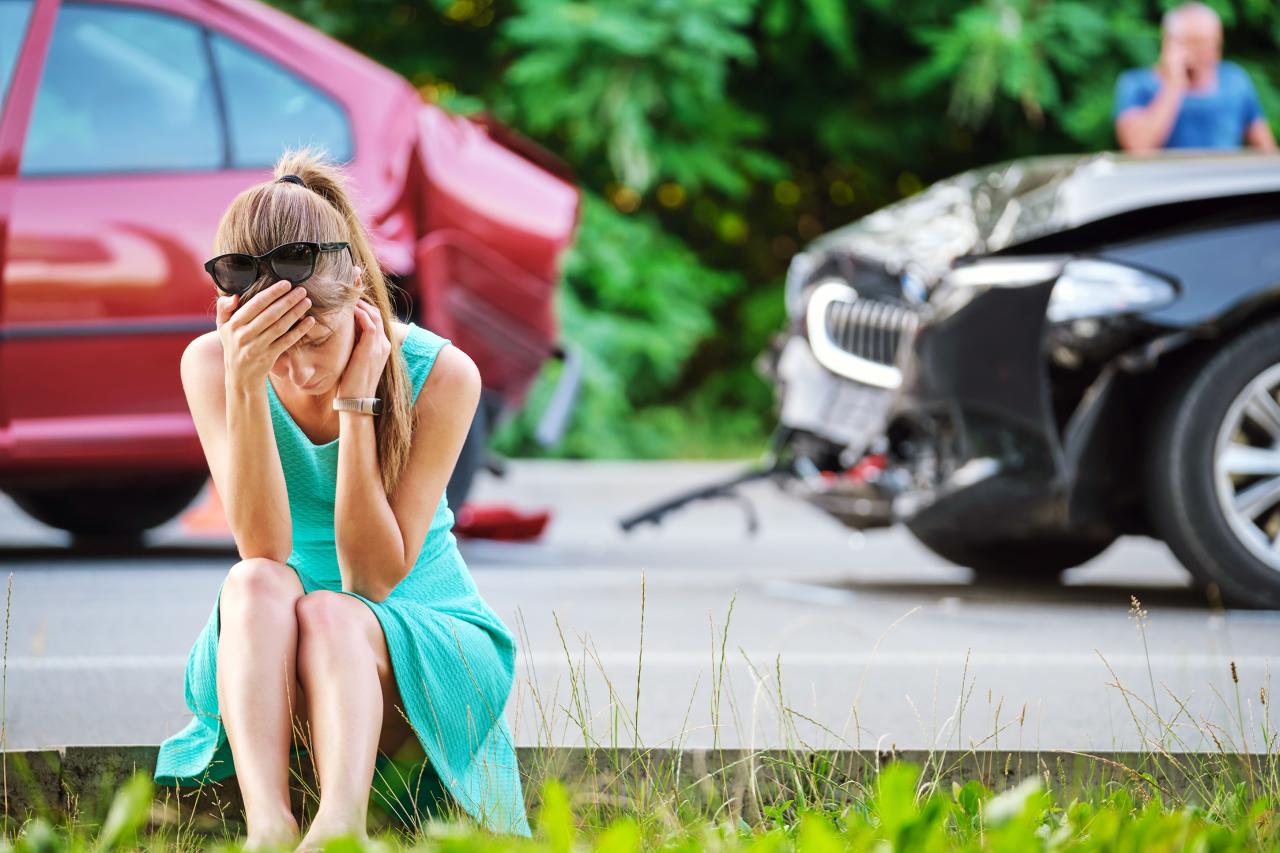 Emperatriz Ayala
My husband had an accident 2 years ago, a 85 years old man hit him, the Arash law group works very well on my husband case that took 9 month and he won the case and my husband was happy with the results. A year later I got into an accident as well and I'm still waiting in my case is almost resolving and it's 9 months already. This people knows the law and they do their job right to help you out in getting the most for you to fight on your behalf. I strongly recommend the Arash Law firm they do things right in a efficient and professional manner.

Chris Zavala
Had a great experience with all the people at Arash law. Long story short was in a bad car accident. It was overwhelming and the whole process was a lot, but they kept me in the loop. They answered all my questions and gave me great advice. Couldn't be any happier. Would definitely recommend anyone looking for a personal injury lawyer. They'll guide you through the whole process!

Jill Smith
Having Arash Law handle my auto accident was the best decision I could have made. Everyone I interacted with was kind, professional and detail oriented. I am extremely happy with the outcome and would recommend them highly.

Joseph R. Porter
From start to finish, Arash Law firm is there every step of the way with close, constant, personal contact and attention. I never knew a Law firm could actually care so much for me as a person and what I was personally going through as well as the settlement I was going to recieve once my case was finally completed. Thank you to everyone at Arash Law for your ongoing support and communication. You are the ONLY firm I will ever recommend to someone who is need of a great attorny.

Monica Parra
I had an excellent experience with Arash Law. I will definitely recommend to my family and friends. I interviewed a few firms before deciding to work with Arash Law. What made my experience excellent was (i.e. head attorney being accessible to talk to and he answered all my questions and concerns, sensitive and thorough personel who completed in home intake & follow up process, being connected immediately to quality Physicians who addressed my injuries and recovery process, clear contract-read throughly to ensure its something you can commit to). Being in a car accident is a traumatic experience and I had a sense of peace knowing Arash Firm was walking with me throughout the whole process. Thank you Arash Firm for all your hard work and help. I am so grateful and appreciative for you all! 🙏 With Gratitude, Monica Parra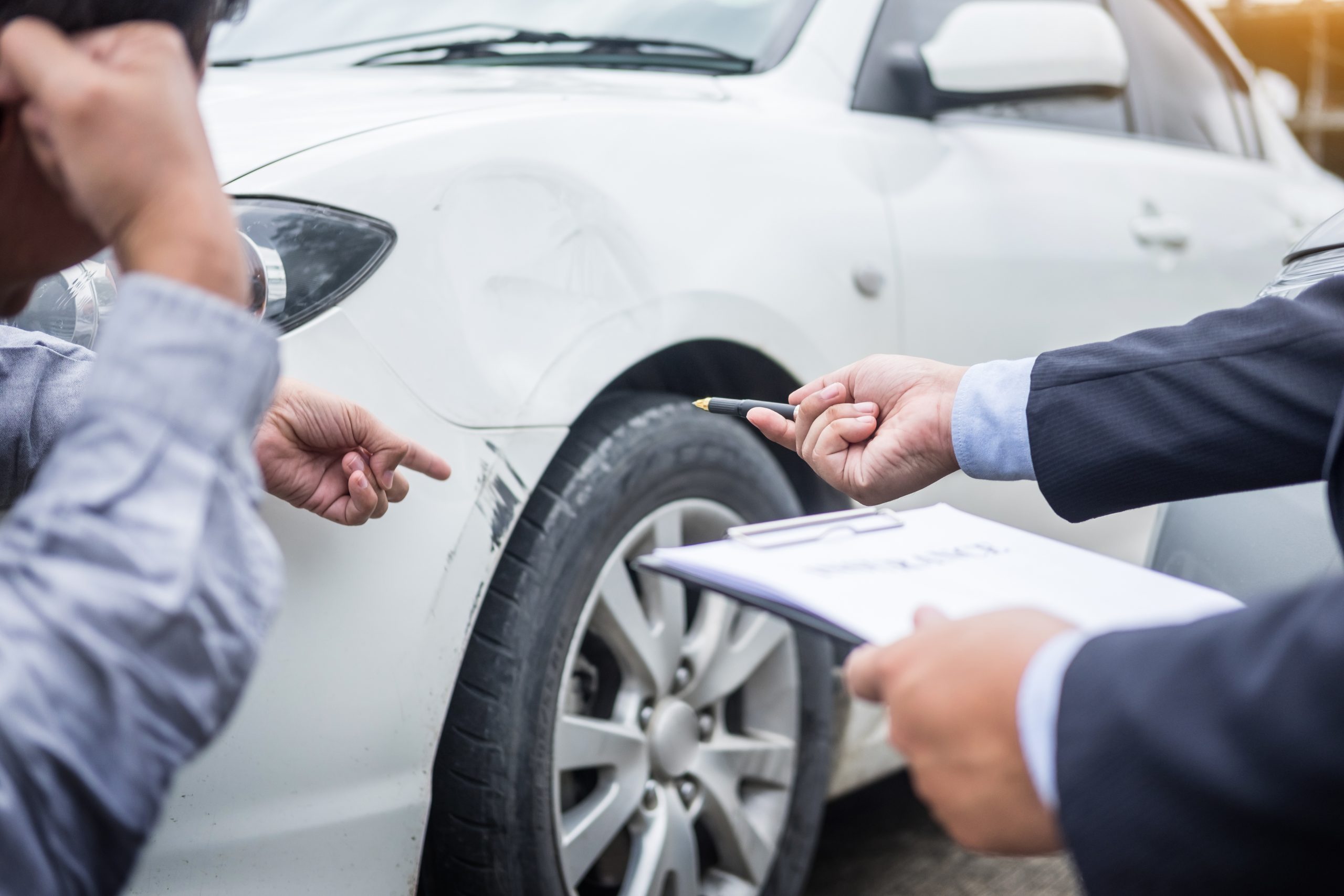 Specifically, What Information Should I Gather From the Scene of an Accident?
When driving in California, you should try to collect as much of the following information from the scene of the accident as soon as possible:
Make, model, color, year of manufacture, and license plate numbers of all the cars involved in the accident.
Name, address, phone number, license number, insurance information, and registration information of all the drivers involved.
Full name, phone number, and address of the vehicle's occupants, witnesses, and pedestrians involved in the accident.
Name, badge number, and department of the police officer who arrived at the accident scene.
The actual location of the accident.
Speak with our award-winning California car accident lawyer as quickly as you wish after a crash. We can walk you through the process from beginning to end.
What If I Get Accused of Partly Causing My Car Accident?
Since California is a 'comparative fault' state, you can collect compensation even if you played a role in the cause of the accident that you're involved in.. Though, the compensation amount that you receive gets reduced by a percentage equal to your share of liability in the vehicular accident. You can rely on our relentless trial attorneys to work vigorously to assure that liability is allocated accurately in your legal case so that you get the total compensation you deserve under the law.
Car Accident Victims Also Ask:
1
What should I do if I am a passenger in an accident?
Any time you are involved in a motor vehicle accident, your first priority should be getting to safety. Get out of the vehicle and find a safe spot on the side of the road that is far away from the flow of traffic. If you cannot leave the car, call 911 and let them know that you are trapped. They will send the proper equipment and responders right away.
Next, you need to take care of your medical needs. Let the emergency medical personnel on the scene evaluate your injuries and follow any of their recommendations. If you choose not to leave the scene in an ambulance, you should still visit an emergency department or an urgent care facility right away.
Even if you think you are not injured at all, it is always important to follow up with your primary care doctor as soon as possible. Some injuries may not start to show symptoms for days or weeks after an accident occurs. Only a qualified medical provider can determine the extent of your injuries. Whether you think you are injured or not, this documentation will be critical evidence in your personal injury claim.
Once you have addressed your medical needs, it is time to address your legal needs. Find an experienced personal injury attorney as soon as possible. Do not make any statements about the accident to the insurance company until you have retained a lawyer. Once the insurance company is notified of your attorney's contact information, they can no longer contact you regarding the accident, which will protect you from inadvertently saying something that could be detrimental to your personal injury claim.
2
After a car accident, will I have to go to court?
If your attorney files a lawsuit on your behalf, there is a chance that you might have to come to court. Before trial, there are status conferences to handle scheduling and other administrative matters. You usually will not have to speak at these conferences. If the attorneys disagree on the evidence that can be used at trial, the court might hold a hearing to determine whether the evidence can be admitted.
While this may sound overwhelming, it is essential to understand that very few personal injury cases ever go to trial. The vast majority of car accident cases in the United States settle outside of court. This fact makes it unlikely that you will have to go to court, but if you do, your attorney will thoroughly prepare you for what to expect and what will happen. 
3
How do I file a police report after my accident?
The law enforcement officers who respond to the scene have the responsibility to file a police report about the incident. This report is a critical piece of evidence. You usually can not get a police report unless the officers respond to the scene. The officers will take your statement about what happened. (While you should not discuss the accident with the other driver or bystanders on the scene, you should give your statement to the officers to be used in their official police report.) 
4
How do I file an insurance claim for my car accident?
If you have an auto accident attorney, you will not have to worry about filing a claim. Your attorney will handle the paperwork for you. He or she will also prevent you from saying something to the insurance company that could hurt your claim. If you choose to handle your case without an attorney, you will have to call the insurance company to file your claim. 
5
What happens if I can't get a fair settlement offer for my accident?
The insurance company will rarely make a fair settlement offer on the first try. Instead, they will try to lowball you with an offer that does not fully compensate you for your pain and suffering. These methods are why it is crucial to be represented by an experienced car accident lawyer. A lawyer knows how to respond to lowball offers and then prove what the claim is truly worth. 
If a fair settlement offer cannot be reached in negotiations, your lawyer might want to file a lawsuit on your behalf. In many cases, the mere fact that a lawsuit was filed is enough incentive to get the insurance company to raise its settlement offer. If not, the parties will engage in the discovery process, which involves investigating the case to find evidence that is then exchanged. Evidence found in discovery can also affect the insurance company's settlement offer. 
6
What will it cost me to hire a California car accident lawyer?
Unlike criminal defense or divorce lawyers, who charge an hourly rate, most personal injury lawyers work on contingency. Working on contingency means that they will be paid an agreed-upon percentage of any eventual settlement. If you don't get paid, the attorney doesn't get paid. If the attorney must file a lawsuit on your behalf, the work required on your case goes up dramatically. This fact is why most personal injury lawyers often take a higher percentage if a lawsuit is filed on your behalf. There will also be court costs and litigation expenses, so it is important to be clear on who will pay those fees if the case goes to trial. 
The key thing to understand is that you can hire a personal injury lawyer with no upfront fees. Some injury victims do not get representation because they are worried about the cost. Not hiring a lawyer can lead to you hurting your claim. You might say something to the insurance company that leads them to believe you were at fault for the accident. 
7
How will COVID-19 affect my car accident?
Surprisingly, the empty roads are riskier than before the pandemic caused by COVID-19. A news release by NSC shows that despite the decrease in driving and mileage of drivers, there has been an increase seen in a few places. The early data is indicating a 14 percent jump in year-over-year fatality rates per miles that were driven in March, despite an 8 percent drop in the total number of car accident deaths in March of the previous year. 
Below are the states that have seen an increase in car accident deaths with in the first 3 months of 2020.
Arkansas (16 percent)
California (8 percent)
Connecticut (42 percent)
Illinois (11 percent)
Louisiana (23 percent)
Nevada (10 percent)
New York (17 percent)
North Carolina (10 percent)
Oklahoma (9 percent)
Tennessee (6 percent)
Texas (6 percent)
The states listed below have seen decreases in the number of car accident deaths for the first three months this year.
Arizona (-4 percent)
Hawaii (-32 percent)
Idaho (-28 percent)
Iowa (-13 percent)
 Mary land (-13 percent)
Michigan (-12 percent)
Oregon (-24 percent)
South Carolina (-12 percent)
8
Does the size of my car matter in an accident?
Generally, big cars are considered safer than small cars. There are several important reasons for this. First, in a larger car versus light car crash, physics favors the more massive vehicle. Momentum is a product of mass and velocity.
Of course, large car versus small car safety is a far more complicated issue than which vehicle has more momentum in a collision. A vehicle's safety also considers its ability to withstand a crash, or even help the driver avoid an accident altogether. The driver's experience and comfort with the vehicle's features are also critical components of the safety equation.
9
Is it worth the money getting a lawyer for my car accident?
When it comes to car accidents in California, it's almost always a good idea to get a personal injury attorney. It is commonly thought that a lawyer is not needed if the accident is minor and does not cause injury. But even a fender bender that seems insignificant can turn into a major headache without a car accident lawyer.
It is estimated that speeding alone led to over 10 thousand fatalities in the United States in 2016. In 2019, 2 million Americans suffered permanent injuries from a car accident. A California personal injury attorney can help you navigate the legal mess that can be an unavoidable outcome of an accident.
Under California law, a car accident case involving speeding would be an easy case to show where negligence is indicated. California is an at-fault state, meaning whoever is at fault in a car accident bears most of the burden of responsibility, if not all of it. If you don't know this, you may try to negotiate your insurance claims. Doing this can quickly become a nightmare. 
After an accident, you'll have to deal with the police, your insurance company, maybe someone else's insurance company, and the medical field.  Sound daunting? It is! Dealing with these problems is what an experienced accident attorney can do for you.  Contact a California personal injury attorney as soon as you can after a car accident.
10
How do I find the right California car accident lawyer near me?
You could undoubtedly hire an attorney, but not just any attorney will give you the results that you deserve. It's crucial to the success of your claim to hire someone with experience and knowledge. It should not be difficult to talk to them about the specifics of your case. Look for these requirements when hiring a California car accident lawyer near you:
Most or nearly all of the clients they represent are personal injury clients, especially car accident clients
They have a minimum of 10 years' experience in personal injury law
They offer free consultations at their office or a location that is convenient for you
They listen to you, recall the details you give them, and pay attention to you when you talk
They understand the type of injuries you sustained
They take your case seriously and care about your pain, it is not just about the money for them
11
What happens if a car accident occured due to my medical condition?
In California, the law allows for what is referred to as the medical emergency defense, also known as the sudden emergency defense. This law is only applicable if the individual has an unforeseen and legitimate medical condition, and all of the following terms have been met:
The driver was not the cause of the emergency.
Someone was put in danger of injury due to a crisis that occurred.
The driver acted reasonably.
This means that for the medical emergency defense to be used after an accident, it would need to be proven that the accident was the cause of a sudden health crisis that arose. The driver at fault aced reasonably as anyone else would have done. The driver at fault would have to provide detailed medical evidence that supports their unforeseen medical emergency occurred. Not all states have the same requirements for this law, but a driver that has suffered from a sudden medical emergency will often be burdened by showing proof that the conditions above were met.
12
What are the physical effects of car accidents?
While some physical effects of a crash can be visible right away (e.g., bruises, scars, and broken bones), others may not be noticeable immediately after the accident. Sometimes, high levels of shock and adrenaline after a car accident keep us from recognizing injury symptoms and may even mask the pain for hours. That is why it is vital to seek medical attention as soon as possible after a car accident to diagnose and document all of the injuries and physical damages.
In most cases, the aftereffects of a car accident can be divided into two categories:
Cuts, lacerations, and bruises. These are some of the most common injuries after car accidents. Often, victims of car crashes suffer a cut wound due to shattered glass, broken plastic parts, and metal fragments from vehicles.
Burn injuries. Car crashes are also likely to result in burn injuries due to hot metal vehicle parts, fires, and explosions at the scene of the accident.
Tissue damage. Often, tissue damage is not immediately apparent after a collision, which is why accident victims need to go to a doctor to diagnose this type of injury.
Fractured bones. Fractured and broken bones are some of the most devastating types of injury after a car crash.
Back and spine injuries. Spinal cord and back injuries are some of the most significant effects of car accidents. Depending on the severity of the crash, a spine injury can result in temporary or permanent paralysis.
Loss of a limb. Although the loss of a limb is not a common occurrence in car accidents, it does happen in devastating crashes. Losing a limb is one of the most traumatizing and painful types of injury that can lead to many other severe complications.
Death. Car accidents are responsible for approximately 100 deaths per day, according to the National Highway Traffic Safety Administration (NHTSA).
13
What are the emotional effects of car accidents?
A severe injury can have long-term emotional effects after an accident. Some of the psychological and emotional effects following a car crash can haunt an injured victim for years or even for the rest of their life. The emotional effects of a car accident include:
Humiliation
Anxiety
Shock
Emotional distress
Depression
Fear (phobias)
Anger
Post-Traumatic Stress Disorder (PTSD)
Loss of enjoyment of life
Sleep disturbances
Behavior changes
Mental anguish
Mood swings
14
Am I liable if someone else driving my car gets into an accident?
The quick answer to this question is yes, and no. California law stipulates that car insurance follows the car, not the driver. If anyone gets into a car accident in your vehicle, your car insurance will be involved. You will be held liable at some point. However, you may not be held entirely responsible, depending on the circumstance.
15
What are the kinds of car crashes?
There are some situations where you won't have to worry if another driver gets into an accident with your car. However, what you have to worry about may be different in every situation. Here are some examples of kinds of car crashes where your liability decreases:
Stolen car
Another driver at fault for the collision
All parties are insured
16
When to see a doctor after a car accident?
If you are severely injured on the scene of an accident, it is easy to make the decision to go to the emergency department in an ambulance and get medical care right away. But it is more challenging to know what to do if your injuries don't appear to be serious. Just because you were able to walk away from a car accident doesn't mean you were not injured in the crash. It is essential to see a doctor to be sure that you did not suffer any latent injuries.
Beyond the medical concerns, there are also legal reasons to see a doctor as soon as possible. Your ability to be compensated – and the amount of compensation you receive – is determined by automated information about your injuries. While you will likely be in touch with a claims adjuster, most of the real insurance adjusting is done by a computer program that will be fed data about your accident and injuries. One crucial piece of data that could increase your odds of recovering fair compensation is whether you sought medical attention in a "reasonable" amount of time after the accident.
17
When specifically, should I see a lawyer after a car accident?
As with medical care, it is important to see a legal professional as soon as possible after an auto accident. Any statement you make on the scene or over the phone to the insurance company can be used to attack your claim. Insurance companies even go through victims' social media accounts to try to find evidence that will contradict their story, or prove that they are not in as much pain as they say they are. An experienced California personal injury attorney can help you fight these insurance company tactics. The sooner you have a lawyer fighting for you, the better protected you will be.
Of course, you must first tend to your medical needs. See a doctor as soon as possible after an accident. Follow his or her recommendations and get the necessary rest. Then, meet with an auto accident lawyer as soon as you are able. Once the insurance company is notified that you have an attorney, they are not allowed to contact you about the accident. You will not have to deal with harassing phone calls or tedious paperwork.
Let our experienced car accident attorneys handle your legal claim so that you can focus on your recovery. You don't need to wait until you are done with your medical treatment to meet with a lawyer. Sometimes, medical treatment can take months – or even years. Your legal rights are in jeopardy without a lawyer, so you do not want to wait. Find a lawyer as soon as you are medically stable and able to do so. He or she will help move your case forward while you are finishing your medical treatment.
The definition of a side-impact collision is when the front of an automobile hits the right or left side of another vehicle. The extent to which auto accident is based on the damages of the oncoming vehicle and what part of the car that vehicle collides with. Our lawyers are here to protect the victims of a side impact accident who are more likely to suffer severe physical and emotional injuries. Side impact car accidents most commonly occur in the middle of intersections due to people's failure to yield at a stop sign or red light.
Side impact automobile accidents can result in severe injuries that may require special care, in addition to expensive medical treatments, surgeries, therapies, and other injury-related care. You might incur serious debt and sacrifices to pay for these costly yet necessary health care treatments.
If you have been injured in a side-impact car accident, our side-impact collision injury lawyer in California may be able to recover compensation for your injuries, medical costs, loss of wages, pain, and suffering, and other bus accident-related expenses. WE TAKE ALL OF OUR PERSONAL INJURY CASES ON CONTINGENCY! That means we don't get paid unless you get paid! No money upfront, no hourly fees.
Arash Law and the team led by Arash Khorsandi specialize in fatal car accidents resulting in death. Family members are entitled to receive damages for wrongful death, medical bills, and other expenses. Fatal car accidents are grave tragedies that impact the lives of so many people involved. Although a wrongful death lawsuit cannot reverse your loss, it is a small step toward holding negligent people accountable.
We understand the intricacies involved with handling these severe and emotional cases, and we cater to all of our client's needs. As we take all of our personal injury cases and wrongful death cases on contingency, you do not pay for anything until and unless your case is resolved successfully. Recent fatal teenage car accidents in Los Angeles, San Bernardino, San Francisco, Riverside, Sherman Oaks, San Diego, and Sacramento, and all across California have been on the rise. We are here to help if you are a victim of one of these road traffic accidents.
Families may have to make sacrifices to pay for these costly yet necessary health care treatments. If you or a loved one has been involved in a fatal car accident contact us today. Our car accident lawyers in California may be able to recover compensation for your injuries, medical costs, loss of wages, pain, and suffering, and other road traffic accident-related expenses.
Head-On Collisions in California
The dependable attorneys from our firm are experienced in various types of head-on car collisions in California. A head-on accident is defined as the front end of any two vehicles hitting each other. These types of crashes happen mainly in a traffic light, stop sign, or blind intersections and on freeways.
Head-on crashes at intersections occur when drivers disregard traffic laws and signals, such as red lights, stop signs or yield signs. Freeway head-on collisions usually happen when drivers enter the wrong way on on-ramps or off-ramps, sometimes due to intoxication or drug use. At our law firm, our goal in a head-on collision case is to help clients in every way.
We will fight to recover the financial resources they need for lost income due to the injuries caused, medical bills, and pain and suffering. Also, we will assist with getting you the best health care, physical therapy, mental health needs. Our clients are located across all of California including Los Angeles, Orange County, San Diego, San Bernardino, Irvine, Fresno, Sacramento, Riverside, San Francisco, and San Jose.  Head-on automobile accidents are complicated cases, and we have the experience to get you the best recovery.
Rear-End Accidents in California
Arash Khorsandi and his team of California personal injury experts at Arash Law can represent you if you have been a victim of a rear-end car accident. Typically, rear-end accidents are the most common type of car accident. They also result in the most severe injuries. In a typical rear-end accident case, driver "2″ hits driver "1′s" completely stopped-car from behind, and since driver "1″ has no advance notice of getting hit, driver "1′s" injuries are usually severe and long-lasting.
This is why our California car accident lawyers and personal injury attorneys specialize in rear-end car accidents over any other type of car accident. Our personal injury professionals focus on getting you the best results for your case. We represent drivers and passengers in all claims. Not all personal injury lawyers are the same, so don't just settle before speaking directly with one of our rear-end collision or car wreck lawyers. We take all of our personal injury cases on a contingency basis.
Rear-end accidents can result in injuries such as a spinal cord injury, paralysis or head trauma.  As a result, the victim may require special care, in addition to expensive medical treatments, surgeries, therapies, and other injury-related care. If you have been injured in a rear-end car crash, our aggressive automobile accident legal team may be able to recover compensation for your injuries, medical costs, loss of wages, pain, and suffering, and other road traffic accident-related expenses.
Our law firm has represented numerous car, motorcycle, bus, and truck accidents that have taken place at an intersection. Most intersection accidents are caused by a driver who was carelessly driving or on their cell phone and not paying attention to the road. Intersection accidents could also occur when a driver is under the influence of alcohol or drugs, and/or simply speeding and passing a red light.
Intersection accidents involve extensive medical bills, pain, and suffering and at our California injury law firm specializing in accidents at street intersections, we can help the victim recover from all the damages. In cases of severe injuries, such as paralysis or head trauma, the victim may require special care, in addition to expensive medical treatments, surgeries, therapies, and other injury-related care.
Families may have to make sacrifices to pay for these costly yet necessary health care treatments. If you have been injured in an intersection accident, Our aggressive car accident legal team at Arash Law headed by Arash Khorsandi, Esq. may be able to recover compensation for your injuries, medical costs, loss of wages, pain, and suffering, and other accident-related expenses.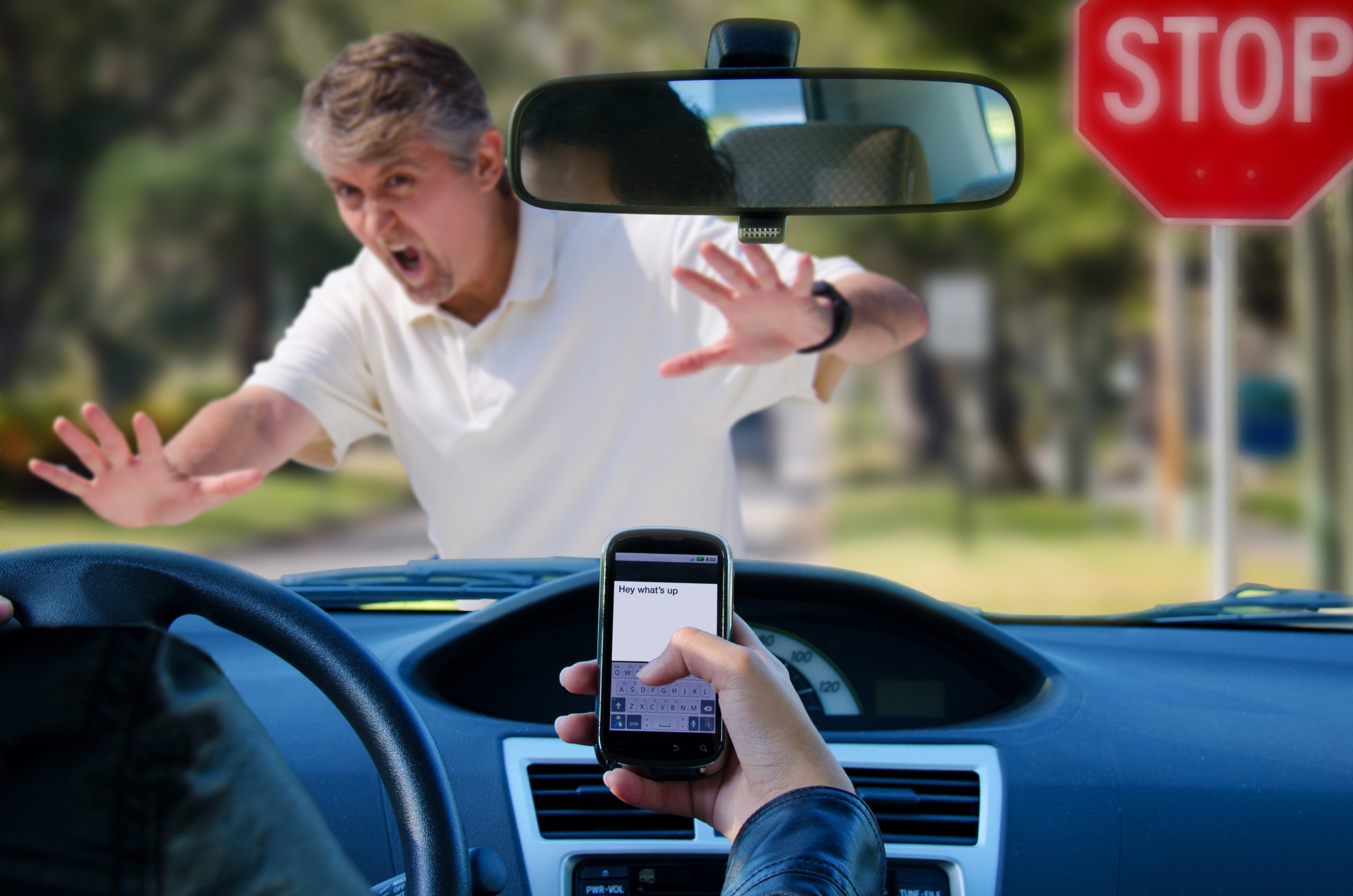 All drivers owe duties of care to everyone else on the roadway, including passengers in the vehicle, other drivers, and pedestrians. Drivers accept this responsibility when they get behind the wheel. These duties include obeying the rules of the road, driving safely, and reasonably preventing harm to others. Texting and driving is a significant breach of this duty, and can constitute negligence on a legal level. It is an unlawful act in California that can result in someone else's serious injury or death.
California Vehicle Code, Chapter 12 Section 23123.5, has three provisions regarding cell phone use:
No handheld cell phones. No driver may use a handheld cell phone while operating a vehicle to make calls or for any other reason. This law applies to all persons driving in California, whether they live in the state or not.
No hands-free cell phones for drivers under the age of 18. Drivers 18 and older may talk on hands-free devices or via speakerphone, as long as any earpieces do not cover both ears. Drivers under 18 cannot use hand-held or hands-free devices.
No texting and driving. There is a separate law that bans texting, emailing, social media, and any other use of a wireless device while driving.
The only exceptions to these laws are if the driver is making an emergency phone call, operating a vehicle on private property, or is an emergency service professional. The law does not apply to factory-installed devices within the vehicle.
Texting and driving kills! If you have reason to believe another driver was illegally using a cell phone behind the wheel, speak to an attorney. The investigative team at our firm can gather phone records for your case as evidence.
Driving under the influence (DUI) is one of the most flagrant acts of recklessness a driver can commit. Despite knowing the dangers, thousands of drivers operate their vehicles after drinking alcohol every year. According to the California Department of Motor Vehicles (DMV), 176,223 injury collisions occurred with drivers in 2015.
A total of 17,390 collisions involved alcohol, and 12,776 had drunk drivers. There were 433,231 total collisions, injuries, and non-injury. Around 3,160 of these accidents were fatal. DUI cuts thousands of lives short every year.
If an intoxicated driver caused your accident, leading to serious injuries or the death of a loved one, don't hesitate. Contact our dedicated legal team as soon as possible. Police likely conducted a breath, blood, or urine alcohol test directly following the collision, or at least a field sobriety test.
You can use this as evidence of the other driver's intoxication or inability to safely operate the vehicle. There may also be eyewitnesses that can attest to seeing the driver drinking before getting into the car, or driving erratically in the minutes leading up to the crash. You deserve to speak to a reputable California car accident lawyer and thoroughly investigate your accident.
Can Dashcam Footage Be Used As Evidence In A Car Accident Case?
Yes — the videos recorded by a dashcam can be used as evidence in the investigation of a car accident case. Keep in mind that the videos recorded can be used for the benefit of the owner of the dashcam and can also be used against them. Technology plays a big part in helping capture unprecedented incidents like car accidents. Having dash cams onboard is a great way to provide evidence in the event that you face an accident.
Dashcams encourage motorists to drive carefully on the road, therefore reducing accidents. Most of the dash cams sold today also can record audio and video from multiple angles. The dash camera can capture details you may not remember about the incident. The recorded video may contain proof of your innocence, which can help free you from the accusation.
Under California law, motorists are permitted to use a dashcam recording device in private vehicles. California laws require their installation in very precise areas on the vehicle's windshield in order to lessen obstruction. Insurance companies have long been accepting pictures taken from cell phones. Now, they are also collecting videos from dash cams to help you get an insurance settlement when proven that the other party is at fault.
On the other hand, it can also implicate you in the offense. These videos can also be used to show that you are not entirely innocent. The video can provide information if you're going above the speed limit or if you are being distracted by other factors and are not wholly focused on driving. When this is proven, the insurance company can reduce the total reward money.
Should I Really Hire a California Car Accident Lawyer to Settle My Case?
While it's technically possible to represent yourself in a car accident case, it is not the wisest course of action. Self-representation can put you at risk of making mistakes and missing your opportunity to recover for your damages. Negotiating with insurance claims adjusters is difficult and the stakes can be high. Protect your rights and your future by retaining a car accident lawyer to settle your case or take it to trial if need be. Our car accident lawyers work on a contingency-fee-basis, meaning you only pay attorneys' fees if we win you a monetary award.
If you believe you have grounds to file a claim, retain a local car accident lawyer in California near you who can help you navigate car accident laws. Arash Law founded by Arash Khorsandi, Esq. has decades of experience throughout California and has secured million-dollar settlements and verdicts for our clients. Our car accident team can investigate your crash, identify the potential defendant(s), and file your claim with the civil court system as quickly as possible. Don't delay – you're just a phone call away from learning your legal options. Call (888) 488-1391 or get in touch online to schedule a free case evaluation.