California

Pedestrian Accident Lawyers
PAY NOTHING UPFRONT

OVER $

500

MILLION RECOVERED

ZERO-FEES UNTIL WE WIN
You May Be Entitled to Compensation

Experienced California Pedestrian Accident Lawyers With a Successful Track-Record
Pedestrians are the most vulnerable to injuries on the roads of California, compared to those in motor vehicles or on bikes. If you've been injured by a vehicle while crossing the street or just walking on the sidewalk, call Arash Khorsandi, Esq. and his award-winning legal team at Arash Law at (888) 488-1391 today. Our California pedestrian accident lawyers can help you obtain the maximum compensation for injuries and deaths caused by negligent drivers under California law.
We have successfully recovered over $500 Million for personal injury victims. Our experienced lawyers have expertise and knowledge in representing California residents injured or killed in pedestrian accidents. We take the time to get to know our clients and their cases closely. This enables us to obtain the most favorable settlements or jury verdicts possible for them.
What Is A Pedestrian Injury?
Pedestrian injury refers to severe outcomes suffered by a pedestrian who was hit by a vehicle, such as the inability to speak, see, or hear, the loss of limbs, conditions like paraplegia and quadriplegia, or even death. These outcomes are the results of unexpected and violent incidents of a motor vehicle typically used on public roads and highways striking a pedestrian.
In California, statistics from the National Highway Traffic Safety Administration (NHTSA) show that pedestrian fatalities experienced a 5.7% increase, rising from 933 in 2016 to 986 in 2020. However, there was a subsequent 2.5% reduction in 2019, with pedestrian fatalities decreasing from 1,011. 
Given the situation in California, pedestrians should be aware of their rights under the law. If they were hit by a car while crossing the road, our California pedestrian accident lawyers can help them find justice for the damages and injuries they sustained. 
What Makes Pedestrian Accidents in California Different from Other Types of Accidents?
Pedestrian accidents are unlike other types because pedestrians have no protection in the case of an accident. Those riding in cars are in vehicles that weigh an average of 4,000 pounds and have seat belts and airbags to protect them. 
Even bicyclists typically have helmets to protect them. Meanwhile, pedestrians are completely defenseless and vulnerable to someone else's negligence, the circumstances in which most pedestrian accidents occur.
Injuries Suffered in Pedestrian Accidents Can Be Much Worse Than in Other Types of Accidents
Pedestrian accidents often lead to severe injuries and even death for those unlucky enough. Common injuries brought by a car hitting a pedestrian are head trauma like concussions or brain bleeds, traumatic brain injuries, and many other debilitating injuries. Many pedestrian accident injuries can result in either functional impairments or long-term conditions.
In the event of a collision, pedestrians will be severely injured since vehicles have more weight and force. Even a bicycle offers cyclists greater protection, assuming they are wearing a helmet because doing so provides some protection. Pedestrians have no protection whatsoever in the event of an accident.
Our California pedestrian accident lawyers are committed to safeguarding your rights and helping you understand the legal options at your disposal. We will be your guiding light throughout the journey as we meticulously prepare your case, whether for negotiation with insurance adjusters or a court presentation if necessary.
How to Prevent Pedestrian Accidents in California
Pedestrians need to exercise extra caution in California. This is a sad fact of living in the Golden State. While the law requires drivers to act a certain way, any Californian who walks anywhere regularly can tell you that most drivers in the state ignore the law. Of course, the driver has the responsibility not to hit someone, but a pedestrian has to take it upon themselves to cross as safely as possible.
According to the pertinent provisions of the California Vehicle Code, a driver is required to follow the following laws in the presence of pedestrians:
The driver of a vehicle must yield the right-of-way to a pedestrian crossing the roadway within any marked or unmarked crosswalk at an intersection.
A driver must not pass a car stopped at a crosswalk, as the vehicle may have stopped to allow a pedestrian to cross.
A driver must only drive on the sidewalk if entering or exiting a garage or alleyway, and even then, a driver yields to pedestrians.
A driver must not stop in a crosswalk, as this puts pedestrians who have to walk around your vehicle in danger.
1
8 Tips for Drivers to Ensure Pedestrian Safety
Remain vigilant for pedestrians in all locations and at all times.
Exercise heightened caution while driving in conditions with reduced visibility, such as nighttime or inclement weather.
Reduce your speed and be ready to come to a complete halt when making turns or entering crosswalks.
Always yield the right of way to pedestrians in crosswalks, and ensure you stop at a significant distance before the crosswalk to allow other vehicles to notice and stop, too.
Never attempt to overtake vehicles stopped at a crosswalk, as pedestrians might be crossing in areas outside your field of vision.
Never operate a vehicle under the influence of alcohol or drugs.
Adhere to designated speed limits, especially in areas with pedestrians on the road, school zones, and residential neighborhoods where children might be present.
Exercise additional caution during reversing maneuvers, actively scanning for pedestrians.
2
7 Tips for Pedestrians When Walking on The Streets of California
A pedestrian should never jaywalk when it is unsafe to do so. If a car gets in an auto accident because the driver is avoiding a jaywalker, the pedestrian could be held responsible for that accident.
Joggers or walkers should stop at every crosswalk.
Always wait for traffic before attempting to cross a road, as oncoming traffic often approaches much quicker than it appears.
Only cross at designated crosswalks and follow traffic signals when crossing intersections.
Never text while walking.
Never walk under the influence of drugs or alcohol.
Stay on the sidewalk, but if there is no sidewalk, walk facing oncoming traffic.
Even with extreme precautions when walking, accidents can never be avoided, especially when the driver is not paying attention to the road. Our California pedestrian accident lawyers will investigate and gather evidence to win your case.
Can A Pedestrian Be Blamed by A Driver for Causing An Accident?
Under a legal principle known as comparative negligence, an injured pedestrian and a negligent motorist (or another tortfeasor, the legal term for a party causing an injury to another) can both be held responsible for the same accident. The pedestrian may have contributed to the car accident in one way or another, even if the motorist bears the brunt of the responsibility.
For example, if a pedestrian ignores a "Don't Walk" signal and crosses a street while a car is speeding down the road at twice the speed limit, then both the pedestrian and the driver can be held responsible for the consequences of the accident.
In such a case, the jury would be asked to apportion fault to the pedestrian and the motorist. The pedestrian's financial recovery would then be reduced by whatever proportion of responsibility they bear in connection to the accident.
Therefore, if the pedestrian is determined to be 50% at fault in an accident where they are injured, and the negligent driver is also determined to be 50% at fault, then the pedestrian would only recover $50,000 from the $100,000 damages awarded by the jury because they were deemed to be at fault for half the damages they suffered.
If a jury deems the pedestrian to be completely responsible for the accident, then comparative negligence would not apply because the pedestrian would be considered entirely at fault. As a result, the pedestrian would not recover any damages from the motorist who hit them.
It is common for defendants to invoke the concept of comparative fault, aiming to deflect some of the blame for the damage inflicted upon the plaintiffs. If you're worried about potentially sharing some fault for the personal injury you've endured, seeking counsel from skilled California pedestrian accident lawyers will aid in safeguarding your rights and ensuring you're awarded the maximum compensation you're entitled to.
Settlement in a motor vehicle versus pedestrian accident; client, suffered facial and spinal injuries.
– 
Judd Ross Allen
How Long Can I Wait to File A Pedestrian Accident Lawsuit in California?
In California, as is the case in all states in the United States, there exists a legal concept known as the statute of limitations. The statute of limitations, often outlined in state statutes, establishes a specific timeline for you to file a lawsuit in a personal injury case, including a pedestrian accident lawsuit.
According to California law, you must file a pedestrian accident lawsuit within two years of the date of the accident. If you miss the deadline, you are precluded from pursuing a lawsuit seeking compensation for your injuries in that accident, even if your injuries were severe.
A wrongful death lawsuit in California must also be brought within two years of the date of the accident. A family member is precluded from bringing a wrongful death lawsuit if it is not filed within that time period.
9 Steps to Take Immediately After A Pedestrian Accident in California
It is tough to think clearly after being hit by a vehicle, let alone if you were injured. But what you say and do at the crash scene can significantly affect the outcome of a subsequent claim you file against the at-fault party. These tips may help you avoid doing something that could reduce the value of your personal injury claim:
Call the police as soon as the accident occurs and ensure an officer creates an accident report.
Take photos of your injuries, the accident scene, property damage, the weather conditions, the road conditions, and the vehicle that hit you.
Take pictures of the at-fault driver's license, insurance card, and license plate.
Get the names and contact information of all eyewitnesses or anyone who may have seen anything.
See a doctor or other healthcare professional immediately and tell them about every affected part of your body.
Keep a journal about your injuries and the recovery process, detailing how you feel, the treatment you receive, and what costs you pay.
Do not speak to the insurance adjuster or accept a settlement offer until you talk to an experienced lawyer.
Stay off social media and avoid posting about being in an accident or the circumstances of your accident.
Contact California pedestrian accident lawyers as soon as possible to discuss your case.
Do Pedestrians Have The Right-of-Way?
As per the California Vehicle Code section 21950, pedestrians hold the right-of-way when crossing the street at an intersection with or without a marked crosswalk. In practical terms, this mandates that drivers must slow down and give way to pedestrians, enabling them to navigate the road safely.
This rule pertains to controlled intersections equipped with traffic lights or stop signs and uncontrolled intersections without traffic control measures.
While pedestrians are not obligated to utilize crosswalks, opting for them is generally safer. However, when pedestrians opt to cross an area without a designated crosswalk, they are required to yield to vehicles that present an immediate hazard. As a pedestrian, it is essential to exercise caution and await a safe opportunity to cross.
Exceptions to California's Crosswalk Rule
Some exceptions to California's crosswalk rule permit pedestrians to cross without the presence of a crosswalk. In line with the now-repealed California Vehicle Code Section 21955, pedestrians crossing between two neighboring intersections governed by traffic lights were previously obligated to use a crosswalk.
However, as of January 1, 2023, the Freedom to Walk Act came into effect in California. This act allows pedestrians to cross without needing a crosswalk, provided it can be done safely. Still, pedestrians are required to avoid risky behavior, such as darting in front of vehicles or impeding traffic without due cause.
In cases where the pedestrian signal is inoperable or absent, pedestrians should treat the intersection as a four-way stop and proceed with caution.
What Traffic Laws Do Cars Have to Follow Regarding Crosswalks?
In California, vehicles are mandated to yield the right-of-way to pedestrians crossing the street within marked crosswalks or at intersections. When a pedestrian is in a crosswalk, cars are obligated to come to a halt and allow the pedestrian to complete their crossing before proceeding.
According to California's Vehicle Code, drivers are prohibited from needlessly obstructing intersections or crosswalks. Likewise, Section 21209 outlines that drivers must refrain from driving within a designated bike lane, with the following exceptions:
Parking in a legally designated space.
When entering or exiting the roadway.
In preparation for making a turn within 200 feet of an intersection.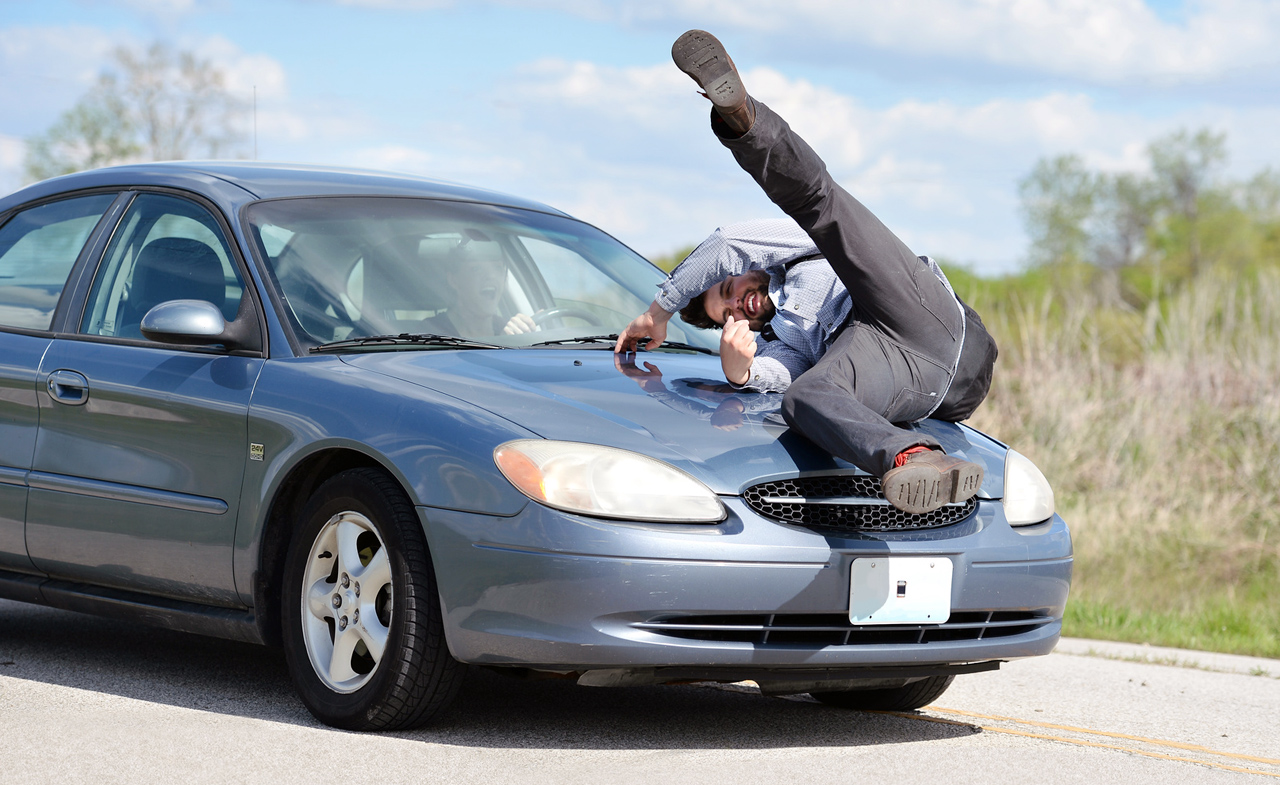 800+ Real Client Reviews Verified by Google
How Long Does It Take to Settle A Pedestrian Accident?
Every scenario presents a unique set of circumstances, leading to a varying timeline for pedestrian accident settlements. It could be anywhere from a few months to several years.
Why is there such a big difference? Well, many things affect how long it takes to reach a settlement.
The Severity of The Injuries
The resolution process is commonly put on hold until medical treatment ends. In essence, the case stays unresolved until the pedestrian achieves a state of stability, with little to no chance of further improvement. Cases involving minor injuries often see a rapid path to recovery, while situations with severe injuries can stretch the settlement timeline for years.
Negotiations with The Insurance Company
Upon the completion of your medical treatment, our California pedestrian accident lawyers are prepared for lengthy discussions and negotiations with insurance companies. This phase can be time-consuming, even when reaching an agreement on the settlement amount is straightforward and meets everyone's expectations. It's not unusual for these negotiations to take several months. If the pedestrian's claim exceeds what the insurer is prepared to shell out, the negotiation timeline naturally expands as both parties strive for a peaceful settlement.
There are certain instances where neither the pedestrian nor the driver has insurance coverage. In these situations, the pedestrian has no option but to seek compensation through legal action against the driver. Unfortunately, there may be circumstances where the driver does not have sufficient assets, significantly limiting the pedestrian's potential for substantial compensation.
Although not every pedestrian accident settlement escalates to a courtroom, there are situations where it becomes a necessity. For example, the case might progress to a full-blown trial if a peaceful settlement remains out of reach. In these instances, the process stretches beyond a simple out-of-court settlement.
Our California pedestrian accident lawyers can guide you throughout your case. We have the resources to take your case to trial. Our hands-on approach allows us to recover the maximum compensation for our clients while giving them the best client care and service available.
Why You Should Consult California Pedestrian Accident Lawyers Right Away if You Were Injured
The injuries sustained in pedestrian accidents can be catastrophic, and the cost of medical care and lost income resulting from such an accident can be excessive. The insurance company or defendant may try to coerce you into providing a recorded statement. This can be used later against you to reduce their liability or dispute your damages.
You may think you must cooperate with everything they ask you to do. However, do not take the word of the insurer. You need someone who will be by your side, advising you and fighting on your behalf.
Our California pedestrian accident lawyers will help you stay one step ahead of the insurance company and avoid mistakes that would jeopardize your claim.
Our attorneys will also investigate immediately to gather evidence while it is still available. We can handle talks with the insurance company, calculate your damages, and use proven legal strategies during settlement negotiations and potential litigation.
How We Distinguish Ourselves From Other Personal Injury Law Firms – The Results We Achieved For Pedestrian Accident Victims
Our experienced personal injury attorneys at Arash Law are different from other firms in the way we give each case careful attention and how we make them compelling with meticulous preparation. As a result of this approach, we have successfully recovered significant settlements and favorable jury verdicts for our clients, totaling $500 Million and counting.
We have access to considerable resources to conduct the most thorough investigations on behalf of our clients, whether the pedestrian accident they were injured in involves a truck, auto, motorcycle, or bike. Medical specialists are available to support diagnosis, prognosis, and, when applicable, a cause of death in cases where the cause may be in question.
An independent investigation of every California pedestrian accident is necessary to determine all the facts regarding the cause and consequences of the crash and accurately reconstruct the accident.
Furthermore, performing an extensive investigation will help us identify potential weaknesses in a client's case to determine some of the challenges that may arise moving forward. Our California pedestrian accident lawyers carefully investigate the facts and legal issues presented in each case.
What Compensation Can A Pedestrian Get if Hit by A Car?
You may ask yourself, "In a Pedestrian Accident Claim, What Compensation Can I Receive?" Our firm specializes exclusively in handling personal injury and wrongful death claims, boasting a well-deserved reputation for getting its clients the compensation they deserve.
Our trusted California pedestrian accident lawyers work hard to maximize your damage recovery while handling your case so that you can focus on improving from your accident. An injured pedestrian can recover all of the same types of damages that someone injured in a car accident or bicycle accident is entitled to recover, including:
Past and future medical expenses
Lost earnings and the loss of future earning potential
Past and future pain and suffering
Loss of enjoyment of life
Emotional distress
Loss of parental or spousal financial support
Loss of marital relations
Property damage
Incidental expenses
Other types of physical, economic, and even punitive damages resulting from the accident
Our California pedestrian accident lawyers are primed to promptly embark on a thorough inquiry, meticulously assembling crucial proofs. Moreover, we are adept at offering accurate evaluations of your losses, handling dialogues with the insurance adjusters, and effectively implementing time-tested legal strategies during negotiations and any ensuing courtroom proceedings.
Types of Cases Our California Pedestrian Accident Lawyers Handle
We have an extensive background in complex personal injury and wrongful death claims arising from pedestrian accidents. We handle various pedestrian accident claims, including:
Pedestrian accidents involving motorcycles
Pedestrian accidents involving commercial trucks or tractor-trailers
Pedestrian accidents resulting in brain injuries, spinal cord, or other serious injuries
The evidence needed to prove the liability of the offending tortfeasor will depend on the specific cause of your accident. Depending on the facts of your case, you may have grounds for a claim against the driver who hit you, the company that employs the driver who hit you, a government entity, or another party altogether. You can rest assured our attorneys will sue any party that may be responsible for your injuries.
Our California pedestrian accident lawyers have decades of experience in settlement negotiations and litigation. We know what it takes to succeed in California pedestrian accident claims. We will tailor our legal strategies to the unique circumstances of your case. Our attorneys will compile evidence, talk to eyewitnesses, and consult experts to ensure your claim is as strong as possible before we enter settlement negotiations.
If a pedestrian crash has left you overwhelmed, in a position where you are out of work, and with steep medical bills, it is vital that you do everything in your power to give your personal injury claim the best chance of success. Our California pedestrian accident lawyers at Arash Law can assist you in navigating the claim process and pursuing justice and the maximum compensation from all responsible parties.
Call (888) 488-1391 for a FREE Consultation with the Best California Pedestrian Accident Lawyers
We assist clients throughout California, including Los Angeles, Sacramento, San Francisco, Riverside, Orange County, San Jose, San Diego, Bakersfield, Fresno, Anaheim, San Luis Obispo, Santa Ana, Glendale, San Bernardino, and Visalia. We are happy to consult with you at your home, office, or anywhere in the state of CA.
We have helped our injured clients recover more than $500 Million. Our experienced California pedestrian accident lawyers at Arash Law, led by Arash Khorsandi, Esq., are available any time — day or night, 365 days per year — to answer your questions and provide expert legal guidance. Call (888) 488-1391 today to arrange a free consultation, or use our contact form to reach us online.