An auto accident is an overwhelming experience for anyone. Most injury victims are unsure of what to do after being involved in a car crash. At Arash Law, we want to help you protect your health and legal rights after any type of car accident, truck accident, bicycle accident, motorcycle accident, pedestrian accident, or other type of motor vehicle accident. Call (888) 488-1391 to schedule your free consultation with a California car accident lawyer. The sooner you get a lawyer in your corner, the sooner you will have someone fighting for your legal rights. 
When to See a Doctor After a Car Accident
If you are severely injured on the scene of an accident, it is easy to make the decision to go to the emergency department in an ambulance and get medical care right away. But it is more challenging to know what to do if your injuries don't appear to be serious. Just because you were able to walk away from a car accident doesn't mean you were not injured in the crash. It is essential to see a doctor to be sure that you did not suffer any latent injuries.
Beyond the medical concerns, there are also legal reasons to see a doctor as soon as possible. Your ability to be compensated – and the amount of compensation you receive – is determined by automated information about your injuries. While you will likely be in touch with a claims adjuster, most of the real insurance adjusting is done by a computer program that will be fed data about your accident and injuries. One crucial piece of data that could increase your odds of recovering fair compensation is whether you sought medical attention in a "reasonable" amount of time after the accident. 
This means that for insurance purposes, you have 72 hours to see a doctor before you risk a severe reduction in the compensation you receive.  But,
what if I can't see my primary care physician within 72 hours of a car accident?
There are many alternatives. First, make it clear to your doctor's staff that there has been an accident, and your need for care is urgent. If they are still unable to book an appointment, there are other options for seeing a doctor. There are many urgent care clinics in Southern California.
Why It Is Important to Get Treatment Within 72 Hours of an Accident
A common mistake people make after a vehicle accident is waiting to seek medical care. Insurance companies refer to this as a "delay in treatment," and there are two critical reasons why this is a mistake: 
You are putting your health at risk.
Some injury victims think they don't need to see a doctor. This is especially true in a less severe accident, such as a "fender bender." The fact is that even a minor accident can cause lasting pain and injuries. Health care professionals are trained to identify these "latent injuries" that might not be obvious after an accident. By identifying this type of injury, you can ensure that it is appropriately treated. You will also help ensure that the negligent driver who hit you has to pay for all the damages they caused. 
You are jeopardizing your legal right to compensation.
Claims evaluation software programs used by insurance companies automatically flag cases in which the victim had a delay in treatment. The automatic valuation is reduced to account for this, and the claims adjuster will negotiate based upon this new, lower amount. In some cases, the adjuster will try to deny a claim altogether based upon a delay in treatment. 
What If My Accident Injuries Don't Show Up Right Away?
While some injuries, such as broken bones and open wounds, may be immediately apparent after a car accident, others can take some time to show up. This does not mean you should wait to see a doctor. Seeing a medical professional right after an accident will ensure that any immediate problems are treated and identified. It will also prevent issues with accessing the compensation which the other driver's insurance company owes you. If symptoms show up later, you can always go back for follow up visits or consultations with specialists. But getting immediate treatment is the best way to protect both your health and your legal rights. 
Here are some of the most common types of latent injuries that can
develop after a car accident:
Car Accidents Can Cause Severe Concussions
A concussion is a type of traumatic brain injury (TBI). TBIs occur when the brain receives some kind of trauma. In car accidents, the head can have several points of impact. It may hit the windshield or seatback. Even if your head doesn't strike anything in the vehicle, the brain can still hit the cranium during the collision. This force is enough to cause a TBI. Because car accidents are usually at least somewhat disorienting, some patients may not realize they are experiencing concussion symptoms. These can include:
Dizziness

Confusion

Amnesia

Seeing "stars"

Momentary loss of consciousness
Nausea

Headache

Balance issues

Ringing in the ears
If you are experiencing any of these symptoms after an accident, you may have a concussion. This is a potentially life-threatening medical condition. It is essential to see a doctor. If you have already seen a doctor but did not discuss the possibility of a concussion, do not hesitate to follow up with another appointment.
Car Accidents Can Cause Serious Soft Tissue Injuries
Another issue that may develop in the days after a car accident is a soft tissue injury. These injuries affect the muscles, tendons, ligaments, and other soft tissue. They can cause terrible pain and even mobility issues if left untreated. Soft tissue injuries will not show up on an x-ray. 
7 Delayed Injury Symptoms Never to Ignore after a Car Accident
Headache —

Headaches are a common symptom to experience after a car accident. They are often harmless and resolve on their own after a couple of days. Sometimes, however, a headache is a symptom of a much more severe medical condition. Blood clots in the brain, injuries to the neck or head, and serious concussions can all be signaled by headaches.

Neck and Shoulder Pain —

Pain in the neck and shoulders is a common symptom of whiplash – one of the most common injuries sustained in a car accident. You might feel this pain right away, but sometimes, the symptoms can take days to set in. See your doctor if you begin to notice pain or stiffness around your head, neck, or shoulders. 

Back Pain —

Back pain can be a symptom of a herniated disc, a soft tissue injury, a spinal injury, a sprain, a pinched nerve, or whiplash. These conditions can become worse if they are left untreated. Pain can limit your mobility and interfere with your daily life. Do not suffer unnecessarily. Get the treatment you need for your injuries. 

Numbness —

Numbness is another common symptom of whiplash. According to the

North American Spine Society

, arm pain and heaviness can be caused by nerve compression from a herniated disc. This can also be experienced as numbness. These conditions are part of whiplash and whiplash-associated disorder

Abdominal Pain —

The trauma of a car accident can cause damage to your internal organs. Abdominal pain after a car accident can be a sign of internal bleeding. Large areas of bruising, dizziness, and fainting are also symptoms of internal bleeding. This condition can quickly become life-threatening. Timing is critical: bleeding (whether internal or external) can cause a patient to go into shock – and even die – if it is left untreated.

Post-traumatic Stress Disorder —

Post-traumatic stress disorder is a series of psychological symptoms that occur as a result of trauma. Though many may associate PTSD with combat and other dramatic situations, it is often associated with car accidents. A study reported by the

U.S. Department of Veterans Affairs

found that car accidents were the most common type of trauma suffered by men and the second most common type of trauma suffered by women. 

Behavioral Changes —

Changes in your personality or behavior could be a sign of a brain injury. Impaired thinking or memory, movement, problems with vision or hearing, depression, or personality changes are all warning signs of a brain injury. Behavioral changes can also be the result of a psychological condition such as PTSD. In either case, it is important to see a doctor as soon as possible so you can determine the cause and treat the injury. 

Never Leave Gaps in Your Medical Treatment

—

Like delays in treatment, gaps in your medical treatment can also cause problems with the insurance company. Be sure you follow through with all recommendations made by your medical providers. Doctors, chiropractors, physical therapists, and other professionals are trained to diagnose and treat your injuries properly. Speak to them about any concerns you have with your treatment.
Tips for Getting Full Reimbursement from Insurance Companies
Take detailed notes of your injuries and the medical treatment you receive. Write down the names and contact information for all medical providers you visit as a result of the accident. (This includes doctors, chiropractors, physical therapists, and other professionals you are referred to after the accident.)
Keep receipts for any medications you take (whether prescription or over-the-counter) and any assistive devices you need. This might include crutches, back braces, slings, bandages, and other medical supplies.
Maintain a journal or diary about your injuries and medical care. Be specific about everything. Include such details as your degree of pain on a scale from 1-10, the amount of sleep you are getting, and any other inconvenience you experience from your injuries.
Keep all communication you have with medical professionals about your injuries. This includes emails, notes, calendars, appointment reminders, and other documentation of your medical care.
Keep track of travel expenses for medical appointments.
When Should I See a Lawyer After a Car Accident?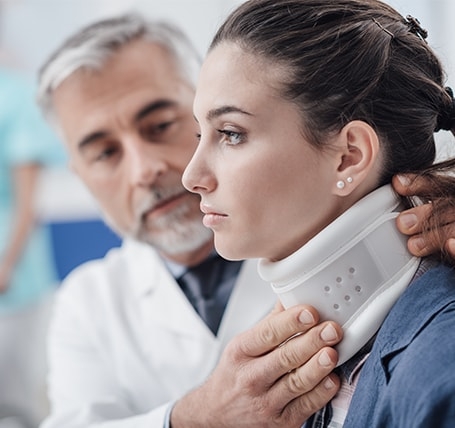 As with medical care, it is important to see a legal professional as soon as possible after an auto accident. Any statement you make on the scene or over the phone to the insurance company can be used to attack your claim. Insurance companies even go through victims' social media accounts to try to find evidence that will contradict their story, or prove that they are not in as much pain as they say they are. An experienced California personal injury attorney can help you fight these insurance company tactics. The sooner you have a lawyer fighting for you, the better protected you will be. 
Of course, you must first tend to your medical needs. See a doctor as soon as possible after an accident. Follow his or her recommendations and get the necessary rest. Then, meet with an auto accident lawyer as soon as you are able. Once the insurance company is notified that you have an attorney, they are not allowed to contact you about the accident. You will not have to deal with harassing phone calls or tedious paperwork.
Let our experienced car accident attorneys handle your legal claim so that you can focus on your recovery. You don't need to wait until you are done with your medical treatment to meet with a lawyer. Sometimes, medical treatment can take months – or even years. Your legal rights are in jeopardy without a lawyer, so you do not want to wait. Find a lawyer as soon as you are medically stable and able to do so. He or she will help move your case forward while you are finishing your medical treatment. 
Contact a California Car Accident Lawyer Today to Schedule a Free Case Evaluation
As you can see, it is important to consult with both a doctor and an attorney as soon as possible after any auto accident. Schedule your free consultation with a California auto accident lawyer by calling (888) 488-1391. The experienced car accident attorneys at Arash Law know how to fight for the fair compensation that is your legal right. We can help you find the right medical providers who know how to work with car accident victims. We will protect you from insurance company tactics and fight hard for your legal rights. 
---
The Pre-Litigation Personal Injury Claims Process