Our Beverly Hills Injury Law Firm

Doesn't Just Win,


We Win Big!
You May Be Entitled to Compensation

Beverly Hills is famed for its upscale shopping, old-world mansions, manicured gardens, and celebrity residents. As with other parts of Southern California, the city is not immune to traffic congestion. The main thoroughfares transecting the city are crowded with vehicular and pedestrian traffic, leading to car accidents that can be life-changing. Beverly Hills residents can count on our top-rated personal injury law firm during these unfortunate events to protect their rights as injured victims.
Beverly Hills, a city spanning 5.7 square miles within Los Angeles County, is home to over 32,000 individuals. Despite its relatively small size, Beverly Hills experiences a significant number of traffic accidents annually, comparable to cities three times its size. The prevalence of these incidents results from distracted tourists driving rental cars, frequently focusing on taking pictures out their windows, and the traffic jams brought on by intrusive tourist vans and buses.
Additionally, single-busy roads like Beverly Drive demand heightened alertness from drivers, as parked vehicles frequently attempt sudden maneuvers while others must abruptly brake to secure an available parking space. Consequently, this street witnesses a notable occurrence of rear-end collisions, side impacts, and even hit-and-runs.
Arash Law, headed by Arash Khorsandi, Esq., is a highly regarded law firm in Beverly Hills specializing in vehicle accidents and all forms of personal injury. Our success record in helping victims of dog bites, motorcycle accidents, and car crashes is unparalleled. Call us at (888) 488-1391 today and speak directly with our experienced attorneys.
SM v. Doe Defendant (settled on 10/14/2020) – settlement in a case involving a client who sustained a spinal cord injury and mild traumatic brain injury when he fell off a roof. The team at Arash Law secured an additional $610,000 as part of the third party settlement.
– 
TINA ESHGHIEH
IF YES, You may be able to recover financial compensation. TELL US MORE: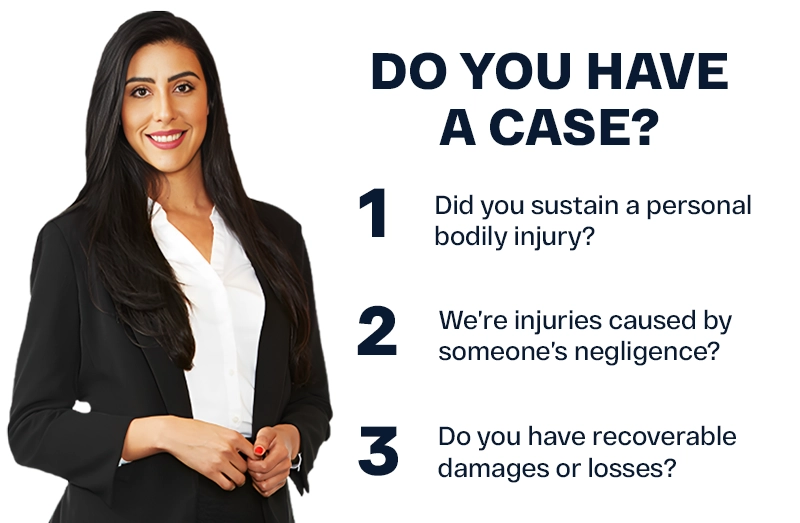 IF YES

, You may be able to recover financial compensation.

TELL US MORE:
How Long Do You Have to File a Claim?
The statute of limitations for personal injury law in California is two years from the date of the injury. This means that an individual must file a lawsuit within two years of the date of the injury to pursue a claim. A lawsuit filed outside of this two-year window will likely be barred by the statute of limitations.
It is important to note that there are some exceptions to this two-year rule, such as for victims of medical malpractice or a minor who has suffered an injury. In those cases, there may be an extension to the statute of limitations. Moreover, if the negligence of a government entity has injured a person, then the statute of limitations is only six months.
It is essential to seek legal counsel as soon as possible to determine the statute of limitations that applies to your situation.
Top-Rated Personal Injury Law Firm In Beverly Hills Handles All Types Of Accidents
In Beverly Hills, a city known for its high incidence of car accidents, numerous other unfortunate incidents also harm unsuspecting individuals. Our personal injury law firm in Beverly Hills is dedicated to safeguarding the rights of clients who have suffered injuries in the following types of accidents:
Car accidents
Bus accidents
Motorcycle accidents
Scooter accidents
Bicycle accidents
Pedestrian accidents
Hit-and-run incidents
Workplace injuries
Medical malpractice
Construction accidents
Boating accidents
Premises liability accidents
Dog bites
Fires
Product malfunctions
Whether you experience a dog bite while taking your morning stroll along Alpine Drive, sustain a fall from a construction site platform on Doheny Drive, or become a victim of a distracted driver while walking along Canon Drive on your way to a favorite restaurant, we encourage you to contact us for a comprehensive and complimentary consultation. We will assess the potential value of your case and explore the options available to seek compensation for your pain, suffering, and losses.
Personal Injury Settlement
Our client was the victim of a rear-end accident who was left injured and severely in pain. Arash Law was able to outshine other injury law firms when he searched online, and thankfully we were able to handle everything for our client from A to Z — All that he had to do was ask and focus on his recovery. Our client's life has changed forever, and the compensation received for the pain and suffering has opened paths for new lifelong opportunities.
Personal Injury Settlement
Our client was the victim of a rear-end accident who was left injured and severely in pain. Arash Law was able to outshine other injury law firms when he searched online, and thankfully we were able to handle everything for our client from A to Z — All that he had to do was ask and focus on his recovery. Our client's life has changed forever, and the compensation received for the pain and suffering has opened paths for new lifelong opportunities.
Beverly Hills Personal Injury Law Firm: Handling Various Types Of Injuries
With Arash Khorsandi, Esq., leading our team, the lawyers at Arash Law possess extensive experience defending the rights of individuals who have suffered a wide range of injuries. Various factors contribute to the severity and specific consequences of injuries resulting from motor vehicle accidents, slip-and-falls, and other types of accidents.
For instance, a dog bite can result in a superficial yet painful laceration, leaving behind a noticeable scar, or it can lead to profound damage to deep tissues and permanent nerve impairment, significantly impacting an individual's ability to provide for their family.
Here are some common injuries experienced by victims:
Broken bones
Burns
Lacerations
Back and neck injuries
Whiplash
Paraplegia
Quadriplegia
Vision impairments
Catastrophic injuries
Orthopedic injuries
Our team is well-equipped to handle cases involving these injuries and more. We are dedicated to fighting for our clients' rights and ensuring they receive the compensation they deserve for their pain, suffering, and losses.
Don't Settle For Less: Recover All The Damages You're Entitled To After An Injury Claim
What are economic and non-economic damages, and how can you qualify for them? Economic damages are designed for accident victims who have experienced monetary losses, while non-economic damages are intended for those who have suffered physical or mental injuries. It is possible to qualify for either or both types of damages.
Economic damages encompass various forms of financial harm, including:
Medical Expenses: If your injuries require medical attention from a doctor or other healthcare professional.
Miscellaneous Expenses: If you had to hire external services, such as a landscaping company, to handle tasks that you would typically manage yourself.
Lost Wages: If you were unable to work or had reduced work hours while recovering from your injuries.
Reduced Earning Capacity: If your ability to earn a living has been permanently diminished, achieving the same level of productivity is more challenging.
Non-economic damages encompass various forms of physical and mental harm, including:
Pain And Suffering: If you have endured physical and psychological distress due to the accident.
Scarring: If your appearance and range of motion have been affected by accident scars.
Lost Quality Of Life: If you can no longer live as you did previously and require assistance from others for activities such as bathing, dressing, cooking, cleaning, etc.
Disability: If you have lost one or more body parts, such as a limb or organ.
Protect Your Rights: Proving Personal Injury Claim In Beverly Hills
The defendant in your claim owes you a duty of care: You must identify the defendant and demonstrate the reasonable care and caution they were expected to uphold in the specific situation that led to your injury. For example, drivers in California have a duty of care to avoid driving under the influence of drugs or alcohol.
The defendant breached their duty of care: You must prove how the defendant violated their duty of care through a specific action or inaction. For instance, if a driver were using a cell phone while operating a vehicle, it would be considered a breach of their duty of care to drive attentively.
The defendant's actions directly caused damages: To file a personal injury claim, the defendant must be held responsible for measurable losses. Your attorney can assist you in calculating these damages and including them in your claim.
The plaintiff's damages solely resulted from the defendant's breach of duty: It is crucial to establish a clear causation link between the alleged breach of duty by the defendant and the damages you have suffered, ruling out alternative causes.
Meeting these requirements increases the chances of success in a personal injury claim. Our personal injury law firm in Beverly Hills is dedicated to helping you gather physical evidence from the accident location, obtain eyewitness statements, and consult with expert witnesses when necessary. For example, if your case involves a car accident, an experienced accident reconstruction expert can provide valuable assistance in demonstrating precisely how the incident unfolded.
Proven Ways to Build a Stronger Personal Injury Claim in Beverly Hills
In the event of an injury, it is imperative to take appropriate actions to hold responsible parties accountable, as they may attempt to deny their involvement in the accident. To strengthen your claim in Beverly Hills, there are certain steps that you should take. These include:
1
Seek Immediate Medical Attention
It's critical to prioritize your health and well-being. Seek medical treatment as soon as possible after the incident, even if you initially believe your injuries are minor. Prompt medical attention ensures your well-being and creates a record of your injuries that can be used as evidence in your claim.
Preserve any evidence related to the accident or incident that caused your injury. This may include photographs of the accident scene, damage to vehicles or property, or any other relevant evidence. If applicable, obtain witness statements and contact information.
3
Document Your Injuries And Damages
Keep a record of all medical treatments, medications, and therapies you receive as a result of your injuries. Take photographs of visible injuries and keep a journal detailing the impact of the injuries on your daily life, including pain, emotional distress, and any limitations you experience.
Report the incident to the relevant authorities, such as the police or the property owner, depending on the nature of the incident. Obtain a copy of any incident reports or documentation.
5
Consult With A Personal Injury Attorney
Reach out to the top-rated personal injury law firm Beverly Hills has to offer. Experienced attorneys can guide you, assess your claim's strength, and help navigate the legal process. They can help gather evidence, interview witnesses, and negotiate with insurance companies on your behalf.
6
Follow Medical Advice and Treatment
It is essential to follow the prescribed medical treatment and attend all appointments. Non-compliance with medical advice can weaken your claim, as it may be argued that you did not take reasonable steps to mitigate your damages.
7
Avoid Discussing The Case With Others
Refrain from discussing the details of your case with anyone other than your attorney. Statements made to others, especially on social media, can be used against you during the claims process.
8
Cooperate With The Investigation
Be responsive and cooperative with your lawyer and any investigators involved in your case. Provide them with all relevant information and documentation, as requested.
By taking these steps, you can strengthen your personal injury claim in Beverly Hills, CA, and improve your chances of achieving a favorable outcome.
Get The Best Legal Representation In Beverly Hills, CA - Contact Us Today!
Our personal injury law firm in Beverly Hills operates on a contingent fee basis. This means you won't have to pay legal fees unless your case is won. The fee, typically around 33 percent of the net settlement, allows injured individuals to seek fair compensation without worrying about upfront costs. The specific fee arrangement will be discussed and included in the agreement at the start of your case.
We are a highly reputable and successful injury law firm in California, including Beverly Hills, boasting a legal team of over 50 professionals dedicated to providing exceptional customer service and delivering outstanding results. Our Beverly Hills injury law firm's accomplished trial attorneys have a proven track record of securing multimillion-dollar verdicts and settlements in cases involving catastrophic injuries and wrongful deaths.
Every year, renowned industry leaders and reputable lawyer associations recognize and honor Arash Law under the leadership of Arash Khorsandi, Esq. These accolades highlight our consistent success in winning cases, including being honored as Premier Lawyer of America's Top 40 Under 40 in 2019.
Get The Latest News from

The Best California Accident Law Firm Today