California

Slip and Fall Accident Injury Lawyers
PAY NOTHING UPFRONT

OVER $

400

MILLION RECOVERED

ZERO-FEES UNTIL WE WIN
You May Be Entitled To Compensation

Slip and Fall Accident Lawyers in California with an A+ Rating
You probably don't give slip and fall accidents a great deal of thought. The fact is, however, that slip and falls are often dangerous accidents that can lead to severe injuries. When you slip and fall in a store, restaurant, or other public places, you may be inclined to blame your clumsiness and quietly sneak away in embarrassment. If someone else's negligence led to the dangerous conditions that caused you to slip, fall, and be injured, however, you need the professional legal guidance of an experienced California slip and fall lawyer.
Often, slip and fall accidents are caused by a slippery common area, by a debris-strewn walkway, by a spilled liquid, or by the dangerous effects of inclement weather that aren't adequately cleared away. When you enter a store or restaurant as a guest, you expect to be reasonably safe on the premises.
If, on the other hand, you are injured in a slip and fall, it is likely to not only be painful and upsetting but also to be expensive in terms of medical costs and lost time on the job. Our dedicated and experienced California slip and fall accident lawyer has the skill, commitment, and determination to fight for your rights and your claim's best possible resolution.
What Are "Slip and Fall" Accidents?
As the name implies, a slip and fall is an accident in which a person slips on something in his or her path and falls in the process. The fact is that falls can cause serious injuries, and such accidents should never be discredited. Often, slip, and falls happen in the stores we shop in, in the restaurants we frequent, or in their attendant parking lots. When you are on foot and heading into a store from your vehicle or in a store or restaurant, you probably aren't overly concerned about your safety because, after all, you are a welcome guest in a public space. Slip and fall accidents, however, are not uncommon.
8 Common Causes of Slip and Fall Accidents:
Walkways, entryways, sidewalks, aisles, or corridors that are uneven, cracked, broken, or crooked
Common areas of stores or restaurants that have precarious, haphazard, poorly placed or otherwise dangerous advertisements, displays, shelving, seating, or other obstacles
Wet, slippery, or oily walking surfaces
Flooring or carpeting that is rough, frayed, torn, worn, or bunched
Spills and debris that are a regular part of a business's routine but that aren't adequately tended to
Inadequate, and thus dangerous, lighting
Slippery weather conditions that are tracked inside, including ice, rain, snow, or leaves
Outside walkways that aren't cleared of ice, snow, leaves, and debris
Every slip and fall accident is unique to its own set of circumstances. When stores and restaurants, however, don't make the necessary effort to keep their customers safe, they increase the chances that a slip and fall will occur. For example, failing to put up a warning sign when there is a slipping hazard afoot can make a slip and fall that much more likely.
Top 5 California Slip and Fall Statistics
Injuries caused by slip and fall accidents are probably a lot more common than you realize. The Centers for Disease Control and Prevention shares a variety of important related statistics:
One out of every five falls leads to a serious injury like a broken bone or head injury.
More than 800,000 people are hospitalized every year as a result of falls, and most of these hospitalizations involve a head injury or a hip fracture.
Over 95 percent of hip fractures are the result of falls (usually falls to the side).
The most common causes of traumatic brain injuries are falls.
The total medical cost associated with falls in 2015 was over $50 billion.
These statistics should be enough to convince anyone that slip and fall accidents are exceedingly dangerous. If you've slipped and fallen, don't let your misplaced embarrassment prevent you from obtaining the medical treatment you need. Remember that early diagnosis is closely associated with improved prognosis, so take your accident seriously and seek immediate medical attention.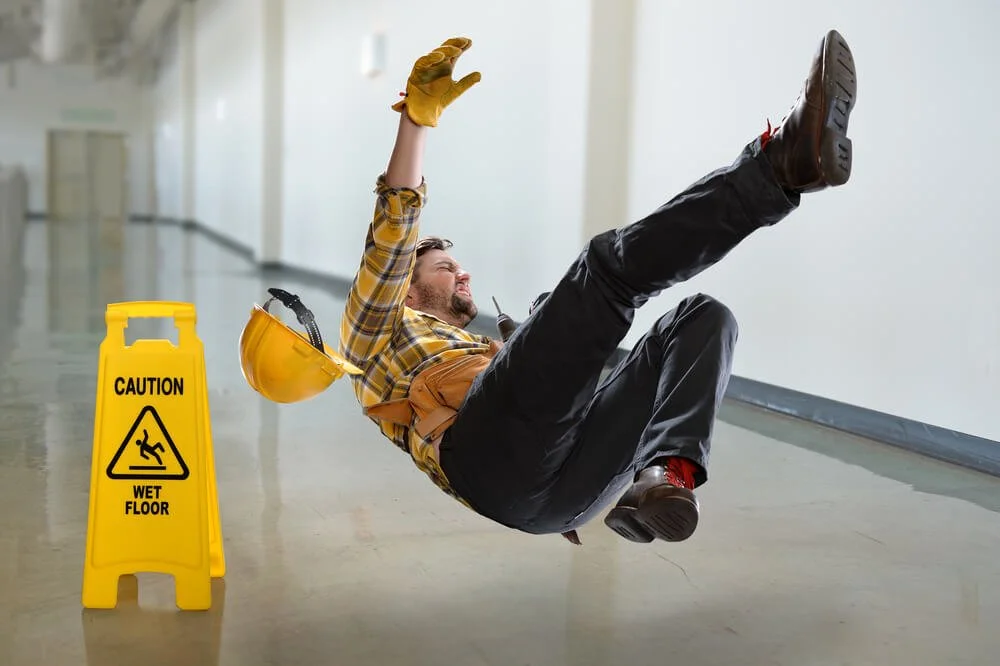 Emperatriz Ayala
My husband had an accident 2 years ago, a 85 years old man hit him, the Arash law group works very well on my husband case that took 9 month and he won the case and my husband was happy with the results. A year later I got into an accident as well and I'm still waiting in my case is almost resolving and it's 9 months already. This people knows the law and they do their job right to help you out in getting the most for you to fight on your behalf. I strongly recommend the Arash Law firm they do things right in a efficient and professional manner.

Chris Zavala
Had a great experience with all the people at Arash law. Long story short was in a bad car accident. It was overwhelming and the whole process was a lot, but they kept me in the loop. They answered all my questions and gave me great advice. Couldn't be any happier. Would definitely recommend anyone looking for a personal injury lawyer. They'll guide you through the whole process!

Jill Smith
Having Arash Law handle my auto accident was the best decision I could have made. Everyone I interacted with was kind, professional and detail oriented. I am extremely happy with the outcome and would recommend them highly.

Joseph R. Porter
From start to finish, Arash Law firm is there every step of the way with close, constant, personal contact and attention. I never knew a Law firm could actually care so much for me as a person and what I was personally going through as well as the settlement I was going to recieve once my case was finally completed. Thank you to everyone at Arash Law for your ongoing support and communication. You are the ONLY firm I will ever recommend to someone who is need of a great attorny.

Monica Parra
I had an excellent experience with Arash Law. I will definitely recommend to my family and friends. I interviewed a few firms before deciding to work with Arash Law. What made my experience excellent was (i.e. head attorney being accessible to talk to and he answered all my questions and concerns, sensitive and thorough personel who completed in home intake & follow up process, being connected immediately to quality Physicians who addressed my injuries and recovery process, clear contract-read throughly to ensure its something you can commit to). Being in a car accident is a traumatic experience and I had a sense of peace knowing Arash Firm was walking with me throughout the whole process. Thank you Arash Firm for all your hard work and help. I am so grateful and appreciative for you all! 🙏 With Gratitude, Monica Parra
Where Do Slip & Falls Typically Occur?
If a slip and fall accident occurs on a commercial property, the property owner, the business owner or manager, and/or an employee thereof may be found responsible for the accident if one of several conditions is met:
He or she created the dangerous condition that caused you to slip, fall, and injure yourself.
He or she recognized the danger inherent to the condition but did nothing to rectify the situation.
He or she failed to take care of the problem even though a reasonable person should have known about the dangerous condition and should have taken care of it before allowing someone to get hurt.
In other words, if someone responsible for the business in question caused or ignored the danger that left you injured or if he or she would be expected – as a reasonable person – to have recognized said danger and yet to have ignored it, that person could be found responsible for the damages you've incurred.
If an injury causing slip and fall accident occurs on residential property, the property owner or landlord may be found responsible if certain conditions are met:
He or she knew or should have known about the lurking danger.
He or she could have repaired or rectified the dangerous situation.
He or she should have known that, if the dangerous situation wasn't taken care of, an accident was foreseeable.
He or she failed to take care of the dangerous situation, and you were injured as a result.
Slip and fall accidents that occur on government property raise separate issues of their own and come with their own unique rules and regulations. If a slip and fall accident on government property leaves you injured, you need an experienced California slip and fall accident lawyer on your side.
Settlement in a slip and fall case versus Jiffy Lube; client suffered spinal injuries.
– 
Judd Ross Allen
Common Injuries Suffered After a Slip and Fall
While a slip and fall accident can cause almost any type of injury, there are several kinds of serious injuries that are most common to these dangerous accidents:
Broken Bones

A broken bone is an exceedingly painful injury that is slow to heal. Further, broken bones don't always heal properly, and a poorly healed broken bone can lead to ongoing pain and can become a permanent disability. The medical costs coupled with the lost wages associated with a broken bone can be astronomical. Never underestimate the seriousness of a broken bone.

Spinal Cord Injuries

A spinal cord injury is an injury to the discs, vertebrae, and/or ligaments that comprise your spinal cord. Spinal cord injuries often go undetected until they develop into something more serious and more difficult to treat. If you've been in a slip and fall accident, it's vital to seek immediate medical attention in order to rule out a spinal cord injury. Your spinal cord works in conjunction with your brain to make up your body's command center, and as such, a serious injury to your spinal cord can leave you with partial or complete paralysis. Spinal cord injuries often take an extreme physical, emotional, and financial toll.

Traumatic Brain Injuries

Traumatic brain injuries (TBIs) are typically caused by a blunt force to the head, such as can happen in a slip and fall accident. TBIs are incredibly unpredictable, and it's important to understand that any injury to your brain can have overarching negative financial, physical and emotional consequences. Some people describe the effects of TBIs as altering their personal sense of one's self, which is difficult to both quantify and to overcome.

Soft Tissue Injuries

Injuries to soft tissues, such as a tear in your ligament or a sprain, are often asymptomatic at the scene of an accident. If left untreated, however, such injuries can lead to chronic pain; seek immediate medical attention.

Cuts and Abrasions

Cuts and abrasions are common to slip and fall accidents, and seeking appropriate treatment to avoid dangerous infections is critical. Further, to heal properly, cuts sometimes require stitches. Cuts and abrasions that are left untreated are known to cause infections and disfiguring scarring.
You can suffer nearly any kind of serious injury in a slip and fall accident. If you've taken such a fall, it is in your best interest and in the best interest of your claim to seek immediate medical attention. Even if you don't think you've been seriously injured in the slip and fall, it's important to remember that injuries can hide in plain sight – until they develop into much more severe problems that are far more difficult and costly to treat.
California Personal Injury Law Pertaining To Slip & Fall Cases
The California personal injury law that guides slip and fall cases is premises liability. Premises liability refers to an accident victim's ability to recover damages on injuries caused by a property owner's negligence. In order to bring a successful premises liability claim under California law, several elements must be present, such as:
The alleged negligent party owned, leased, or controlled the property on which you were injured.
The alleged negligent party was negligent in either the use of the property or in the care of the property.
You were injured on the property.
The alleged negligent party's negligence played a significant role in causing you to be thus injured.
This may sound complicated, but what it really boils down to is that you were injured on the property in question and that the person who controlled the property was negligent in his or her duty of maintaining the said property.
Recoverable Damages After a Slip and Fall Accident
Again, every California slipping accident case is unique to its circumstances, and each case must be evaluated on its own merits. Nevertheless, there are specific categories of damages to consider:
Economic Damages
The economic losses associated with slip and fall accidents are often extensive:
Emergency medical transportation and care
Surgery and aftercare
Doctor, specialist, and therapist appointments
Follow-up care
Adaptive physical devices and home adaptations
Prescription medications
Ongoing and long-term medical care
Lost hours on the job
Altered professional trajectory
Noneconomic Damages
Noneconomic damages refer to those damages that, while they do not have a price tag attached, do cause you to endure pain and suffering, loss of enjoyment, loss of consortium, disfigurement, or disability.
Punitive Damages
Exemplary or punitive damages are those damages that are intended to punish the negligent party for his or her egregious behavior. The damages you'll be able to recover on will depend upon the extent of your injuries, your lost income, the effects of your injuries on your future career and relationships, and much more.
If you've been injured in a slip and fall accident that was caused by someone else's negligence, recovering on your total damages is critical to your ability to follow the path toward your fullest recovery.
6 Tips to Strengthen Your California Slip and Fall Claim
If someone else's negligence leaves you injured in a slip and fall accident, your claim will hinge upon the related facts. As such, there are things you can do to preserve the evidence in your case and strengthen your claim (if you can't do these tasks yourself, enlist someone at the scene of the accident to help you):
Obtain time-stamped photographs or videos of the accident scene before anyone has the opportunity to eliminate evidence of the dangerous condition that injured you. Remember that the sooner you retain a personal injury attorney, the sooner he or she will be able to begin compiling necessary evidence.
Seek immediate medical attention. Even if you don't think you've been seriously injured, it's important to recognize that injuries can go undetected before they develop into bigger problems. Do yourself and your claim a favor, and obtain the medical attention you need as quickly after the slip and fall accident as possible.
Report the accident to the property manager, and retain a copy of the incident report.
Keep the shoes and clothing you were wearing at the time of the accident secured away – in case the negligent party decides to argue that your footwear or clothing contributed to your accident.
Obtain eyewitness testimonies and eyewitness contact information.
Keep all pertinent information and documentation organized and accessible in one convenient location.
Finally, if you've been injured in a slip and fall accident that was caused by someone else's negligence, you need a dedicated slip and fall lawyer near you in California. The experienced slip and fall accident lawyers at Arash Law led by Arash Khorsandi, Esq. are committed to aggressively advocating for your claim's most favorable outcome.
Liability in Your California Slip and Fall Case
California business owners – and others – owe customers and other visitors on their properties a reasonable duty of care to protect them from harm. This duty of responsibility applies to the people who own the property, lease the property, or occupy or control the property. Sometimes, a parent company can also be implicated for damages.
Finally, most businesses and homeowners carry liability insurance in case of such accidents. Determining who is liable in your California slipping accident will depend upon the specific circumstances of your case, but there is often more than one source to consider.
Insurance Company Involved in Handling Slip & Fall Claims
If a slip and fall accident has left you injured, it is very likely that you will hear from the negligent party's insurance company. The important fact to remember, however, is that insurance companies are in the business of turning massive profits, and the way they keep these profits where they want them is by minimizing settlements and even by denying claims outright. When it comes to the insurance company, less is truly more.
This means that the less you say, the better off you'll be. If the insurance company calls you soon after your accident, don't let the stress of the situation turn you into a chatterbox. You are better off waiting until you've consulted with a knowledgeable California slip-and-fall injury lawyer before you say anything to the insurance company. It's in you and your claim's best interest to allow your attorney to deal with the insurance company on your behalf.
Statute of Limitations for Slip and Falls
If you have been involved in a slip and fall that leaves you injured, you don't have an unlimited amount of time to bring your claim. The statute of limitations for nearly all personal injury claims in California – with a few exceptions – is two years from the date of the accident. As mentioned, however, the injuries incurred in such accidents aren't always readily apparent, and if you wait around trying to decide what to do, those two years could pass very quickly.
Additionally, building a solid slip and fall case can take time, including the time it takes to adequately assess the full scope of your injuries and attendant damages and the time it takes to compile all the evidence in your case. If someone else's negligence has caused you to slip, fall, and be injured, don't ignore the issue until it's too late to seek the compensation to which you are entitled.
Filing a Slip and Fall Claim in California
You slipped and fell in a restaurant, grocery, department store, or nearly anywhere else, and you're not sure what to do about it. This is a normal reaction. Most people are embarrassed when they take a spill, and they tend to blame themselves. Try not to dwell on such thoughts.
If someone's negligence caused you to be injured, recovering on your damages is likely to play a critical role in your ability to achieve your fullest recovery. Don't let your feelings of embarrassment keep you from seeking the compensation you need to travel the path toward complete recovery; consult with a California personal injury attorney near you today.
One of the most important components of your slip and fall claim is being able to demonstrate the full extent of your damages. Typically, the best way to do this is through your medical records. If you've been in an accident, like a slip and fall, your priority should always be your health. This translates into seeking immediate medical attention.
In a perfect world, you would have sought the medical attention you needed immediately after a slip and fall, but if the shock of the situation or your embarrassment intervened, it does not mean that all hope is lost. Once you recognize that you've suffered a potential injury, share everything that transpired in the course of your accident with your health-care provider. Submit to all tests that your doctor recommends, and follow every medical directive that he or she prescribes.
This includes appointments with specialists, therapy recommendations, follow-up appointments, prescription medication schedules, and everything else your doctor advises you to do.
Ultimately, your medical records will corroborate not only your doctor's diagnosis of your injuries but also your ongoing effort to comply with all prescribed treatment plans. In effect, your compiled medical records represent a narrative that supports your personal injury claim. You owe it to your health and to your slip and fall claim to seek medical attention and to comply with the medical advice you receive.
If You've Been Injured in a Slip and Fall Accident, Consult with an Experienced California Slip and Fall Lawyer Today
The term slip and fall accident has a silly ring to it, but these accidents are often severe accidents that cause extremely serious injuries. While slipping and falling might strike you as a sign of your own clumsiness, it's important to remember that if someone else's negligence caused you to be injured, you're entitled to compensation that covers your damages.
The Dedicated Legal Team at Our Acclaimed Injury Firm Is on Your Side
Our experienced slip and fall lawyers have the knowledge, commitment, and determination to help guide your claim toward its most positive resolution. We're here to help – 24 hours a day and 7 days a week – so please give us a call at 888-488-1391 today.