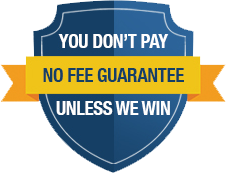 YOU MAY BE ENTITLED TO COMPENSATION FOR YOUR

PREMISES LIABILITY

We can tell you if you have a case or not within five minutes, Call (888) 488-1391
FREE CONSULTATION  |  PAY NOTHING UPFRONT  |  OVER $200 MILLION RECOVERED  |  ZERO-FEES UNTIL WE WIN
---
Our Experienced California Premises Liability Attorneys
When you get behind the wheel of a car, go for a jog in` an area that's heavily trafficked, or ride a roller coaster, there is a basic assumption of risk that you are undertaking – everyone knows that these activities have the potential to result in injuries.
However, when you go to the grocery store, visit a beauty salon, take your child to the park, or pass by a construction site, the last thing that you may be expecting is to suffer an injury. Unfortunately, however, dangerous premises and properties exist throughout California, and when an unsuspecting individual enters a property where a dangerous condition exists, harm to that person is often the result.
At the law offices of Arash Law, our California premises liability attorneys have years of experience handling claims that involve injury victims suffering harm on the properties of others. If you have been injured on another's property, please call our award-winning injury law firm today to learn more about your legal rights under the theory of premises liability, how we can build your claim, the types of damages you can recover, and how to get started.
The Theory of Premises Liability
The theory of premises liability holds property owners responsible for accidents and injuries that occur on their properties. However, it's not that simple – in order for a property owner to be named in a premises liability suit and be held liable for injuries that happened on their property, the injured party must establish:
The property owner owed the plaintiff a duty of care;
The property owner breached the duty of care owed to the plaintiff; and
The plaintiff injuries would not have been incurred but for the breach of duty of care.
The first prong–establishing that the property owner owed the plaintiff a duty of care–is often implied. This is because property owners owe all persons who are on a property the duty to maintain their property in a reasonably safe condition.
What's more, the property owner also bears the responsibility to correct any known hazards that exist on the property, to discover any unknown hazards that exist in a place of the property where an invitee to the property may be, or to put up warning of a hazard if immediate repair is not possible.
If a property owner fails to discover a hazard that they reasonably should have, fails to correct a known hazard, or/and fails to provide warning of a known hazard, they have breached the duty of care owed to those who enter the property.
Assuming that the plaintiff can prove these two prongs as well as causation–that their injuries would not have occurred but for the breach of duty of care–they will have a solid premises liability claim against the property owner.
Types of Accidents that Fall Under the Premises Liability Umbrella
The concept and legal theory of premises liability is applicable in a number of different situations and accident types. If you have been involved in any of the following accidents or incidents, we strongly recommend that you consult with a lawyer to determine whether or not you have a premises liability case–
Dog bites and animal attacks. Do not assume that just because you are on another's property at the time that you are attacked, the property owner cannot be held liable for the harm you suffer as a result of a dog bite. A dog can certainly be classified as a "dangerous condition" on a property, and depending on the situation, it may have been reasonable for a property owner to restrain their dog to prevent an attack.
Elevator and escalator accidents. Multiple different businesses and buildings rely on elevators and escalators to move visitors about. However, defects exist, and sometimes, serious accidents involving elevators and escalators can occur. When they do, the property owner may be held liable.
Criminal activities, such as assault and sexual assault. If you are the victim of a crime, such as assault, sexual assault, battery, or another criminal activity that leaves you harmed, you may be able to bring forth a negligent security claim against the owner of the property where the incident occurred. A negligent security suit is a type of premises liability claim and holds that the property owner failed to provide a degree of security that was reasonable for the property and that the criminal activity (and your injuries) are a direct result of that failure.
Sidewalk and parking lot slip and falls. Slip and fall accidents are not uncommon from ice and snow in some parts of the state to cracks, depressions, and other sidewalk and parking lot hazards. When a person is injured in a slip and fall accident, the party responsible for sidewalk or parking lot maintenance–the property owner–could be held responsible.
Swimming pool and water-related accidents. Swimming pool and water-related accidents, including drowning and near-drowning incidents, can be tragic, leaving a victim with severe harm. If the accident had not occurred but for a dangerous condition or lack of proper supervision, the property owner may be held liable.
Construction site accidents. Construction sites can be dangerous places, with defective or faulty scaffolding, heavy equipment and machinery, and more leading to serious accidents. Passersby who are harmed may file a claim against the responsible party, as may injured construction workers via a third-party liability claim.
Amusement park accidents. California is famous for its many amusement parks, including, most notably, Disneyland, Disney California Adventures, Six Flags, LEGOLAND, and more. While these parks may provide a day of fun in the sun, accidents, ranging from ride-related accidents, slip and fall accidents, and water-related accidents are all common.
The above are just a number of examples of the types of premises liability claims; however, any accident that occurs on another party's property may warrant a claim.
Who Can Be Named in a Premises Liability Claim?

People often assume that if they are harmed on another's property, they only have the right to bring forth a premises liability claim if the property owner is a private individual. For example, Betty slips because of the malfunctioning driveway gate at Anne's, breaking her elbow, and therefore maintains the right to file a claim against Anne's homeowners' insurance policy. While private property owners and homeowners certainly can be named in premises liability claims, all property owners have a responsibility to those who enter their properties.
This means that all property owners may be named in a suit, including:
Private homeowners
Small and commercial business owners
Recreational property owners
Apartment, condo, and housing development owners and
Government entities responsible for public spaces, such as parks and post offices.
Claims Against the Government
Bringing a claim against a private party, commercial business, or individual person is straightforward and will be discussed in more detail below. However, while you maintain the right to bring forth a claim against a government entity if you have suffered an injury on public property, the rules for doing so are slightly different. If you have a claim against the government, it's very important that you meet with a skilled premises liability lawyer as soon as possible who can offer guidance, direction, and legal counsel.
The first thing that you should know about filing a claim against the government is that doing so is governed by the California Tort Claims Act (CTCA). The CTCA requires that you file the claim directly against the agency or entity responsible, not an individual government employee. What's more, you must file a notice of claim against the agency or entity within six months before your injury's date. If the government rejects your claim, you will then have the option to file a lawsuit for damages. However, if you breach the six-month deadline for providing notice, your right to bring forth a claim is forfeited.
Common Premises Liability Injuries in California
Just as the scope of accidents that occur on a dangerous property is broad, so too is the range of injuries that a person who is involved in an accident on another's property may incur. Our lawyers have experience representing those who have suffered catastrophic, serious, and minor injuries.
Some of the most common injuries we see that result from a dangerous condition on a property include:
Traumatic brain injuries. Being hit by an object on a construction site, slipping and falling on a property, or being involved in a near-drowning incident can all result in traumatic brain injuries. Injuries to the brain are often permanent and can affect a person's thinking, language, memory, processing, speech, sensation, emotion, and more.
Spinal cord injuries. A spinal cord injury is not just catastrophic but a permanent one – scientists and doctors have not yet developed a treatment for this type of injury. When the spinal cord is impacted in an accident, the ability to send messages between the brain and the rest of the body is disturbed. The result is life-long partial or complete paralysis.
Bone fractures. Slip and falls, animal attacks, falling objects, assault, and amusement park accidents can all lead to bone fractures. Bone fractures vary in severity and may heal fully with time or permanently hinder the affected individual.
Soft tissue injuries. Sprains and strains are some of the most common injury types and can occur when a body part is twisted, pulled, or moved into an awkward position with force. Like bone fracture injuries, soft tissue injuries can vary in severity and may heal completely with time.
Disfigurement and disability. Sometimes, injuries leave affected persons with permanent disfigurement, disability, or both. For example, consider a construction accident where a worker's arm becomes caught in a machine, leading to a necessary amputation and a permanent loss for that employee. Or, consider a situation where a child is attacked by a dog, leaving them with permanent facial scarring.
Psychological injury. While physical injuries almost always befall those who are involved in accidents on dangerous premises, the psychological injuries that victims sustain are often overlooked. Psychological injuries can be very limiting and disabling and may significantly affect a person's quality of life. Common psychological injuries that are developed after a premises liability accident include anxiety, depression, and post-traumatic stress disorder (PTSD).
Examples of Dangerous Conditions at a Premises
The list of potentially-dangerous conditions is infinite. Some of the most common dangerous conditions include:
Potholes and depressions;
Uneven walking surfaces;
Cracked sidewalks;
Torn carpet;
Spills of food and drink;
Wet or slippery walking surfaces;
Falling objects;
Defective or poorly-maintained rides or machinery;
Aggressive dogs;
Unsupervised pools or water features; and More.
What Is a "Reasonable" Amount of Time?
As stated above, a property owner has a duty to remedy a known hazard in a "reasonable" amount of time, which is the amount of time in which a person of ordinary prudence would remedy the condition. Because all defects are different, there is not a single standard or amount of time that can be applied to all defects. For example, wiping up a spill may take a matter of seconds, but repairing a defective elevator could take days, especially if a specialist's work is required.
As such, the amount of time that is "reasonable" must be assessed on a case-by-case basis. Our lawyers understand how important this element of a premises liability claim is, and know how to gather evidence to prove that an unreasonable amount of time passed between when the property owner discovered or should have discovered the hazard on the property and when your accident occurred.
Premises Liability and Trespassers
The duty that property owners owe to those who enter their property, described above, certainly applies to two categories of visitors:
Invitees. An invitee is someone who is invited, either by an implied invitation or a direct invitation, to be on a property. For example, a person who is shopping within a grocery store is an invitee of that store.
Licensees. A licensee, on the other hand, is someone who has permission to be on the property but has not been invited onto the property. For example, a mailman is a licensee.
Property owners are responsible for maintaining their properties in a safe condition for the purpose of keeping invitees and licensees reasonably safe from preventable harm. Many property owners assume that the duty does not pertain to trespassers, supposing that the only duty that is owed is to refrain from willful or wanton harm. While this used to the be case in California, with the state once classifying property visitors into these three distinct groups, today, the law in California holds that a person who owns or controls property is responsible for maintaining the property with a reasonable degree of care. As such, even trespassers are protected in the event that they are harmed by a dangerous condition on a property.
The Attractive Nuisance Doctrine
Another important prong of premises liability is that of attractive nuisance. Typically, the doctrine of attractive nuisance has been used to assign liability to property owners following the injury of a child trespasser on their property (in states, including California in years past, where trespassers were not owed the same duty of care as other visitors).
The attractive nuisance doctrine holds that a property owner may be held liable for injuries to children who are trespassing on land if the injury is the result of a condition or object on the property that a child is likely to be attracted to, such as a swimming pool, trampoline, or abandoned vehicle. The idea is that children are unable to comprehend the risks posed by certain conditions on properties, and therefore a property owner has a duty to remove objects/conditions or take reasonable care to keep children off of the property.
Establishing a California Property Owner's Liability
Proving that you suffered an injury on another's property isn't the most difficult part of a premises liability claim, nor is proving that a dangerous condition existed, or even that the property owner failed to remedy the condition in a reasonable amount of time. Instead, one of the most complex elements of a premises liability claim is proving that the property owner had actual knowledge of the dangerous condition, or should have had knowledge of the condition; if the property owner did not have knowledge of the condition, they cannot be held liable for damages suffered by a plaintiff harmed as a result of the condition.
Our lawyers will work hard to investigate your case and gather evidence to substantiate your claim that the property owner knew or should have known of the incident. Types of evidence might include the statements of other employees or witnesses who knew of the condition, the results of inspections and surveys of the property, video surveillance of the property, and more.
Damages Recoverable in a Premises Liability Claim
If you have been harmed on someone else's property, you may have incurred economic and noneconomic losses. Our lawyers will advocate for your right to recover 100 percent of the value of your losses, including damages for:
Medical expenses. You deserve to be compensated for all of your medical bills associated with the accident, including both present and future costs.
Lost wages. Sometimes, injuries are severe enough that they prevent an injured person from being able to return to work, perhaps indefinitely. If this has happened to you and you have suffered lost wages, and plan to suffer lost wages in the future, we can help to calculate the value of these wages and demand compensation.
Pain and suffering. In addition to the economic losses listed above, California courts also allow plaintiffs to recoup damages for the value of their noneconomic losses, including the value of their pain, suffering, and emotional distress.
Comparative Negligence in California
Sometimes, a person is injured on another's property, but the fault for the accident is shared. For example, consider a situation where there is a spill in a grocery store aisle, obviously creating a hazard. The person who falls as a result of the spill, however, was not walking and exercising a high degree of care as they navigated the store, but instead running and roughhousing with friends. As such, both parties–the store and the injured individual–may share some degree of liability.
California recognizes the theory of pure comparative negligence. This rule holds that a plaintiff is not barred from recovering damages from a defendant if they suffer an injury that is caused, in part, by a defendant's negligence, but that the plaintiff's recoverable damages will be reduced in proportion to their degree of fault. For example, referencing the example above, if it is determined that the store was 60 percent to blame for the slip and fall, and the plaintiff was 40 percent to blame, the plaintiff could only hold the store liable for 60 percent of their total damages.
| | |
| --- | --- |
| As featured On | |
You Need Experienced Attorneys Who Will Fight For You!
The first 4-Steps to Take Immediately after a Premises Liability Accident
If you are harmed on another party's property, it's important that you take action as soon as possible to preserve your right to compensation. Steps to take include:
Step 1:  Notify the property owner. You must notify the property owner of your accident and your injuries as soon as possible in order to initiate the claims process. You should file a written report with the property owner, manager, supervisor, etc., and ask for a copy of this report.
Step 2:  Gather evidence. If you are able to at the time that your injury occurs, gather any relevant evidence at the scene. This includes pictures of the dangerous condition, names of any eyewitnesses, and a description of what you were doing when the accident occurred. The more evidence that you have, the easier your case will be to prove.
Step 3:  Get medical care. If you fail to seek medical care immediately after your accident, you may have a hard time proving that any injuries you've suffered–and for which you are demanding compensation–are related to the accident on another's property. Getting medical treatment not only improves your chances of a better recovery but also is a type of evidence that is invaluable in a premises liability claim.
Step 4:  Contact a lawyer. Do not assume that just because you got medical care and filed an accident report the property owner will go ahead and offer you compensation for your injuries; property owners and their insurers are not eager to pay out settlements unless they are forced to. Working with a premises liability attorney can improve your chances of recovering the settlement amount that you deserve. As soon as you call the office of Arash Law, we will begin building your claim, working with interested parties, calculating your damages, and negotiating your settlement.
How to File a Premises Liability Claim
Before you even think about filing your premises liability claim, we strongly recommend familiarizing yourself with the legal elements of a premises liability claim (discussed above) and gathering the evidence necessary to prove each element. This is known as determining whether or not you have legal standing to file the suit in the first place. When you hire our law firm, we will handle this entire process on your behalf.
If you do have legal standing, the first step is typically to file a claim, not an actual lawsuit, against the at-fault party's insurance company demanding damages. From there, negotiations will ensue. If negotiations fail, and you are not offered a settlement that is fair, you can file a lawsuit and take your case to court. Our lawyers have trial experience and have achieved favorable case outcomes for our clients in litigation many times.
The statute of Limitations for Premises Liability in the state of California
All premises liability claims and personal injury cases are restricted by a statute of limitations, which is a limit on the amount of time that a party has to bring forth a claim after suffering an injury due to another's negligence. In California, the statute of limitations for personal injury claims is two years from the date of injury or one year from the date the injury was discovered if the injury was not discovered immediately (this is rare in premises liability claims).
Remember, if you are filing a claim against a government entity, you only have six months to provide the entity with a notice of claim.
In all cases, whether you are filing a suit against a government entity or a private party, meeting with a qualified California premises liability lawyer as soon as possible after an accident on another's property is a must.
Call an Experienced California Premises Liability Lawyer Today
When you enter a property other than your own in the state of California, the owner of that property owes you a duty of care and must ensure that their property is maintained in a reasonably safe condition. When this duty of care is breached and you are harmed as a result of a hazard that should have been corrected, you maintain the right to bring forth a claim for damages against that property owner.
Filing a premises liability claim can be confusing and overwhelming, especially if you are focusing on recovering from serious injuries. When you call our experienced California premises liability attorneys at the office of Arash Law, we will focus on building your case so that you can focus on getting your life back on track after a serious injury. We offer free consultations and always work on a contingency fee arrangement. Please call us today or reach out to us online to schedule your free consultation and learn more about our services.
OUR RESULTS
DO THE TALKING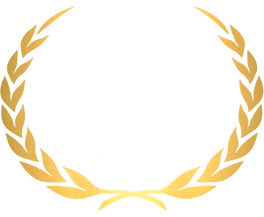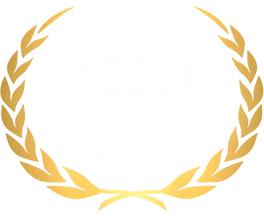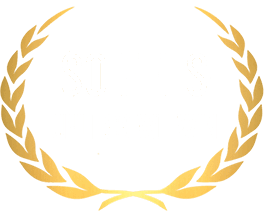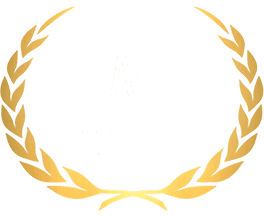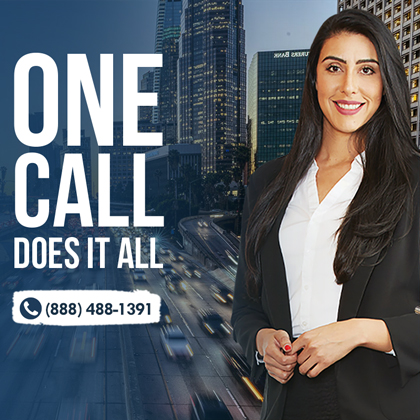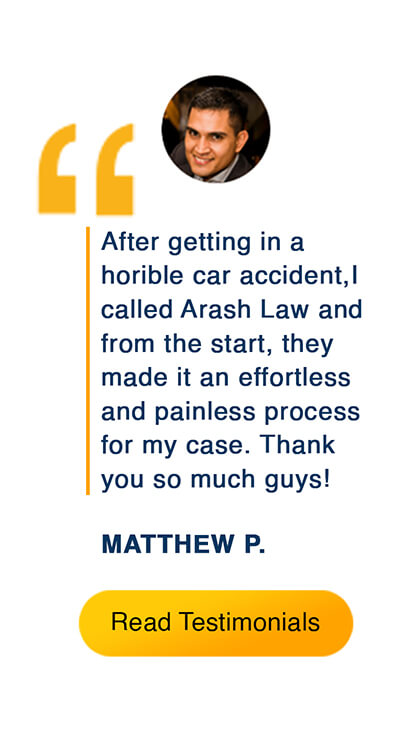 DID YOU KNOW?
TIME IS CRITICAL:
Personal injury laws in California give injury victims just a limited amount of time to negotiate a fair insurance settlement.
Start w/ $0 Upfront