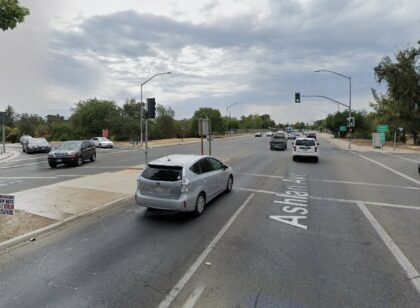 Two unhoused women were killed after a driver crashed into their tent during a police chase in Fresno early Monday morning, April 24, 2023.
According to the Fresno County Sheriff's Office, the tragic incident happened around 1:00 a.m. on Ashlan Avenue near Highway 41.
A Fresno County Sheriff's deputy had attempted to stop 39-year-old Erica J., but she had refused to pull over. After Erica pulled off the highway and back on in the opposite direction, the deputy lost sight of her.
A short time later, Erica allegedly crashed into a tent with two sleeping women. Both women were in dire shape when they were taken to the hospital.
Police say Erica and a teen exited her car and ran off after the accident. Erica was later arrested near Blackstone and Ashlan avenues for felony DUI and murder.
Sadly, 30-year-old Brianna B., one of the women, died from her wounds in the hospital. A few days later, the second woman, identified as 61-year-old Kathy E., also passed away at the hospital from her wounds.
Fresno Police were called to assist with the investigation.

DUI Accident Victims Lawyers in Fresno
Injuries resulting from a DUI-related accident can trigger various emotional responses, including frustration, uncertainty, and fear. If you are curious about the incident's outcome, that is normal.
In the event of an accident, the driver who caused the accident is legally responsible for any injuries you sustain. Medical expenses and lost wages may result in significant financial difficulties for the injured party.
Although it may be challenging to prevent all drunk driving accidents, California law covers those involved in accidents caused by drunk drivers.
Our experienced Fresno DUI accident lawyers at Arash Law, led by Arash Khorsandi, Esq., will effectively represent you in these court proceedings. Our firm has recovered more than $500 million for California clients.
Schedule a free consultation with our lawyers by calling (888) 488-1391 or completing our "Do I Have a Case?" form.
What Should You Do After a DUI Accident?
A DUI accident can be a traumatic experience that can result in physical injuries, emotional trauma, and financial hardship. Protecting your health, safety, and legal rights is essential. This checklist will advise you on what to do after a DUI accident and how to navigate the aftermath.
The priority is to seek medical attention for yourself or anyone else injured.
Report the accident to the police. The authorities will investigate whether the driver was under the influence of alcohol or drugs.
Gather as much information as possible at the accident scene, including the driver's name, contact information, license plate number, and insurance information.
Ensure you take photos of the accident, including the vehicle damage and the injuries sustained.
In an accident, you must notify your insurance company and provide them with all the necessary information.
Consult a DUI accident lawyer. They protect your rights and ensure you receive the compensation you deserve.
Fatal DUI Accident Statistics
The National Highway Traffic Safety Administration (NHTSA) states that drunk driving accidents claim the lives of approximately 32 people in the US daily, accounting for one fatality every 45 minutes. As a result of drunk driving, 11,654 traffic deaths were reported in 2020, an increase of 14% over the previous year.
According to a California DUI Management Information System study, fatalities from alcohol-related collisions increased by 5.8% between 2016 and 2017. Driving under the influence of alcohol poses a serious risk to drivers and other road users. Also, it hurts the environment, as drunk drivers waste around two billion gallons of fuel each year.
In 2019, there were 10,142 drunk driving deaths in the US and 949 in California alone, resulting in a rate of 2.4 per 100,000 people in the state compared to the national rate of 3.1. Drunk driving contributed 26.3% of all traffic deaths in California in 2014 and 28.1% in the US. In light of these statistics, it is crucial to avoid driving after excessive drinking and to monitor alcohol consumption closely.