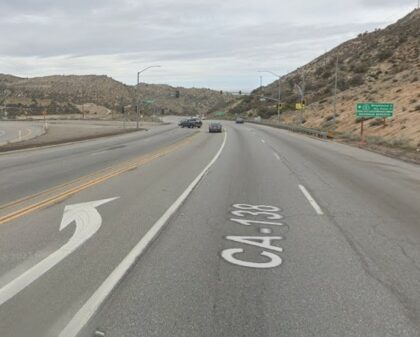 One person was hospitalized after a two-vehicle crash involving a transit bus along Highway 2, San Bernardino County, late Tuesday afternoon, May 23, 2023.
According to the California Highway Patrol, the crash happened around 5:02 p.m. between Highway 2 and Highway 138.
A Victor Valley Transit bus was struck by a black Ford F-150, causing severe damage to the pick-up truck.
At least one person sustained minor injuries and was taken to a nearby hospital.
Further information about the crash has not yet been released by the authorities.

Award-Winning Bus Accident Attorneys in San Bernardino County
Suppose you were involved in a bus accident. In that case, it is imperative to seek legal advice promptly. You may be persuaded to accept a lower compensation than you are entitled to by insurance companies or parties affiliated with the bus company.
Establishing liability in bus accidents can be more complicated than in car accidents. Multiple parties besides the driver may be responsible for the injuries sustained, and the penalties may be shared among them.
You can rely on our award-winning San Bernardino County bus accident attorneys at Arash Law, under the direction of Arash Khorsandi, Esq., to effectively represent you in these court proceedings. Our firm has recovered more than $400 million for our California clients.
If you want to speak with one of our attorneys, please call (888) 488-1391 or fill out the "Do I Have a Case?" form.
What to Do After a Bus Accident
Bus accidents can devastate and cause significant injuries, property damage, and emotional trauma. Bus accidents are not uncommon, and they can involve various parties, such as bus drivers, bus companies, and other drivers on the road. If you or someone you know has been involved in a bus accident, it is essential to understand your legal rights and options. There are several steps to take:
Seek medical attention immediately: Your health and safety should be your top priority, so seek medical help even if you feel fine. Some injuries may not be apparent right away, and it is important to have a medical professional evaluate you.
Contact law enforcement: Call 911 and report the accident to the police. Please provide them with as much information as possible, including the accident's location and witnesses' contact information.
Document the accident: Take photos or videos of the accident scene, including any damage to your property or injuries sustained.
Obtain the contact information of witnesses: Get the names and contact information of any witnesses to the accident. Their testimony can be crucial to establishing liability and securing compensation.
Notify your insurance company: Let your insurance company know about the accident as soon as possible, even if you were not at fault.
Contact a bus accident attorney: An experienced bus accident attorney can help you understand your legal rights and options and work to secure the compensation you deserve for your injuries and damages.
Bus Accident Statistics
Between 2006 and 2015, there were 324,710 fatal motor vehicle traffic accidents. Out of these accidents, only 1,172 (0.4%) were related to transportation to and from school. School transportation-related crashes resulted in 1,313 deaths during this period, averaging 131 fatalities per year.
Occupants of school vehicles accounted for 9% of the total fatalities, while non-occupants like pedestrians and bicyclists accounted for 20%. The majority of people who lost their lives in these crashes, approximately 72%, were occupants of other vehicles involved. Table 1 highlights these statistics and provides more information on school transportation-related fatalities and injuries.
Additionally, 102 school-age pedestrians aged 18 and younger died in school-transportation-related crashes between 2006 and 2015. Of these fatalities, 61% were hit by school buses, 3% by vehicles acting as school buses, and 36% by other vehicles like passenger cars, light trucks and vans, large trucks, and motorcycles involved in the accidents. These statistics underline the importance of safety measures around school transportation, especially for school-age pedestrians.