A 34-year-old woman identified as Omini W. was killed after a fatal hit-and-run accident in Oakland on Saturday morning, November 20, 2021.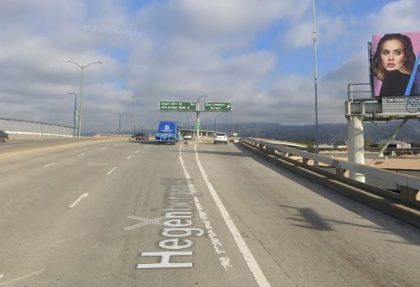 The fatal crash happened at approximately 7:42 a.m. on the southbound lanes of Interstate 880 near the Hegenberger Road off-ramp.
A vehicle of an unknown build reportedly struck the woman and failed to stop and render aid. Emergency personnel later arrived at the scene and found the woman lying on the roadway.
Unfortunately, the woman was unable to survive her injuries and was pronounced dead at the scene.
No other injuries were reported. Local authorities are further investigating the case. They are actively looking for the whereabouts of the hit-and-run driver. Authorities suspect that the hit-and-run driver's vehicle may have had significant front-end damage.
Anyone that can give more information about the crash is urged to call the California Highway Patrol's Oakland office at 510-457-2875 or CHP's investigative tip line at 800-835-5247.

Fatal Hit-and-Run Accident Statistics
It is illegal to leave the site of an accident. Sadly, hit-and-run events continue to occur on US roads daily.
In the United States, there were roughly 2,049 hit-and-run fatalities in 2016. Approximately 682,000 hit-and-run accidents happen in the United States each year.
Increasingly, fatal hit-and-runs are becoming more common, and the number of deaths they cause is rising as well. The number of deadly hit-and-runs increased from 1,342 in 2010 to 1,939 in 2019 — the most recent available statistics — after hitting a peak of 2,012 in 2016, according to ValuePenguin researchers. Deaths rose by 44% from 1,393 to 2,005 in the same time.
California had the highest number of deadly hit-and-runs in recent years. The number of crashes in California accounted for 17% of the total in the United States, with 2,948 crashes resulting in 3,056 fatalities.
Hit-and-run drivers are responsible for one out of every five pedestrian collisions. Pedestrians make up 60% of the fatalities killed in hit-and-run accidents.
Hit-and-run drivers often flee the scene because they're inebriated, uninsured, or terrified of being arrested for not reporting the incident.
Hit-and-Run Accident Lawyers for Victims in Alameda County
Having a loved one killed by a hit-and-run motorist can be extremely upsetting and distressing. Any of the above indicates that the driver didn't take their obligations as seriously as they should have. This is a bad sign. This makes it more probable that the motorist responsible for causing an automobile accident will be able to depart the scene.
Consult a lawyer for hit-and-run incidents today if you have been injured or if a hit-and-run driver has killed a loved one.
You and your family can receive financial compensation for your losses if you file a wrongful death lawsuit against the liable party. Arash Law has a strong empathy for those who have lost loved ones or spouses due to the irresponsibility of others.
The details of your UM claim will be taken care of if the hit-and-run motorist isn't apprehended. For hit-and-run accident victims, Arash Law's Alameda County hit-and-run accident attorneys have the knowledge and experience to help you get the maximum reimbursement available from your insurance company.
Our attorneys will go above and beyond your expectations by providing you with a wealth of knowledge, compassion, and personal service. Don't be late. Make an appointment with our attorneys now by calling (888) 488-1391.