Two Los Angeles Police Department (LAPD) officers were hurt after a two-vehicle crash in Toluca Lake on Saturday night, March 27.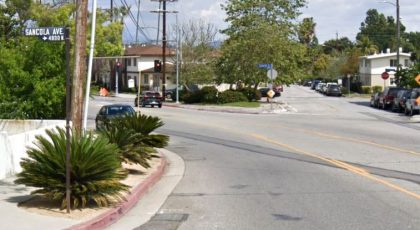 The crash transpired at approximately 6:30 p.m. at the intersection of Camarillo Street and Sancola Avenue in Toluca Lake.
A Mini Cooper was reportedly heading westbound on Camarillo Street, but it veered into the eastbound side for unclear reasons.
The Mini Cooper then later crashed into a parked patrol vehicle. An officer standing outside of the patrol vehicle sustained a concussion and was taken to an area hospital for treatment.
A second officer who was in the vehicle at the time of the accident was also injured but is expected to recover.
Local authorities are further investigating the accident. They will try to determine why the accident occurred and whether the driver should be held liable for the crash.

Two-Vehicle Crash Statistics
Car accidents are one of the leading factors of injury deaths in California. According to the National Highway Traffic Safety Administration (NHTSA), over 3,304 recorded fatal car accidents in California in 2017.
Driving anywhere in California is risky. The majority of collisions, however, are preventable. In fact, 94% of all accidents are attributable to human error.
These accidents are caused by various reasons, such as distracted driving, drunk driving, and driver over-fatigue.
To reduce your chances of getting involved in a traffic accident, you must pay attention to the road and conduct regular vehicle maintenance. Negligence, recklessness, and breaking the law are the most common reasons why these accidents occur.
Facing cases like this alone can be quite challenging. With the help of an experienced Los Angeles County personal injury attorney, the victims won't need to deal with the stressful paperwork that comes with filing a claim.
Los Angeles County Personal Injury Attorney for Victims of Two-Vehicle Crashes
Your damages are the losses that the negligent driver caused. There are many different losses you might suffer as a result of a car accident. Some of these (like auto repair bills) are easy to value. Others (like pain and suffering) are more difficult. Insurance companies are notorious for trying to devalue the losses that are hard to value.
If you've suffered injuries in a car crash, you need legal advice from experienced California accident lawyers. The other driver's insurance company is not on your side. Their job is to pay you as little as possible.
At Arash Law, our skilled California accident lawyers have years of experience handling all types of accident claims. We understand the common causes, defendants, and how to fight for compensation for collision-related injuries. Whether you suffered burns, broken bones, brain injury, a spinal cord injury, or other damages, talk to our attorneys.
Let us take your paperwork and protect your legal rights so that you can focus on your recovery. Call (888) 488-1391 for a FREE Consultation with a personal injury attorney in California.