A 53-year-old man identified as Terry B. was seriously hurt after a three-vehicle collision in Redding on Thursday afternoon, March 4.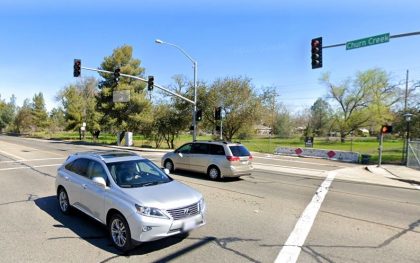 According to the local authorities' initial reports, the collision took place near Churn Creek Road and Presidio Street in Redding.
A northbound 2019 Chevrolet Corvette was initially traveling on Churn Creek Road when, for unclear reasons, it crossed the centerline and crashed into a Toyota pickup truck. The severity of the impact caused a chain-reaction collision, causing the Toyota to collide with a Ford F-150 truck.
The Chevrolet Corvette driver was later identified as 58-year-old Michael L. Authorities determined that he was driving while under the influence at the time of the accident.
Bagley, an occupant of one of the vehicles, complained of pain and was taken to an area hospital for treatment. The Chevrolet driver was taken to Shasta County Jail and will most likely face DUI-related charges.
The Redding Police Department Traffic Unit is further investigating the case.

DUI Car Accident Statistics
Everyone deserves safe roads. Intoxicated drivers put innocent people — and themselves — at severe and unacceptable risk. While California and the United States as a whole have made some remarkable progress on curbing drinking and driving, there is still a very long way to go.
According to the National Highway Traffic Safety Administration (NHTSA), approximately 30 people in the U.S. die every day due to drunk driving accidents. Drunk driving accounts for about 29 percent of all motor vehicle accident fatalities in the U.S. Around sixty-one percent of these drivers have a Blood Alcohol Content of .08 percent or higher.
When DUI accidents occur, the resulting crashes are far more likely to lead to significant injuries. This is because impaired drivers are more likely to engage in reckless or dangerous behavior. Many DUI accidents occur at high rates of speed.
The Centers for Disease Control and Prevention (CDC) estimates that a barely over the legal limit (0.08 BAC) is approximately 11 times more likely to be involved in a crash than a non-intoxicated driver. As drivers become more intoxicated, the likelihood of a collision increases exponentially.
Shasta County Personal Injury Attorney For Victims of DUI Car Accidents
Dealing with injuries from a DUI crash can be quite tricky. This can make it extra challenging for the victims to file their claim alone as they also have to focus on their recovery. Although it is technically possible, hiring an experienced attorney is still preferred.
If you were hurt in a DUI accident, you need to bring a separate personal injury claim in civil court. Notably, some of the rules are different in civil court.
You should seek professional representation from a DUI victim attorney near you who can pursue a personal injury claim on your behalf in civil court. Your lawyer can enter any information uncovered in the criminal case, including a DUI conviction, into evidence in your civil case.
At Arash Law, our California drunk driving accident attorneys are influential, aggressive advocates for DUI accident victims. Drunk drivers must be held accountable for their egregious and dangerous behavior. DUI accident victims deserve justice. Our law firm is committed to helping injured victims maximize their compensation so that they can pay their medical bills and provide financial support to their families. If you or your loved one was injured in a drunk driving accident in California, please do not hesitate to contact our legal team for legal guidance.