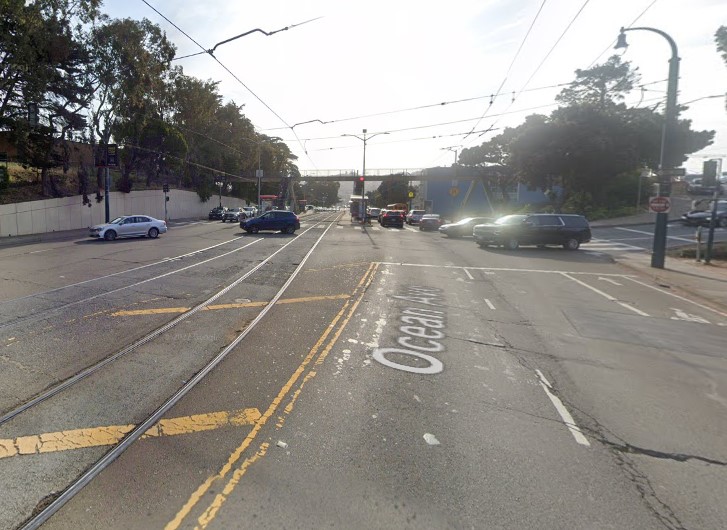 One person was killed and another was injured following a two-vehicle head-on crash caused by a wrong-way driver in San Francisco on Friday morning, January 06, 2023.
The California Highway Patrol reported that the fatal hit-and-run collision occurred shortly before 2:00 a.m. along the southbound Interstate 280 near the Ocean Avenue and Geneva Avenue exits.
A Honda Civic was believed to be traveling the wrong way in the highway's southbound lanes when it crashed head-on with a Lexus SUV, sending it into the northbound lanes where it rolled over and stopped, blocking the left two lanes. The Honda blocked the right lanes.
The Lexus driver was taken to the hospital after sustaining minor injuries, while its passenger sustained major wounds, unfortunately passing away at the hospital.
The Honda driver sped away from the scene of the collision and is still being searched by the authorities. CHP officials revealed the suspect was involved in a prior altercation with Daly City police.
Anyone with information is encouraged to contact the authorities to aid with the investigation while the highway was closed for several hours.

Fatal Hit-and-Run Accident Statistics
In the United States, it is a significant crime to flee the scene of an accident you caused while driving. In the event of an arrest, the motorist might face serious accusations and a lengthy prison sentence.
Each day in the United States, at least one motorist causes an accident and then escapes the scene. Since 2006, more than 2,000 people have lost their lives as a direct result of these kinds of incidents. Estimates put the number of pedestrian deaths at over 60 percent.
A motorist injures or kills a pedestrian or another motorist, and then flees the scene once out of five occasions. Intoxicated drivers, those with licensing issues, and those who just wanted to avoid arrest have all abandoned their vehicles on the side of the road or sped off.
While traffic fatalities as a whole decreased by 14% between 2007 and 2016, a startling 27% increase was seen in the number of people killed while walking.
Hit-and-run accidents accounted for almost 50% of fatalities in California between 2009 and 2016. The state of California is indirectly responsible for about 3,562 deaths across the United States.
Hit-and-Run Accident Victim Lawyers in San Francisco
After an accident happens in California, the victim has the right to seek compensation from the at-fault party's insurance company in addition to pursuing criminal charges.
You may be eligible for financial compensation through a physical injury or wrongful death lawsuit if an accident has left you severely injured or caused the loss of a loved one.
If you or a loved one has been injured or wrongfully killed, please contact one of our experienced attorneys to discuss your case and learn more about your legal options.
Our trusted hit-and-run accident lawyers in San Francisco have extensive experience and accolades advocating for accident victims. Our clients have been awarded compensation totaling $400 million.
Call (888) 488-1391 now or click the "Do I Have a Case?" on our website to set up a free consultation with one of our attorneys.