An unidentified 59-year-old man was killed following a deadly car crash in San Marcos on Monday morning, February 7, 2022.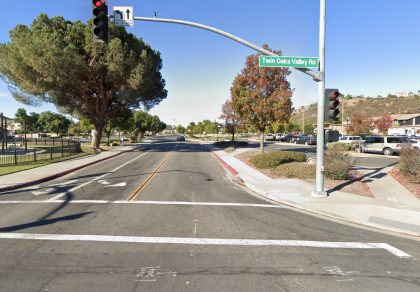 The accident took place in the 400 block of North Twin Oaks Valley Road in San Marcos at approximately 6:30 a.m.
The 50-year-old man was driving a 2001 Honda Civic when he was suddenly struck by a northbound 199 Toyota 4Runner sport utility vehicle.
Due to the severity of the impact, the victim's Honda then crashed into a BMW 328i following the collision. The 50-year-old Honda driver was rushed to an area hospital but was later pronounced dead.
The other drivers were uninjured in the mishap. It's unclear whether intoxication was a factor in the crash.
Information about the accident is limited at the moment. Local authorities are further investigating the case.


Deadly Car Crash Statistics
According to the National Highway Traffic Safety Administration (NHTSA), 33,654 people died in car accidents in the United States in 2018. In fatal car accidents, 20,333 thousand passenger vehicles were involved.
In 2018 alone, California recorded approximately 3,259 fatal car accidents. Around 2,261 passenger vehicles were involved in these deadly crashes. Car accidents across the state continue to rise today.
According to data from the California Highway Patrol, San Diego, Chula Vista, and Oceanside were the top three cities in San Diego County for auto accidents in 2018.
San Diego, California, is recognized for its beautiful beaches, mild climate, and laid-back vibe. It's also one of the country's most crowded cities. On San Diego highways, drivers clock more than 12 million miles per day.
In San Diego County, there were 21,534 car accidents in 2016, up 5% from the previous year.
San Diego Car Accident Lawyers for Victims
Suddenly losing a loved one in a deadly traffic crash is never easy. It may be hard to cope at first, but you will eventually be better over time. If you have lost a loved one in a deadly collision, it's best if you immediately consult a San Diego car accident lawyer to guide you.
Using the services of an experienced attorney to bring a wrongful death claim will allow you to recover damages that the accident has caused you. The liable party will be compelled by law to pay the victim's medical bills, funeral expenses, pain and suffering, and loss of companionship through a wrongful death claim.
After being involved in a car accident, you should contact a wrongful death lawyer right away for guidance. Arash Law's personal injury and wrongful death attorneys have years of experience handling these types of cases.
Allow an expert San Diego accident lawyer to fight for the compensation you deserve so you may focus on recovering as quickly as possible. Arash Law's skilled accident attorneys are here to assist you. Call (888) 488-1391 to set up a free consultation.