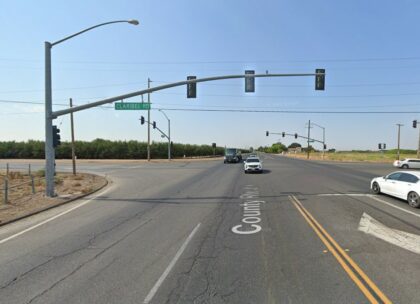 Two people were injured after a multi-vehicle collision in Oakdale on Thursday afternoon, February 23, 2023.
Reports confirmed that the crash occurred around 12:58 p.m. at Claribel Road and Albers Road.
According to authorities, three were vehicles involved, one of which had overturned and was blocking Claribel Road west of Albers Road.
There were two patients with minor injuries and a negative pin-in.
Paramedics were called to the scene and took the victim to nearby hospitals for further care.
Further investigations on the collision are ongoing.

Multi-Vehicle Collision Statistics
As per the NHTSA, more than 5.2 million car accidents were reported in the United States in 2020. Only 1% of these crashes (35,766) resulted in fatalities, whereas more than 30% (1.6 million) led to injuries.
Trends indicate that fatal collisions increased by 6.8% between 2019 and 2020, with 1.34 deaths per 100 million vehicle miles in 2020. Compared to 2019, there were 79 injuries per 100 million vehicle miles traveled in 2020.
Car accidents kill or seriously injure 67% of drivers, 24% of passengers, 4% of motorcycle riders, 3% of pedestrians, and 2% of pedal cyclists.
Multiple-vehicle collisions occur when three or more drivers are involved for various reasons. During a collision, up to six cars can become entangled.
In contrast to traffic accidents, multi-vehicle accidents often result in fatalities and serious injuries. If you lose control or become unaware of your surroundings, the people around you may suffer. In most cases, such accidents occur more frequently.
How Do I Obtain a Police Report After an Accident Occurred?
We can help you obtain a police report following an accident.
We just need to know what happened and where it took place. Afterwards, we will contact the relevant parties and get you all the information you need.
We handle this process for every client, so you won't need to worry about your insurance coverage-we'll make sure everything is taken care of!
Reliable Car Accident Attorneys in Oakdale
In cases where a driver has caused an accident, accident victims have the right to seek compensation. California, like most states, requires liability insurance.
Car accident victims are entitled to damages for their physical and emotional suffering as well as their economic losses.
You can rely on our Oakdale car accident attorneys at Arash Law led by Arash Khorsandi, Esq., who specialize in handling cases of this nature. We strive to prioritize our clients' interests and ensure they are fairly compensated.
To speak with one of our attorneys, visit our website and fill out the "Do I Have A Case?" form, or call us today at (888) 488-1391.