A 15-year-old boy was seriously injured after getting struck by a Tesla after getting pushed into the street in Hemet on Monday night, February 28, 2022.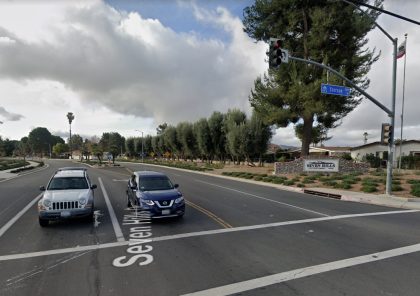 The incident occurred at approximately 4:30 p.m. at the intersection of Stetson Avenue and Seven Hills Drive.
The victim was riding his skateboard along Stetson Avenue when a group of teenagers met with him at the intersection.
An altercation ensued between the group of teens, which led to the 15-year-old boy getting pushed into the traffic lanes.
Unfortunately, as the young boy was pushed into traffic, an oncoming Tesla could not stop in time and struck him.
The Tesla driver remained at the scene and willingly cooperated with authorities. Unfortunately, the teen's attackers fled the scene with his skateboard.
The young boy sustained serious injuries in the mishap. He remains in the hospital and is yet to wake up.
An investigation of the incident is currently underway. Witnesses that can give more information about the incident and the identities and whereabouts of the other teens are urged to contact Sergeant Gabe Gomez at (951) 765-2396 or ggomez@hemetca.gov.


Pedestrian Accident Statistics
Many injuries occur when a child loses balance, falls off the skateboard, and lands on an outstretched arm. Wrist, ankle, and face injuries are common in skateboarding.
Statistics show that California is particularly dangerous for pedestrians compared with other states. In 2018 alone, more than 14,000 were injured, while 893 people were killed due to pedestrian accidents.
Skateboarders are considered pedestrians by law. A lot of people enjoy skateboarding, but it may be dangerous. Every year, the emergency room has to deal with around 70,000 injuries.
It is estimated that in 2017, over 98,000 people were treated in hospital emergency rooms for injuries they sustained while ice skating. According to Injury Facts, over 47,000 persons between 15 and 24 were injured.
The National Safety Council estimates that in 2015, emergency rooms treated 125,145 skateboarder injuries.
Pedestrian Accident Lawyers for Victims in Riverside County
Skateboarding may be an enjoyable hobby, especially for younger people. Riding a skateboard on the road, on the other hand, entails risks. If you have been harmed in a skateboarding accident caused by a careless driver, you must obtain legal counsel from an expert attorney right once.
Look no further if you need a legal injury firm to represent you in court. Arash Law's San Bernardino County pedestrian accident attorneys have the compassion and experience to assist you to win your injury claim.
Arash Law is one of the most well-known and successful California injury law firms, with a legal team of over 50 people who provide outstanding customer service and outcomes. Our firm's highly regarded trial lawyers have obtained multimillion-dollar verdicts and settlements in catastrophic injury and wrongful death cases.
Insurance companies cannot compel us to accept their first or second offer in a litigation settlement. We resolve cases for the amount owed to our clients as compensation for their injuries, lost wages, damages, and mental or emotional distress whenever possible. Call us at (888) 488-1391 to talk with one of our personal injury lawyers!