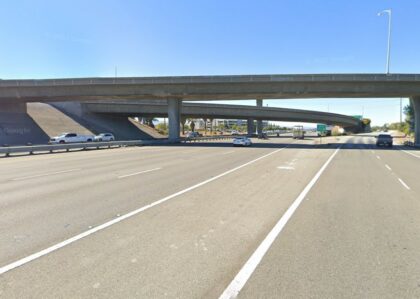 A bicycle crash claimed one person's life in San Jose on Saturday night, March 4, 2023.
The fatal collision occurred around 9:00 p.m. on northbound US Highway 101 near Airport Parkway.
Authorities received calls about the bicyclist that was struck by a vehicle in the area. When they arrived, they confirmed that the victim had died.
The first and second lanes were closed due to the crash, with an estimated reopening time of 11:15 p.m.
Officials are currently investigating what caused the accident.

Fatal Bicycle Accident Statistics
Although there were fewer bicycle accidents in 2018, there were over 800 cyclists killed in the United States in 2018. This represents an increase of 12% from 2001.
According to the National Center for Health Statistics, 712 bikers were killed by cars in 2010, while other causes killed 377.
Statistics show California has the highest number of fatal bicycle accidents in the country. According to the National Bicycle Safety Foundation, 11,116 people were injured while bicycling in California in 2017.
Riders are frequently exposed to a variety of road hazards. Several drivers ride too close to cyclists and disregard their rights, even when doing so is dangerous. As a result, accidents and even fatalities may occur.
In response to frequent failures to yield the right of way, drivers frequently speed, run through stop signs and red lights, and pay insufficient attention to the road. Accidents involving bicycles can also be caused by drunk driving or negligent driving.
What To Do Following an Accident
Ensure that the police arrive on the scene and file a report. You should tell the truth if you are questioned at the location of the accident about what you observed and experienced. Be cautious when speaking, and avoid making assumptions about things you do not understand. Anxiety and shock may cause accident victims to apologize profusely, even if they were not at fault. This act of kindness may be construed as evidence of your admission of guilt by insurance companies to avoid paying out on a claim.
California's high traffic accident rate has injured pedestrians, cyclists, and vehicle passengers. Our experienced lawyers are here to assist you, regardless of whether you were in a car during the accident. You can focus on getting better while we pursue the money you are due under the law, and we will keep you informed at every stage of the process.
Bicycle Accident Attorneys in San Jose
Bicycle accident victims can sue for compensation for their injuries and damages. In most cases, if you are injured in a bicycle accident, you can claim with the help of a lawyer.
Injured parties are entitled to compensation for their medical expenses, lost wages, and pain and suffering if they file a personal injury claim.
During this challenging time, it would be beneficial for you to seek the advice of your attorney. The necessary legal documentation will be managed, updated, and shared with the insurance companies on your behalf during this process.
Our San Jose bicycle accident attorneys at Arash Law, led by Arash Khorsandi, Esq., have years of experience providing comprehensive legal assistance to accident victims. Over $400 million has been recovered for our clients all over California.
To schedule an initial appointment with one of our lawyers, call (888) 488-1391 or complete the "Do I Have a Case?" form on our website.