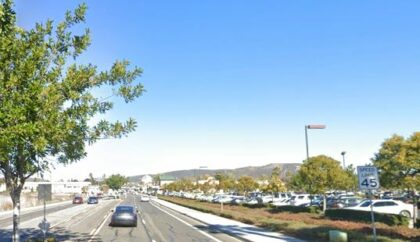 A pedestrian collision led to one person's death in San Marcos on Friday morning, March 10, 2023.
According to authorities, the crash occurred around 11:58 a.m. in the 200 block of South Las Posas Road at the EDCO Recycling Buyback Center.
Reports stated that the driver of the EDCO recycling truck was backing into the facility's scales when his vehicle collided with the pedestrian.
Deputies were called to the scene and pronounced that the unidentified victim had died.
Meanwhile, the truck driver remained at the scene and assisted investigators.


Fatal Pedestrian Collision Statistics
According to a new report from the Governors Highway Safety Association (GHSA), an estimated 7,485 pedestrians were killed in collisions in 2021, the highest number in four decades.
In 2020, speeding accounted for 8.6% of pedestrian fatalities, an increase from 7.2% in 2019. Speed plays a crucial role in pedestrian safety. With vehicle speed, pedestrian death risk increases exponentially, from 10% at 23 to 90% at 58 mph.
Most pedestrians who are hit by cars suffer severe injuries. Most of the damage will occur when a vehicle collides with a group of pedestrians.
One of the leading causes of pedestrian deaths and injuries is failure to yield to pedestrians or braking too suddenly.
Pedestrians should use sidewalks whenever possible, refrain from using drugs or alcohol, and exercise caution when crossing parking lots or driveways. This will reduce their risk of being injured in these collisions.
What Should I Do Following an Accident?
Ensure that law enforcement arrives at the collision scene and files a report. During an interview at the location of the accident, be truthful about what you saw and experienced. Refrain from making assumptions about things you don't understand, and speak carefully. A victim may apologize profusely following an accident due to panic and shock, even if there was no fault. In an attempt to avoid paying out on a claim, insurance companies can interpret this act of kindness as evidence of your admitting guilt.
California's high rate of traffic accidents has caused injuries to pedestrians, cyclists, and vehicle passengers.
Whether you were in a car or not, our attorneys are here to help. Our goal is to get you the money you're owed under the law while you concentrate on getting better, and we'll keep you updated throughout the process.
Trusted Pedestrian Accident Lawyers in San Marcos
Vehicles must always be alert for pedestrians, whether in a crosswalk or not. A pedestrian always has the right to cross a street, regardless of whether the crosswalk is marked. Investigations will reveal any violations of the law.
Victims' families can sue defendants if they believe their actions contributed to their death. A court may award damages in a variety of situations.
Count on our San Diego pedestrian accident lawyers at Arash Law, headed by Arash Khorsandi, Esq., for fair compensation if you sustain any damages you suffered after a pedestrian accident.
Traffic collisions will decrease if reckless drivers are held accountable for their actions.
To schedule a free case evaluation with an experienced California pedestrian accident attorney, call us today at (888) 488-1391 or complete our "Do I Have A Case?" form.