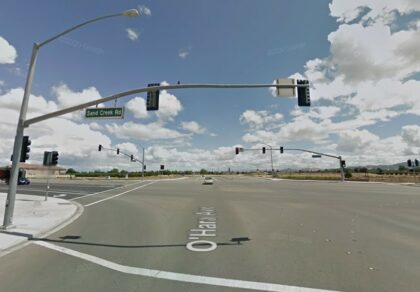 Two kids were hospitalized after a bus collision in Brentwood on Thursday afternoon, March 16, 2023.
The crash reportedly occurred around 2:45 p.m. on O'Hara Avenue toward Sand Creek Road.
According to authorities, a BMW 328i driver was heading north when he lost control and jumped the center median, colliding with a school bus carrying two children traveling south.
One witness claimed that the vehicle came up and hit the gravel. He was unsure if the driver was drunk or high. The driver tried to correct, came up off the curb, hit the school bus head-on, whipped around, and disassembled the entire engine.
Two kids aboard the bus were sent to a nearby hospital as a precaution. The mother of the other child arrived and picked up her child.
Meanwhile, the BMW driver was unharmed and cooperated with authorities. They confirmed that speed was most likely a factor in the collision.

Bus Collision Statistics
According to the Federal Motor Carrier Safety Administration (FMCSA), 232 people were killed in bus accidents in 2017. There were 234 fatal bus accidents in 2016, a 1% decrease from 2017.
Between 2007 and 2017, commuter buses accounted for 13% of all bus accidents that killed passengers. Approximately 40% were school buses, and the remaining 35% were public transportation buses. Thirteen intercity buses were also involved in fatal accidents in 2017. This year has seen the fewest bus accidents since the FMCSA started keeping track.
According to the National Safety Council, 117 people died in school bus accidents in 2018. Two hundred seventy-seven people were killed and 3,939 were injured in California.
Most bus accidents result from human error. An accident can occur when bus drivers fail to pay attention or perform their duties properly. In addition to negligence, other factors can contribute to a bus accident, such as not maintaining the bus properly or not providing adequate training to the driver.
How Do I Obtain a Police Report After an Accident?
If you are involved in an accident, we can assist you in obtaining a police report.
All you need to do is tell us what happened and where. Afterward, we will contact the relevant parties and get you all the necessary information.
With our help, you don't have to worry about whether your insurance will cover any damage or injuries—we'll make sure everything is covered!
Reliable Bus Accident Attorneys in Brentwood
Following a bus accident, you should consult with an attorney as soon as possible. Insurance companies or other people with ties to the bus company might try to get you to settle for much less money.
A bus accident typically involves more complex liability issues than a car accident. In addition to the driver, many other parties may be responsible for your injuries.
You can rely on our Brentwood bus accident attorneys at Arash Law, headed by Arash Khorsandi, Esq., to conduct a thorough investigation to determine who is at fault. As our client, you will be guided through each step to ensure the best possible outcome.
If you have been injured in a bus accident in California, don't hesitate to call us at (888) 488-1391 or complete our website's "Do I Have a Case?" form.