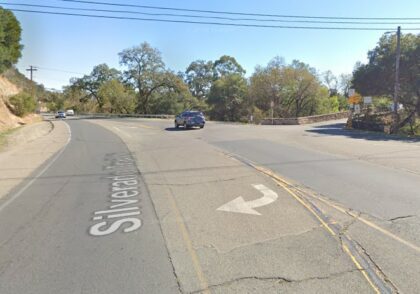 One person suffered injuries after a two-vehicle collision near St. Helene early Thursday morning, March 16, 2023.
According to authorities, the crash occurred around 6:41 a.m. at the Silverado Trail near the Pope Street intersection.
Reports stated that the driver of a Toyota sedan had pulled to the side of the Silverado and was attempting to drive back onto the road when a pickup truck broadsided the car.
Firefighters responded to the scene and transported one person to the hospital by American Medical Response ambulance after sustaining injuries.
Silverado was closed between Pope Street and Deer Park Road after the collision.
Officials stated that one lane of Silverado reopened about 30 minutes after the crash, and the road was fully reopened later Thursday.

Two-Vehicle Collision Statistics
According to the Fatality Analysis Reporting System, 35,766 people died in traffic accidents in 2020. A fatality occurred every 100 million kilometers driven, resulting in 11.7 deaths per 100,000 people.
According to the California Office of Traffic Safety, 19,938 car accidents resulted in injury or death in 2019. The figure fell by 1.6% from the previous year.
The number of Californians killed in car accidents increased in 2014 compared to 2013. In 2017, 3.898 people were killed in car accidents, and 276,823 were injured. In 2018, nine people were killed on the streets of the state for every 100,000 residents, according to data.
Many car accidents are caused by human error, including speeding, drunk driving, texting while driving, and driving under the influence—various factors, including weather, road layout, and vehicle difficulty, cause accidents.
When driving, you must keep a good following and leading distance, adhere to traffic laws, and keep yourself and other road users safe. Even with these precautions, tragic car accidents occur regularly.
What Should I Do After an Accident?
You can obtain a police report for this accident by contacting the local police department. The police department can provide information about getting a copy of your report. If you cannot obtain your report directly from the police department, you can request one through us. Our online form can be filled out to do this.
Upon receiving your request for a copy of your report, we will begin the claims process on your behalf without charging you any upfront fees. Our team will assist you until all necessary documents and information are obtained.
Trusted Car Accident Attorneys in St. Helene
While car accident victims have limited time to avoid being hit, they usually endure excruciating pain. Several factors, including high healthcare costs and wage loss during recovery, contribute to this.
Legal negligence is frequently blamed for automobile accidents. With this information, your attorney can prove that the other driver was negligent and responsible for the accident.
Our St.Helene car accident attorneys at Arash Law, headed by Arash Khorsandi, Esq., are prepared to fight for compensation if you or a loved one have been injured in a similar collision.
As a result of our reputable firm's work, we have helped victims of car accidents obtain over $400 million in compensation. Our firm guarantees that your case will be handled with the utmost care and attention, as with all our clients.
Call us today at (888) 488-1391 or visit our website and click the "Do I Have a Case?" link for a free, no-obligation consultation.