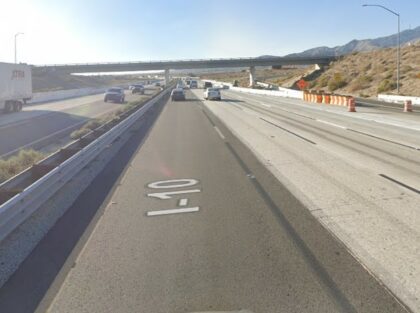 One person was extricated and hospitalized following a multi-vehicle crash involving big rigs in Riverside County on Thursday morning, March 23, 2023.
According to the California Highway Patrol, the collision involving three big rigs occurred around 8:05 a.m. on eastbound Interstate 10 near Haughen-Lehmann Way, between Cabazon and Whitewater.
The crash reportedly started when a semi-truck rear-ended another. Responders from Cal Fire/Riverside County Fire Department extricated one individual from the wreckage.
The unidentified person was transported to a nearby hospital with unspecified injuries. Not much is known about the other motorists involved.
A SigAlert was issued at 8:21 a.m. for three lanes while the clearing operation ensued. All lanes of the highway were reopened around 10:35 a.m.
The investigation into the collision continues. It remains unknown whether speeding or intoxication played a role.

Big Rig Accident Statistics
Large trucks provide more safety for their occupants in an accident than passenger cars or other smaller vehicles. This means that persons riding in smaller cars are statistically more likely to suffer major injuries or even die in the event of an accident. Even if only one truck is involved, the results can be catastrophic.
The National Highway Traffic Safety Administration reported that 4,965 people were killed in truck-related accidents in the United States in 2020.
The number of deaths in 2020 was down by 5% from the 5,032 recorded in 2019. Regrettably, 71% of these fatalities were still caused by trucks.
Large trucks caused 8.9 percent of traffic fatalities in the United States in 2020. At least ninety persons lost their lives in California in 2015 due to crashes involving trucks. Fifty or more deaths were attributed to trucks in only two states that year: Texas and Florida.
What to Do After a Big Rig Accident
Every truck accident must be reported right away to the police. Don't assume anything; always be honest when speaking with law enforcement or your insurance company. Maybe the innocent will say they're sorry. The insurance company might refuse to pay a claim if the victim acts in such a way.
If you contact the appropriate authorities, they will provide you with the whole report. For your convenience, we've provided a form below. As soon as we get your issues, we'll go to work on them. Our well-known attorney will offer your case the individual attention it requires during your free consultation.
Big Rig Accident Lawyers in Riverside County
Damages for injuries sustained in truck accidents can be sought through the judicial system in California if needed. We encourage you to get in touch with us if you have any questions about making an insurance claim or about having one of our skilled attorneys negotiate a settlement on your behalf.
The consultation is free of charge, and during it, one of our competent attorneys will assess your case, explain the next steps, and go through the elements that may affect the ultimate settlement amount.
Our trusted Riverside County truck accident lawyers at Arash Law, led by Arash Khorsandi, Esq., have extensive experience and accolades advocating for accident victims, with awarded compensation totaling $400 million. Call (888) 488-1391 now or click the "Do I Have a Case?" on our website to set up a free consultation with one of our attorneys.