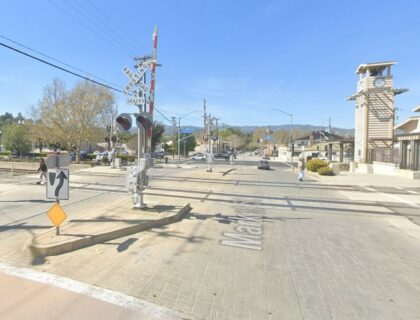 A pedestrian was killed after getting hit by a train on the tracks in Newhall, Santa Clarita City, on Monday evening, May 01, 2023.
The Los Angeles County Fire Department, through a notification from the Sheriff's Department, responded to a possible medical call near Railroad Avenue and Market Street at around 7:36 p.m.
Metrolink Train 227 has struck a person dead on the tracks. The Santa Clarita Valley Sheriff's Station believes this is not criminal at this time.
The identity of the late pedestrian is currently unavailable to the public due to a pending investigation.
It is still unknown as to what caused this incident and if drugs or alcohol were a factor.

Expert Train Accident Lawyers in Santa Clarita City
If you or a loved one suffered injuries or was killed in a train accident, you must immediately seek the advice of a lawyer.
Have a free consultation with one of our lawyers, who will investigate your claim, evaluate your case, and map out the subsequent actions that may affect the settlement.
Our Santa Clarita City train accident attorneys at Arash Law, led by Arash Khorsandi, Esq., have extensive experience and recognition advocating for accident victims, with awarded compensation totaling $400 million.
If you want a free consultation with our legal team, call us today at (888) 488-1391 or complete our "Do I Have a Case?" form online.
What to Do After a Train Accident
After a train accident, we are here for you. A handy online form on this page will help us prepare to investigate your claim in your free consultation with our legal expert. This guide will help you protect your rights and support your claim.
Remain calm and stay focused.
Make sure that you are safe, then check on other people.
Get medical attention immediately.
Contact the police after the accident as soon as possible and ask for an incident report.
Keep a detailed record of everything, including your injuries, the weather, the road conditions, and the car involved.
Gather the names and contact information of all possible witnesses.
Keep a notebook to record your injuries and the healing process. Describe how you're feeling, the treatments you're receiving, and the cost.
Before speaking with a lawyer, do not negotiate with an insurance company or accept a settlement offer.
Contact your insurance company.
Refrain from sharing anything concerning accidents or how they happened on social media.
Consult an experienced California train accident lawyer immediately.
Fatal Train Accident Statistics
According to the National Transportation Safety Board, a person or a vehicle is reported to be killed or injured due to a train accident every two hours.
Between 2020 and 2021, there has been a 21% increase in death at highway-rail crossings. In comparison, the deaths from other incidents increased by 20%. The latter recorded deaths of 617 people or 94% rate, all of them were trespassers.
In 2021, 893 people lost their lives in train accidents, and 5,781 were hospitalized due to nonfatal injuries. The deaths have increased by 20%, and the injuries have increased by 4% in 2020.