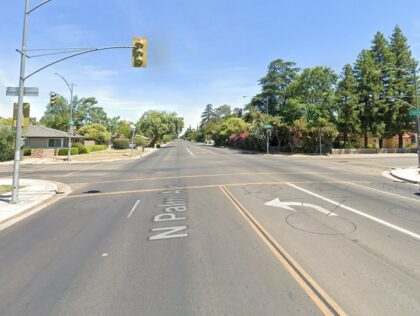 Two people sustained minor injuries after a two-vehicle rollover crash near Fig Garden in Fresno County on Thursday night, May 4, 2023.
The California Highway Patrol responded to E Gettysburg Avenue & N Palm Avenue intersection around 9:00 p.m. after receiving reports of a two-vehicle collision.
When they arrived at the scene, they discovered that the SUV had rolled over on its roof. The SUV's driver reportedly ran a red light, which caused the collision.
Both drivers survived the crash and suffered minor injuries.
Neither of the drivers is under suspicion of driving under the influence. The authorities are still investigating the crash.

Reputable Car Accident Attorneys in Fresno County
After serious car accidents, people frequently experience difficulties with their recovery process. Those who sustain long-term injuries may incur thousands of dollars in medical costs.
Most insurance companies aim to pay you the least amount of money. If you accept an insurance company's settlement offer, you risk being compensated unfairly.
Our skilled Fresno County car accident lawyers will help you throughout the insurance adjuster negotiation process. Additionally, our lawyers will prove the insured driver's negligence.
The practice of personal injury law has been the focus of our attorneys' careers at Arash Law, led by Arash Khorsandi, Esq. We are a reputable accident law firm in California. We provide no-cost consultations. To find out how we can assist, call (888) 488-1391 or fill out our "Do I Have a Case?" form.
What to Do After a Collision Between Two Vehicles
Although predicting the likelihood of a car accident is impossible, you can be ready for it. Using this checklist, you can learn what to do and what not to do following a car accident and how to protect your legal rights. Follow these steps:
Before checking on other people, you should examine your body for injuries.
Move disabled vehicles to the side of the road, if possible. Until the authorities show up, stay someplace secure. Turn on your emergency flashers to avoid any further accidents.
Inform the authorities about the collision. The officers will gather information and compile a formal report.
After a collision, you must get the other driver's name, contact information, and insurance details. Snap pictures of the license plates of the car involved and other essential details.
Do not admit fault. When speaking with a police officer, stick to the facts and avoid making assumptions.
It is essential to seek emergency medical care at a hospital or from a primary care physician.
Insurance companies in California have deadlines for reporting accidents. Make sure to adhere to the agent's instructions when making the report.
When speaking with a claims adjuster, only offer the required information. Before making statements or accepting settlement offers from insurance companies, speak with a lawyer.
A copy of the police report, medical bills, the other driver's information, injury treatment plans, and other important details should be in your file.
It would be best if you talked about your car accident with one of our trustworthy attorneys. Dial (888) 488-1391 to reach us.
Two-Vehicle Collision Statistics
In the US, a nation with a lot of traffic, a car accident occurs every 60 seconds. This type of accident results in about 2 million fatalities or severe injuries yearly, making it the country's leading cause of death and severe injury, especially for people between the ages of 2 and 34.
Vehicles are to blame for about 10,000 fatalities a year in California, where there are a lot of unintentional traffic fatalities. The Fatality Analysis Reporting System (FARS) estimates that 35,766 people suffered injuries and 38,824 died in fatal vehicle collisions in 2020.
Since 2013, the state has had 23.5% more fatal auto accidents. Three thousand eight hundred ninety-eight people were killed, and 276,823 people were injured in the 485,866 car accidents in 2017. The following year, in 2018, there were nine traffic fatalities per 100,000 inhabitants in the state.
Despite being cautious, drivers still risk seriously injuring or even killing someone. As a result, it's crucial to maintain safe driving practices by obeying traffic laws and always paying attention.