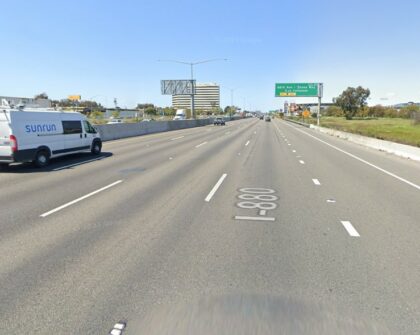 A pedestrian was struck and killed by a vehicle in Fremont early Wednesday morning, May 17, 2023.
According to the California Highway Patrol, the victim was declared dead at the scene after officers responded to a report of a pedestrian on northbound Interstate 880, also known as the Nimitz Freeway, around 12:15 a.m.
The authorities have not disclosed any additional details about the vehicle involved or why the victim was on the freeway. During the investigation, they closed all northbound lanes except the far left.
Anyone with information is urged to contact the authorities.

Renowned Pedestrian Accident Lawyers in Fremont, Alameda County
California's bicyclists, drivers, and passengers have the same legal rights as pedestrians. You might be eligible for compensation if a negligent driver injured you while you were a pedestrian.
During the free consultation, our professional lawyers will assess your case, advise you on how to proceed, and consider everything that could influence the settlement offer.
Our renowned Fremont pedestrian accident lawyers at Arash Law, led by Arash Khorsandi, Esq., have well-established careers and accolades in advocating for accident victims. Our clients have been awarded compensation totaling $500 million.
Set up a free consultation with one of our lawyers by calling (888) 488-1391 or completing our "Do I Have a Case?" form.
What To Do After A Pedestrian Accident
It can be challenging to think clearly after an automobile accident. Your actions and words at the accident scene will substantially impact the outcome of your lawsuit. The following recommendations may help you prevent having the value of your personal injury claim reduced:
Call the police after the crash and ensure the officer completes an accident report.
Photograph your injuries, the accident scene, property damage, weather, road conditions, and the car that struck you.
Photograph the at-fault driver's license, insurance card, and license plate.
Obtain the names and contact information of eyewitnesses and anyone else who witnessed something.
As soon as possible, see a doctor or other healthcare professional and inform them of all affected areas of your body.
Keep a journal detailing your injuries and rehabilitation. Describe your emotions, medical care, and the costs you must pay.
Consult a lawyer before accepting a settlement offer from an insurance adjuster.
Avoid social media. Please do not post anything about your accident or its circumstances.
Contact a reputable pedestrian accident lawyer now to discuss your situation.
Fatal Pedestrian Accident Statistics
Pedestrians are significantly more likely to die or be seriously hurt in a collision. People become helpless due to accidents. Pedestrians killed or injured in car accidents have recently increased in the United States.
Pedestrian fatalities increased by 27% between 2007 and 2016, according to the Governors Highway Safety Association (GHSA), while other traffic deaths decreased by 14%.
In 2017, 5,977 people died while walking in the United States. The latest data show that 88 individuals are killed every minute. In 2017, hospitals treated 137,000 non-fatal pedestrian injuries.
According to recent research, pedestrians in California are more likely to be injured or killed than in any other state. The California Department of Transportation predicts 55,000 pedestrian accidents and 6,516 pedestrian deaths in 2020.