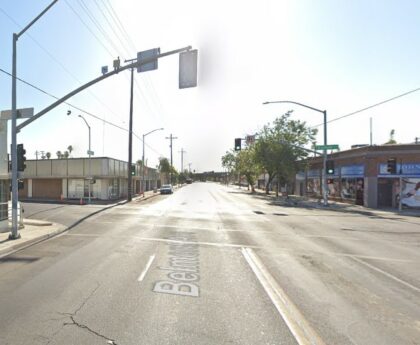 Two police officers and a woman sustained injuries after a two-vehicle collision in Central Fresno late Saturday afternoon, May 20, 2023.
According to the Fresno Police Department, the collision occurred at the Fulton and Belmont Avenue intersection at 5:30 p.m.
The authorities and witnesses claimed the woman driving a white Lexus SUV headed westbound on Belmont Avenue. She was about to make a left turn going south on Fulton Avenue when she collided with the police SUV.
The police SUV was said to be responding to a call while traveling at an unknown speed eastbound on Belmont during the crash. Both vehicles had a green light.
When the female driver started to make a left turn, it wasn't clear if her vehicle had a protected green arrow. The patrol car struck a tree after colliding with the other car.
The officers complained of pain and were transported to the hospital as a precaution. The woman sustained minor injuries and was hospitalized for medical attention. All three people are in stable condition.
Authorities claim they do not think alcohol or drugs were used. Further details regarding the crash were not immediately available.

Dedicated Car Accident Attorneys in Fresno City
In California, those hurt in a car accident can file a claim against the responsible party. Quick action and legal counsel are necessary when handling insurance claims and related issues.
Please don't hesitate to contact our reputable law firm if you or someone you know needs assistance filing a personal injury or wrongful death claim following a car accident.
Our dependable Fresno car accident lawyers at Arash Law, led by Arash Khorsandi Esq., will represent you and protect your rights in court. Our firm has obtained over $400 million in compensation for California clients.
Call (888) 488-1391 for a free consultation or complete our "Do I Have a Case?" form.
What to Do After a Car Accident
Getting involved in a car accident can be upsetting and disturbing. There may not only be physical harm but also financial and emotional consequences. Knowing what to do after a car accident can improve your safety, protect your legal rights, and help with damage compensation. Following a car accident, do the following:
Check your body first for injuries. Afterward, check the condition of the others involved.
Place your car in a secure area, such as the side of the road.
Inform the authorities about the collision and do not admit fault. Police officers will create an official report.
Obtain the other driver's name, address, insurance information, and other necessary information.
Photograph the accident scene, the victims, the damaged cars, the road, and the weather.
Ask witnesses for contact details such as names and phone numbers.
Inform your insurance company as soon as you can. Follow the agent's instructions when submitting the report. Avoid recording statements and accepting settlements before seeking legal advice.
Speak with a lawyer. If you have been hurt or your property has been damaged, speak with one of our reputable car accident attorneys for assistance with your claim.
Two-Vehicle Collision Statistics
Every 60 seconds, a car accident occurs in the US. Automobile accidents are the leading cause of fatalities and severe injuries in the US, particularly among those between the ages of 2 and 34. Each year, these types of accidents cause about 1.3 million fatalities.
In California, where there are many unintentional traffic fatalities, vehicles are to blame for more than 10,000 deaths annually. According to the Fatality Analysis Reporting System (FARS), 35,766 injuries and 38,824 fatalities were due to fatal vehicle collisions in 2020.
Since 2013, the state has had 23.5% more fatal car accidents. In 2017, 485,866 traffic accidents occurred, resulting in 3,898 fatalities and 276,823 injuries. Nine traffic fatalities were reported per 100,000 residents in 2018.
Even when driving carefully, drivers still have the potential to kill or injure someone. In light of this, it is essential to maintain safe driving habits and use caution while driving.