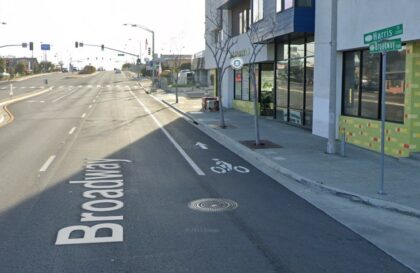 A woman was killed following a hit-and-run in Lemon Grove on Wednesday morning, May 24, 2023.
According to the San Diego County Sheriff's Office, the hit-and-run occurred on Broadway and Harris Street at around 12:30 a.m.
An eyewitness reported seeing a white Ford F-150 hit the pedestrian before fleeing the scene. The witness, however, could not describe the pickup truck's driver.
Paramedics performed the necessary life-saving procedures, but the injuries were too severe, and the victim died.
This woman's identity will be withheld until her next of kin is notified.
Anyone with information about this fatal hit-and-run crash incident is encouraged to call the authorities.

Dedicated Hit-and-Run Accident Victim Lawyers in San Diego County
Victims of hit-and-run accidents in California or their loved ones can file a claim with their insurance company or file a lawsuit to recover damages. Contact a top-tier legal representative if you or a loved one were seriously injured or killed in a hit-and-run accident.
An attorney will examine your case without cost, explain what comes next, and discuss anything that can influence the settlement offer with you.
Our trusted San Diego County hit-and-run accident attorneys at Arash Law, led by Arash Khorsandi, Esq., have experience and accolades advocating for accident victims, with awarded compensation totaling $400 million.
Call (888) 488-1391 now or click "Do I Have a Case?" on our website to set up a free consultation with one of our attorneys.
What to Do After a Hit-and-Run Accident
Regardless of whether or not the other driver stops for you, you are entitled to compensation for your injuries. You can strengthen your case for compensation if you assist law enforcement in identifying and apprehending the motorist. Here are some guidelines on how to proceed:
Collecting as much data as possible at an accident scene is essential. The license plate may or may not reveal information about the vehicle's make, model, and color.
Immediately report this to the authorities. The California Department of Motor Vehicles (DMV) or the local police station where the report was filed will have a copy of the accident report available within a few days. You need to submit this evidence with your claim.
Assemble all information you can find about potential witnesses. Quickly get their names and contact information.
Find a doctor right now. Get medical attention if you've been hurt, even if you don't think you need it.
Private insurance providers must be informed. Do not settle with other insurance companies without first speaking with a lawyer about your rights after a hit-and-run.
Fatal Hit-and-Run Accident Statistics
The United States criminalizes causing an accident and leaving the scene without rendering aid or informing authorities. Causing an accident and leaving the scene is illegal and immoral.
According to the National Highway Traffic Safety Administration, 737,100 hit-and-run accidents occurred in the United States in 2015.
Every 43 seconds, a hit-and-run occurs somewhere in the United States. In 2016, 2,049 people were killed in hit-and-run accidents, a record number.
Three thousand fifty-six people died from hit-and-run accidents in California between 2010 and 2019. Compared to other states, California has one of the highest rates of this type of accident.