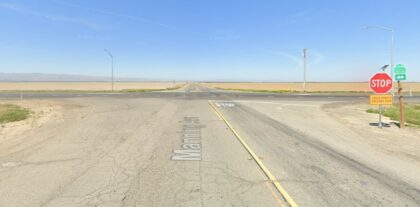 Three men riding a Toyota Corolla were killed following a collision with a semi-truck in Fresno County on Thursday morning, May 25, 2023.
According to the California Highway Patrol, the collision happened at the intersection of Highway 33 and Manning Avenue at around 5:00 a.m.
Sgt. Veeson, an officer of the CHP, stated that the Toyota sedan crossed the intersection onto the path of the semi-truck without yielding to the stop sign. The driver of the semi-truck was unsuccessful in avoiding the sedan.
The driver of the sedan, Juan C., 53, and his passenger, Kevin M., 21, died from the collision. Another passenger, Amancio H., 77 years old, was rushed to the local hospital but died of his injuries.
The semi-truck driver stayed at the scene and cooperated with the authorities.
It is uncertain whether drugs or alcohol contributed to the incident.

Dedicated Semi-Truck Accident Lawyers in Fresno County
A truck accident in California could lead to a personal injury claim to seek compensation and hold the responsible party accountable. Be aware of your rights and safety.
Let one of our experienced semi-truck accident lawyers evaluate your case. We will review the following steps during a free consultation and assess the factors influencing the final settlement amount.
Our team of highly experienced Fresno County truck accident lawyers at Arash Law, led by Arash Khorsandi Esq., has the skills and credentials to represent accident victims. In California, our firm has recovered $500 million in compensation.
To schedule a free consultation with one of our trustworthy attorneys, call (888) 488-1391. Also, you can get started by filling out our "Do I Have a Case?" form.
What Should You Do After a Truck Accident?
Accidents involving trucks can be deadly, if not fatal. Prioritizing your rights, safety, and health is crucial. To ensure safety and proper handling of the situation following a truck collision, follow these steps:
In an accident, it is best to call 911 right away to report the incident.
Wait for authorities in a safe location. Move disabled vehicles to the side of the road if possible.
Do not admit fault when communicating with a legal or insurance authority. Instead, only provide factual information.
Seek medical attention as soon as possible. When it comes to internal injuries, running tests and scans can help identify them, even if there are no visible symptoms.
Remember that some victims may feel remorse, resulting in their insurance company denying their claim.
Obtain a copy of the completed report. Make a formal request to the local government.
Please get in touch with us at (888) 488-1391. We will respond to your message as soon as we receive it.
Fatal Truck Accident Statistics
Small vehicle occupants are less likely to be protected in an accident than truck drivers and passengers. In collisions involving smaller cars, people are more likely to sustain serious injuries or even die. An accident involving a big rig or truck can be dangerous.
Truck accidents killed 4,965 Americans in 2020, according to the National Highway Traffic Safety Administration (NHTSA). In 2019, there were 5,032 fatalities. The total number decreased by 5% in 2020. In the United States, 71% of fatal car accidents involve trucks.
In 2020, large trucks were involved in 8.9% of fatal collisions in the United States. There were at least 90 truck-car collisions in California in 2015.