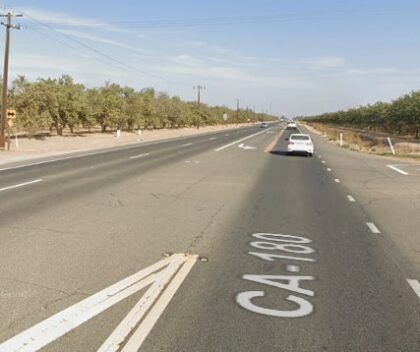 A male pedestrian was killed after colliding with a car on Highway 180 in Fresno County on Wednesday evening, May 31, 2023.
The California Highway Patrol officers said the incident occurred on Highway 180 and Bryan Avenue, northeast of Kearney Park, around 10:30 p.m.
According to the CHP, the victim was crossing the dark intersection when a Honda Accord struck him. The driver did not have enough time to avoid the victim.
The pedestrian died at the scene.
The driver stayed and cooperated with the authorities.
Speed was not believed to have been a factor in this incident.

Respected Pedestrian Accident Attorneys in Fresno County
California law protects pedestrians the same as motorists, passengers, and cyclists. Pedestrians can file a claim against the at-fault driver when injured or killed in an accident.
Your case will be reviewed by lawyers knowledgeable in your field. They will advise on how to proceed and evaluate the factors affecting your final settlement price.
Our Fresno County pedestrian accident lawyers at Arash Law, led by Arash Khorsandi, Esq., have extensive experience and knowledge in representing pedestrian accident victims. Our firm has successfully recovered over $500 million in compensation for our clients in California.
Call (888) 488-1391 to schedule a free consultation or complete our "Do I Have a Case?" form.
What to Do After a Pedestrian Accident
Losing a loved one in a pedestrian accident can make it difficult to remain calm. However, remember that your actions and words following an accident can significantly impact the outcome of your claim against the negligent party. The following steps will help you deal with the aftermath of a pedestrian accident:
Notify the relevant authorities and request a copy of the official report.
Maintain detailed records of the vehicle involved, the accident scene, injuries, and property damage.
Obtain the driver's license, insurance card, and license plate number information.
Gather potential witnesses' names and contact information.
Keep a journal to record all associated expenses.
Seek legal counsel from a reputable firm before speaking with an insurance adjuster or accepting a settlement offer.
Avoid discussing the accident or the events leading up to it on social media.
Obtain and organize all necessary accident paperwork in a file.
If you require the assistance of one of our knowledgeable pedestrian accident attorneys, please call (888) 488-1391.
Fatal Pedestrian Accident Statistics
It is more likely that pedestrian collisions will result in severe injuries and deaths. Pedestrians are particularly vulnerable to collisions.
On American roads, pedestrian accidents result in more injuries and fatalities. In recent years, pedestrian accidents have been the leading cause of traffic fatalities.
The Governors Highway Safety Association reports that pedestrian deaths increased by 27% between 2007 and 2016, while other traffic-related deaths decreased by 14%.
According to the Centers for Disease Control and Prevention, one pedestrian dies every 75 minutes. Moreover, 7,000 pedestrians died in the U.S. in 2020.
Additionally, 104,000 pedestrians were treated in emergency departments for non-fatal injuries in 2020.
A recent study shows California has a higher pedestrian fatality and injury rate than other states. California pedestrian fatalities and injuries in 2020 were 6,516 and 55,000, respectively.