A 41-year-old man identified as Adan V. was killed after a fatal pedestrian crash in Apple Valley on Saturday night, November 20, 2021.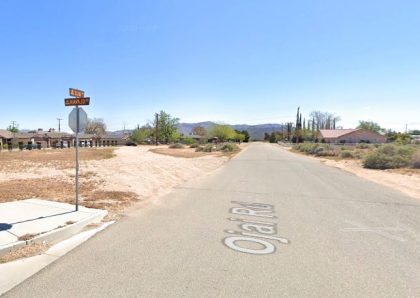 The accident transpired at approximately 8:30 p.m. near the intersection of Navajo Road and Ojai Road in Apple Valley.
The 41-year-old man was walking westbound in the number one southbound lane on Navajo Road when a white GMC Terrain suddenly struck him for unclear reasons.
The GMC Terrain driver remained at the scene and willingly cooperated with authorities. He was uninjured in the crash.
Meanwhile, the pedestrian sustained life-threatening injuries. Unfortunately, despite the life-saving measures performed by paramedics, the pedestrian succumbed to his injuries and was pronounced dead at the scene.
Information about the accident is currently limited. No arrests have been made at the moment. Local authorities are further investigating the cause of the crash.
Witnesses that can give more information about the accident are urged to call Deputy J. Malocco at the Apple Valley Sheriff's Station at (760) 240-7400 of Sheriff's Dispatch at (760) 956-5001.
Callers who want to remain anonymous are encouraged to use the We-Tip Hotline at 1-800-78CRIME (27463) or leave the information on the We-Tip website at www.wetip.com.

Fatal Pedestrian Accident Statistics
Pedestrian accidents have become a growing concern over the years. There has been a significant increase in pedestrian deaths in the last 33 years. This is because pedestrians are more vulnerable to the dangers on the road compared to motorists.
Pedestrian deaths climbed by 27% between 2007 and 2016, while other traffic-related deaths declined by 14%.
In 2017, 5,977 pedestrians were killed in road accidents in the United States. That equates to approximately one death every 88 minutes. In addition, an estimated 137,000 pedestrians were treated in emergency departments in 2017 for nonfatal crash-related injuries.
Negligent/distracted driving, speeding, and drivers failing to yield to pedestrians are all common causes of pedestrian accidents.
But why are so many drivers becoming distracted these days? Because cellphones are becoming more popular, more drivers are preoccupied with their devices rather than focusing their vision on the road.
San Bernardino County Fatal Pedestrian Accident Attorneys for Victims
It can be extremely stressful and distressing to lose a loved one in a deadly pedestrian accident. Regardless of the outcome of the official inquiry, the victim's family is allowed to seek compensation for the accident's damages through a wrongful death claim.
Victims of wrongful death can seek financial compensation for lost income, funeral expenses, pain and suffering, and emotional distress through a wrongful death lawsuit.
Our San Bernardino fatal pedestrian accident attorneys from Arash Law will fight vigorously for their client's rights and best interests while also holding the responsible party accountable for carelessness. Arash Law's pedestrian accident lawyers have years of experience in settlement discussions and court proceedings and know exactly what to do in the circumstances like this.
We can also contact the insurance company, calculate damages, and employ legal techniques to demonstrate their value during settlement negotiations and future litigation. Call (888) 488-1391 immediately for a FREE consultation with an experienced wrongful death lawyer.