An unidentified 38-year-old man was killed after getting struck by a hit-and-run driver on Friant Road on Saturday morning, February 6.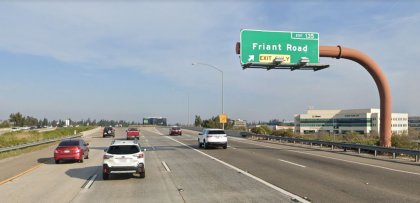 According to the local authorities' initial reports, the accident took place on Friant Road near Merrill Avenue at around 7:00 a.m.
The unidentified male pedestrian was walking on the roadway's paved shoulder when an unspecified vehicle suddenly struck him.
The vehicle reportedly swerved to the right for unclear reasons. The driver of the car did not stop to render aid and fled the scene.
The pedestrian was fatally wounded from the accident. He was later pronounced dead.
It is unclear whether drugs or alcohol were a factor in the accident. Local authorities are actively pursuing the hit-and-run driver. They are also gathering evidence. Witnesses that can give more information about the accident are urged to contact the Fresno-area CHP at 559-262-0400.

Fatal Hit-and-Run Pedestrian Accident Statistics
Pedestrian accidents are unlike other types of accidents just because pedestrians have no protection in an accident. Those who are riding in cars are in vehicles that weigh an average of at least 4,000 pounds and have seat belts and airbags to protect them.
Pedestrians currently make up a large percentage of traffic fatalities in the past 33 years. According to the Governors Highway Safety Association, pedestrian fatalities in the U.S. have increased by 27 percent from 2007-2016, while other traffic-related deaths decreased by 14 percent.
It's also easier for drivers to walk away after hitting a pedestrian on the roadway. Leaving the scene after an accident is a crime in itself. Unfortunately, hit-and-run accidents still occur on U.S roadways every day.
There are several reasons why hit-and-run drivers flee the scene. They might be intoxicated or impaired by drugs, face legal difficulties, be uninsured, or be illegal aliens.
Wrongful Death Attorney for Victims of Fatal Pedestrian Accidents
Suddenly losing a loved one due to a deadly pedestrian accident may leave the victim's family vulnerable to manipulation and bad decisions.
When facing cases like this, it's vital to have an experienced wrongful death attorney to assist the victim's family with their claim. Attorneys can serve as a helpful legal guide for the victim's family. They can also negotiate with insurance companies on behalf of their clients.
Our attorneys at Arash Law are always available to assist you. Call us at (888) 488-1391 for a FREE Consultation with a Pedestrian Accident Lawyer in California.
We have helped our injured clients recover more than $500 million. Our law firm's experienced personal injury attorneys are available at any time — day or night 365 days per year — to answer your questions and provide you with expert legal guidance.