An unidentified pedestrian was killed after getting struck by a hit-and-run driver in Gardena on Saturday night, June 5th.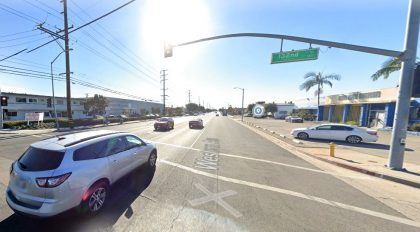 The accident happened at approximately 10:00 p.m. at the intersection of Western Avenue and 132nd Street in Gardena. A light-colored van reportedly hit the pedestrian at the intersection. The driver of the van did not stop to render aid and fled the scene.
Paramedics later arrived at the scene and found the victim's body on the roadway. Unfortunately, despite their life-saving attempts, the victim was unable to survive his/her injuries.
The pedestrian was pronounced dead at the scene. The identity of the victim has not been disclosed. Police are actively seeking the whereabouts of the hit-and-run driver. An investigation is also underway.

Fatal Pedestrian Hit-and-Run Accident Statistics
Leaving the scene after an accident is a crime in itself. Unfortunately, hit-and-run accidents still occur on U.S roadways every day. Unfortunately, hit-and-run accidents occur every minute in the U.S.
In 2016, approximately 2,049 hit-and-run fatalities were reported in the U.S. Annually, around 682,000 hit-and-run accidents occurred in the country. Pedestrians are common victims of hit-and-run accidents.
Hit-and-run drivers cause one in five pedestrian accidents. Sixty percent of people killed in hit-and-run accidents are pedestrians. Common reasons why hit-and-run drivers flee the scene are intoxication, driving without a license, and fear of getting arrested if they remain.
Los Angeles County Wrongful Death Attorney for Victims of Fatal Pedestrian Hit-and-Run Accidents
If you or your loved one was injured – or worse – killed in a hit-and-run accident, you're likely to be overwhelmed in the aftermath. While you attend to the vital task of moving forward toward a full physical and emotional recovery, allow your hit-and-run accident lawyer to help guide your claim toward its best possible resolution.
You may be concerned about a hit-and-run lawyer's costs, but don't let this dissuade you from seeking legal counsel. Attorneys from Arash Law will vigorously fight for their client's rights and best interests while ensuring that the liable party will be held accountable for their negligence.
The dedicated hit-and-run attorneys at Arash Law are committed to helping you recover from the damages you've suffered. Our dedicated legal team has decades of experience fighting for the rights of accident victims just like you. We're available to help 24 hours a day and seven days a week, so please don't hesitate to call our office at (888) 488-1391 today to discuss your accident with a lawyer for hit and run cases.