A Centro Sector Border Patrol Agent identified as Alejandro Flores B. was killed after getting struck by a passing vehicle in Indio on Monday afternoon, March 15.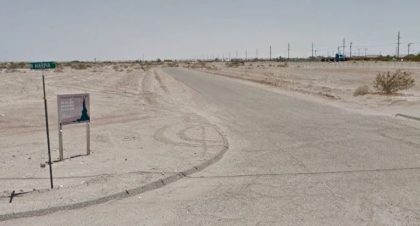 The fatal accident took place on Highway 86, north of N. Marina Drive in Salton City, Indio, around 4:30 p.m.
The Patrol agent reportedly went to a crash scene tending to a vehicle when a passing vehicle suddenly struck him.
A severe dust storm was also experienced in the area at the time of the accident. The limited visibility may have affected the accident.
The patrol agent was immediately rushed to Pioneer Memorial Hospital with serious injuries. Unfortunately, the agent later succumbed to his injuries and was pronounced dead.
No arrests have been made at the moment. Local authorities are further investigating the case.

Fatal Pedestrian Accident Statistics
Pedestrians currently make up a large percentage of traffic fatalities in the past 33 years. According to the Governors Highway Safety Association, pedestrian fatalities in the U.S. have increased by 27 percent from 2007-2016, while other traffic-related deaths decreased by 14 percent.
This is mainly because pedestrians are more vulnerable to the dangers on the road. Those who are riding in cars are in vehicles that weigh an average of at least 4,000 pounds and have seat belts and airbags to protect them. Meanwhile, pedestrians are left defenseless in case an accident occurs.
Common injuries resulting from pedestrian accidents are head trauma like concussions or brain bleeds, traumatic brain injuries, and many other debilitating injuries. Many pedestrian accident injuries can result in either functional impairments or long-term conditions.
Wrongful Death Attorney for Victims of Fatal Pedestrian Accidents in Riverside County
The sudden death of a loved one can be quite devastating for the victim's family. It may leave them vulnerable to manipulation by both insurance companies and other parties. To avoid this, it is necessary to have an attorney by your side to fight for your rights.
A California wrongful death lawsuit must also be brought within two years of the date of the accident. A family member is precluded from bringing a wrongful death lawsuit if it is not filed within that time period.
The victim's family must immediately pursue a wrongful death claim with their attorney's help. Through the wrongful death claim, the victim's family can seek compensation for the damages (such as loss of income and companionship, funeral costs, pain and suffering, and emotional distress) that the fatal accident has caused them.
Our attorneys from Arash Law know what it takes to succeed in California pedestrian accident claims. We will tailor our legal strategies to the unique circumstances of your case. Our attorneys will compile evidence, talk to eyewitnesses, and possibly consult expert witnesses to ensure your claim is as strong as possible before we enter settlement negotiations.
Call (888) 488-1391 for a FREE Consultation with a Pedestrian Accident Lawyer in California