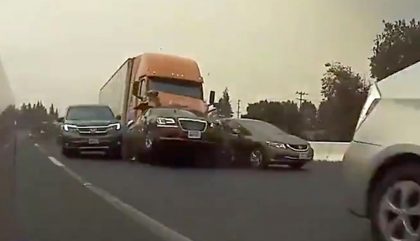 A 39-year-old Elk Grove resident identified as Joel David Broussard was killed after a multi-vehicle crash involving a semi-truck on Interstate 5 on Tuesday Evening, September 8.
The fatal multi-vehicle crash occurred on southbound Interstate 5 at Florin Road at around 6:00 p.m. A big rig failed to slow down and crashed into ten other vehicles on the roadway. How the collision occurred, and the reason why it happened is currently unclear.
An occupant of one of the vehicles involved was killed in the crash. He was identified as Joel David Broussard; he was riding a Chrysler 300 at the wreck. Two other people sustained minor injuries from the crash. Both of them were transported to an area hospital.
Drugs and alcohol were not considered as factors in the crash.
Fatal Tractor-trailer Crash Investigation is Underway
The California Highway Patrol is currently investigating the case. It is clear that the liability, in this case, will fall on the tractor-trailer driver as he struck multiple vehicles from behind, causing the death of the Chrysler occupant.
While investigating the case, the CHP will try to find out the leading cause of the incident. Tractor-trailer crashes such as in this case, are caused by a variety of factors such as loss of control of the truck, a tire blowout, a disabling or non-disabling vehicle failure, speeding, lane drifting, improper truck maneuvering, and driver fatigue. Unfortunately, according to a recent study, one out of three commercial truck drivers suffer from mild to severe sleep apnea, which affects their attentiveness and performance on the road. When facing cases like this, it's essential to have a professional Sacramento Wrongful Death Attorney to conduct a private investigation as soon as possible.
Tractor-trailer crashes can be difficult to deal with, as they are complex and involve various factors. With the help of a skilled attorney, the process will be made easier for the victim's family. Incidents like this can cause the victims to be vulnerable to manipulation. Trucking companies would often try to conduct their investigation to protect the negligent driver. To avoid this, skilled attorneys can protect the victim and the victim's family from trucking companies by hiring expert witnesses, conduct drivers' background checks, locate witnesses to the crash, and review applicable insurance coverage.
Sacramento Wrongful Death Claim for Victims of Fatal Tractor-Trailer Accidents
While the investigation is on-going, the victim's family is entitled to pursue a wrongful death claim. Through the wrongful death claim, families can seek compensation for the damages (such as loss of companionship, pain, suffering, and emotional distress) that the tragic incident has caused them.
The stress and sorrow following a loved one's death due to an accident can be too overwhelming. Professional wrongful death attorneys can stay updated on the official investigation on behalf of the family while ensuring that their client's legal rights and best interests are protected.

If you have a nagging suspicion that someone is to blame for your spouse or family member's death, contact Arash Law. We have the resources you need to pursue justice for wrongful death, as well as the experience to ensure that you get fair compensation. We're conveniently located throughout California with offices in Los Angeles, Sacramento, San Francisco, Riverside, Orange County, San Diego, and are more than happy to visit you. Call (888) 488-1391 for a FREE Consultation with our lawyers.