One unidentified person was hurt after a traffic accident involving a scooter at Broadway and 4th Avenue early Saturday morning, July 17.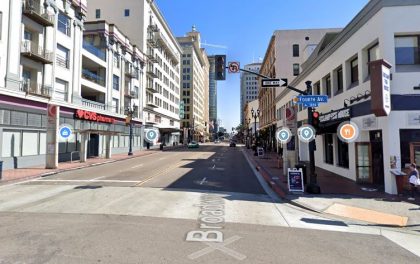 According to the initial reports from local authorities, the accident took place at the intersection of Broadway and 4th Avenue at around 12:33 a.m. The victim was riding an electric scooter when a passing vehicle suddenly struck him for unclear reasons. The driver that struck the man was suspected to be either an Uber or a Lyft driver.
Due to the severity of the impact, the rider was ejected from his scooter and hit the car's windshield before falling on the roadway. The rider sustained serious injuries from the mishap. He was immediately taken to a nearby hospital for treatment.
Additional information about the accident is unavailable at the moment. The identities of the involved parties have not been disclosed. Local authorities are actively investigating the case.

Scooter Accident Statistics
Electric scooters have become a familiar sight on the streets of California. They have quickly become one of the most convenient and inexpensive methods of traveling short distances across our state's major cities.
Unfortunately, as more people ride scooters, the number of scooter-related accidents is increasing. Between 2014 and 2018, the number of scooter accidents in the United States increased by 222 percent. Approximately 39,000 scooter-related injuries were reported.
According to the San Diego Union-Tribune, the city received nearly 15,000 complaints about scooter use from late June to mid-September. Only twenty citizens were responsible for 75% of the complaints (each of whom made an average of over 560 complaints).
San Diego follows their own set of rules when it comes to riding scooters. According to the City of San Diego, riders must follow the same rules that apply in most California cities. Scooters cannot be ridden on sidewalks. Scooters must be parked without blocking traffic on the sidewalk or road.
Personal Injury Attorney for Victims of Scooter Accidents in San Diego County
If you are injured due to someone else's negligence, you have a legal right to compensation. Your legal rights may be jeopardized unless you seek the advice of an experienced personal injury lawyer. After any type of accident, including an e-scooter accident, it is critical to seek legal counsel as soon as possible.
It is critical to seek legal advice as soon as possible after any type of accident, including an e-scooter accident. Although consulting an attorney does not guarantee compensation, it is the only way to ensure that your legal rights are protected. If you do not seek legal advice from an experienced personal injury attorney as soon as possible, you risk losing your legal rights. It is critical to seek legal counsel as soon as possible following any type of accident, including an e-scooter accident.
Are you injured in a scooter accident? Our experienced scooter accident lawyers from Arash Law have your back. We have decades worth of experience and resources that we can use to help you win your claim. You have nothing to lose by consulting with an experienced attorney about your scooter crash. Call us now at (888) 488-1391 for a free consultation with one of our attorneys.