Two people were killed after the vehicle they were riding in was struck by a work van in San Jose on Sunday, September 27.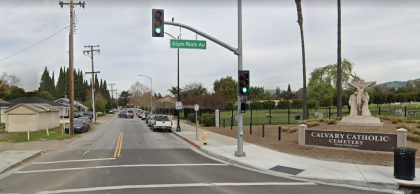 The crash transpired at around 8:15 a.m.. at the intersection of Alum Rock and Alexander avenues. A white 2007 work van was speeding westbound on Alum Rock and ran a red light causing the vehicle to crash into a red 2002 Nissan Maxima going southbound on Alexander Avenue. The two occupants of the Nissan Maxima died due to the severity of their injuries.
One of the victims was identified as 43-year-old Galdino Limon Agredano. Agredano was pronounced dead at the scene while his unidentified female passenger was later pronounced dead at the hospital. The drive of the work van was uninjured. He was later arrested on charges of vehicular manslaughter and reckless driving.
Fatal Stoplight Crash Investigation is Underway
The San Jose Police Department is currently conducting an investigation. Witnesses that can provide helpful information about the crash are encouraged to contact Detective Templeman at (408) 277-4654.
Following road signs and not observing your surroundings properly on the roadway can lead to catastrophic car accidents such as this one. Unfortunately, according to the Federal Highway Administration, not all motorists abide by these laws, approximately 40 percent of car collisions take place at road intersections, and the cause is usually related to running a stop sign or a stoplight.
Some common reasons drivers drive on a red light are impatience, reckless driving, and distracted driving. When facing a case like this, it's essential to have a Santa Clara County wrongful death attorney to conduct an independent investigation. Attorneys have the resources to help the victim's family to receive the justice that they deserve. They can re-interview important witnesses, review any related surveillance footage from the crash scene, and obtain phone and texting records of the liable party.
Santa Clara County Wrongful Death Attorney for Victims of Fatal Car Crashes
Suddenly losing a loved one due to a fatal car accident can cause immense stress and sorrow to the victim's family. Dealing with a sudden loss can be overwhelming and can leave the victim's family vulnerable to manipulation; having their rights protected during this difficult time is vital.
While the official investigation is on-going, the victim's family is entitled to pursue a wrongful death claim with their wrongful death attorney's help. Through the wrongful death claim, the victim's family can seek compensation for the damages (such as loss of companionship and income, pain and suffering, and emotional distress) that the accident has caused them.

If you have a nagging suspicion that someone is to blame for your spouse or family member's death, contact Arash Law. We have the resources you need to pursue justice for wrongful death and the experience to ensure fair compensation. We're conveniently located throughout California, with offices in Los Angeles, Sacramento, San Francisco, Riverside, Orange County, and San Diego, and are happy to visit you. Call (888) 488-1391 for a FREE Consultation with a wrongful death attorney in California.