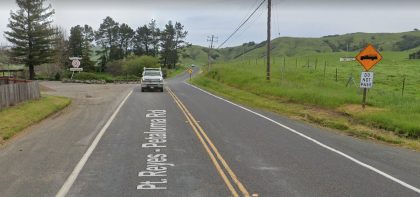 An unidentified dump truck driver sustained major injuries after his truck collided head-on with another vehicle on Point Reyes-Petaluma Road on Monday morning, September 28. The collision occurred at around 9:10 a.m. on Point Reyes-Petaluma Road just west of the French Marin Cheese Factory.
A Mazda 6 sports wagon was initially driving westbound when the vehicle drifted across the center divider and crashed into the victim's oncoming Peterbilt dump truck. The driver of the Mazda was later identified as 42-year-old Todd Michael Shoberg. The dump truck driver was immediately taken to MarinHealth Medical Center in Greenbrae for treatment.
Head-On Crash Investigation is Underway
The California Highway Patrol (CHP) is currently investigating the possible factors that may have caused the collision. Although head-on collisions only represent 2 percent of accidents, they account for 10 percent of fatalities on U.S. roadways. Head-on collisions commonly occur in a traffic light, stop sign, or blind intersections and on freeways. Head-on crashes at intersections happen when drivers disregard traffic laws and signals, such as red lights, stop signs, or yield signs.
Some common reasons why head-on collisions occur are distracted drivers, over fatigued drivers, and speeding. When facing a case like this, it's essential to have a Marin County personal injury attorney specializing in head-on collision crash cases to conduct an independent investigation. Attorneys have the resources to help the victim's family to receive the justice that they deserve. They can re-interview important witnesses, review any related surveillance footage from the crash scene, and obtain phone and texting records of the liable party.
Personal Injury Attorney for Victims of Head-On Collisions in Marin County
Sustaining injuries from car accidents can be quite challenging to deal with. After all, it can potentially disrupt all aspects of the victim's life, such as family, work, and finances. The victims may be left in a vulnerable position if they face their case alone. While waiting for the official investigation results, the victims are encouraged to pursue a personal injury claim with their attorney's assistance. Through the personal injury claim, attorneys can negotiate with insurance companies on behalf of their clients to ensure that they will be fairly compensated.

If you have a nagging suspicion that someone is to blame for your spouse or family member's death or injury, contact Arash Law. We have the resources you need to pursue justice for wrongful death and the experience to ensure that you get fair compensation. We're conveniently located throughout California, with offices in Los Angeles, Sacramento, San Francisco, Riverside, Orange County, and San Diego. We are more than happy to visit you at your home or office—call (888) 488-1391 for a Free Consultation with a California personal injury attorney.