A homeless woman was killed while an unidentified man was seriously injured after getting struck by a hit-and-run driver in Santa Rosa on Tuesday evening, March 23.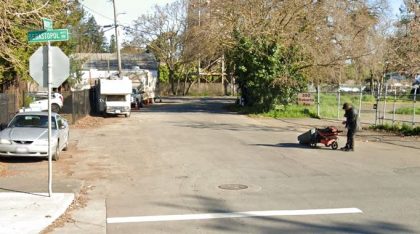 The accident occurred at around 9:48 p.m. in Roberts Avenue and Sebastopol Road in Santa Rosa.
Two men reportedly had a quarrel which ended with one of the men getting in a vehicle and attempting to run over the other party.
As the suspect was attempting to hit the other man with his car intentionally, he also struck an innocent homeless woman who was sleeping in a homeless encampment at the time of the accident.
The suspect immediately fled the scene after the accident. The homeless woman was pinned underneath the suspect's vehicle. She was later pronounced dead at the scene.
The male victim sustained serious leg injuries and was immediately hospitalized. The suspect was later identified as 53-year-old Clifford A. He is now facing charges of murder and attempted murder.
Local authorities are actively pursuing the suspect at the moment.

Fatal Crash Investigation
Leaving the scene after an accident is a crime in itself. Unfortunately, a lot of drivers still do this. The suspect will face serious charges, combine that with the fact that he also intentionally ran over the other party.
Intentionally hurting another person with your vehicle can be considered road rage, which is a form of reckless driving.
In 2016, approximately 2,049 hit-and-run fatalities were reported in the U.S. Annually, around 682,000 hit-and-run accidents occurred in the country. Pedestrians are common victims of hit-and-run accidents.
Drivers who operate their vehicles aggressively or recklessly are putting other people's lives unnecessarily at risk. Innocent people shouldn't have to suffer due to someone's careless actions on the road. Drivers who operate their vehicles in such a manner should be held liable for the damages and injuries they cause.
Sonoma County Wrongful Death Attorney for Victims of Fatal Hit-and-Run Accidents
The sudden death of a loved one can be quite devastating for the victim's family. It may leave them vulnerable to manipulation by both insurance companies and other parties. To avoid this, it is necessary to have an attorney by your side to fight for your rights.
Pending the official investigation results, the victim's family is encouraged to pursue a wrongful death claim with their attorney's help. Through the wrongful death claim, the victim's family can seek compensation for the damages (such as loss of income and companionship, funeral costs, pain and suffering, and emotional distress) that the fatal accident has caused them.
Attorneys from Arash Law can serve as a compassionate, helpful legal guide during this difficult time for the grieving family. They will vigorously fight for their client's rights and best interests while ensuring that the liable party will be held accountable for their negligence.
We're conveniently located throughout California, with offices in Los Angeles, Sacramento, San Francisco, Riverside, Orange County, and San Diego, and are happy to visit you. Call (888) 488-1391 for a FREE Consultation with a wrongful death attorney in California.