An unidentified 14-year-old girl was killed after getting struck by a vehicle in Riverbank on Wednesday morning, February 17.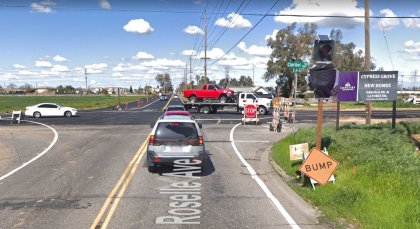 The fatal accident transpired at approximately 2:30 a.m. on Claribel Road, just west of Roselle Avenue.
A Mazda Sedan reportedly struck the teenage girl on Claribel Road. Another teenager accompanied her at the time of the accident, but her companion fled the scene after the suspect hit her.
Due to the severity of the impact, the young girl sustained fatal injuries. She was pronounced dead at the scene. The identity of the victim has not been disclosed.
The Mazda driver called 911, waited for local authorities to arrive, and willingly cooperated with them. It is unclear whether drugs or alcohol were a factor in the accident. No charges have been filed at the moment.
Local authorities are further investigating the case. Witnesses that can give more information about the accident are urged to contact the Riverbank Police Services at (209) 869-7162 and ask for Deputy McCulloch.

Fatal Bicycle Accident Statistics
California law classifies bicycles as vehicles. Therefore, bicyclists must behave as they would when driving a motor vehicle. They must obey roadway rules, including stopping at red lights and riding in the same direction as traffic. Bicycles also have the same rights as other vehicles.
Unfortunately, motorists often disregard bicyclists' rights and ride too closely or try to pass them when it is unsafe to do so. This leads to serious injuries and deaths.
Cars striking bicycles is the number one cause of bicyclist injuries and deaths in California. In many of these cases, the driver failed to yield the right of way, didn't check for bikes before pulling out, ran a stop sign or red light, or wasn't paying attention while driving.
Riding a bicycle on the roadway can be quite dangerous and can sometimes lead to fatal accidents, especially in urban areas. According to the National Highway Traffic Safety Administration, approximately 840 cyclists were killed in motor-vehicle-related accidents in 2016, accounting for 2 percent of traffic fatalities.
Wrongful Death Attorney for Victims of Fatal Bicycle Accidents in Stanislaus County
Suddenly losing a loved one due to a deadly bicycle accident can be quite devastating and overwhelming.
The victim's family may be left vulnerable and emotional after their loss, so hiring a capable Stanislaus County wrongful death attorney is essential. Filing for a wrongful death claim is necessary as the victim's family will receive compensation for the damages, such as medical expenses, lost earnings, emotional trauma, and pain and suffering that the tragic accident has caused them.
In the event of any bicycle accident in California, speak to Arash Law about your possible options. Call (888) 488-1391 or contact us online.