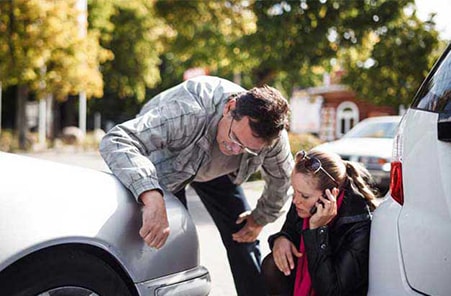 A car accident is a terrifying experience. It is overwhelming for anyone – especially if you have never been in a car accident before and do not know what to do next. At Arash Law, we have helped many accident victims throughout California deal with the fallout of a car accident and resulting injuries. We fight hard to get our clients the compensation they deserve. 
We have prepared this guide to help you know what to do – and, more importantly, not do – after a car accident. We have also compiled a list of frequently asked questions that our attorneys receive about car accident cases. We hope this information helps you deal with the confusing and painful aftermath of a car accident. And we are always here to help: call (888) 488-1391 or contact us online to schedule your free consultation. 
Here are some essential things to do after a car accident occurs: 
Get Medical Attention
Your first step after any car accident should be to get any immediate medical attention that is necessary. Usually, this means calling 911 to have an ambulance come to the scene. Even if you are not sure if you are injured, it is crucial to let emergency medical technicians come to the scene to assess your injuries. They have tools, training, and equipment that allows them to find injuries you might not know you have.
It is also essential to see if anyone else has been injured in the accident if you can do so. Other injury victims might not be able to call for help. They might need your assistance to get out of the vehicle or call 911. Be sure to check the scene for other injury victims if you can safely do so and if your injuries allow it.
Work With Law Enforcement on the Scene 
When you call 911, the dispatcher will send law enforcement to the scene of the accident. It is crucial to have a law enforcement officer respond so that you can get an official police report of the accident. This report will be necessary evidence in your case later on. It will also facilitate the exchange of critical insurance information. 
You should cooperate with the officer and answer all questions. They will ask for a statement about what happened to cause the accident, and you should give it. Unlike the insurance company, police departments are a third party that is considered neutral because they have no reason to protect one driver over the other. They are only interested in what caused the threat to public safety.
Get Photos and Video (If Safe)
An accident scene is not always a safe place. It is critical to get out of oncoming traffic because secondary accidents sometimes occur when other drivers do not pay enough attention to the accident scene. Get to a safe place and stay there. Then, if the setting is safe, you can get photos and videos of the accident scene. 
Consult With a Personal Injury Lawyer
Once you have attended to your medical needs and cleared the accident scene, it is essential to consult with a personal injury lawyer as soon as possible. Your right to be compensated for your injuries could be compromised as soon as the accident occurs. Even something you say in surprise at the scene of the accident could be used against you. You want a lawyer protecting your legal rights as soon as possible. 
What NOT To Do After a Car Accident
Just as important as knowing what to do after an accident is knowing what NOT to do. The things you say and do at an accident scene can impair your legal right to compensation. This fact is why it is essential to get a lawyer fighting on your side as soon as possible. But until then, here are some things you should NOT do at the scene of an accident: 
Do Not Admit Fault
It is easy to let something slip out in the chaotic aftermath of a frightening car accident. Many drivers accidentally say things like "I'm so sorry" or "this was all my fault." While this does not stop your attorney from proving that the other driver was at fault, it can make your case more difficult. Avoid discussing the accident altogether. 
Do Not Discuss What Happened to Cause the Accident
Even if it is immediately apparent that the other driver caused the accident, you still should not discuss what happened with other people at the accident scene. The insurance company might use these statements against you. The only person you should talk about the accident with is the law enforcement officer (or officers) who respond to the scene. Their job is to make an objective police report that gives the facts about the accident. If you discuss the accident with the other driver, you could end up escalating the situation into a dangerous confrontation. 
Do Not Confront the Other Driver
California is notorious for heavy traffic. This congestion leads to frustrated and cranky drivers, which can lead to dangerous confrontations on an accident scene. There is no good to come from trying to blame the other driver or get him to admit that he caused the accident. The insurance companies and lawyers will sort those issues out later. 
---
FAQ About Car Accidents
Most car accident victims are not familiar with the claims process. If you don't handle personal injury cases every day, you can't be expected to know how to file a claim, or what a fair settlement is in your case, or what to do if the insurance company will not make a fair settlement offer. Learn more about the claims process from our experienced car accident lawyers. Here are some of the most common questions they get from auto accident injury victims: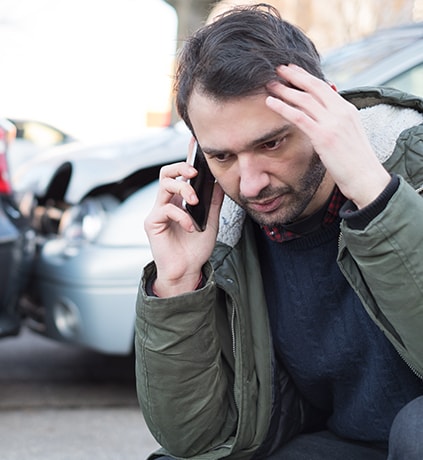 How do I file a police report? 
The law enforcement officers who respond to the scene have the responsibility to file a police report about the incident. This report is a critical piece of evidence. You usually can not get a police report unless the officers respond to the scene. The officers will take your statement about what happened. (While you should not discuss the accident with the other driver or bystanders on the scene, you should give your statement to the officers to be used in their official police report.) 
Where should I go to get medical treatment? 
If you need to leave the scene of the accident in an ambulance, do it! The emergency medical technicians will determine which hospital you will be taken to. From there, the emergency room doctors will give you information about following up with your primary care provider or other specialists as needed. If you do not feel it is necessary to leave the scene in an ambulance, you should still see a doctor as soon as possible. 
How do I know if I need follow-up medical care? 
The first doctor you see – whether it is at an emergency department, an urgent care facility, or your primary care doctor – will make recommendations for follow up care or ongoing medical treatment. Follow these recommendations closely. If you fail to follow your doctor's orders, the insurance company can once again try to claim that you made your injuries worse. You might need to have a specialist evaluate complicated injuries in the brain or spinal cord. You might also need physical therapy or chiropractic care to reduce your pain.
How do I file an insurance claim? 
If you have an auto accident attorney, you will not have to worry about filing a claim. Your attorney will handle the paperwork for you. He or she will also prevent you from saying something to the insurance company that could hurt your claim. If you choose to handle your case without an attorney, you will have to call the insurance company to file your claim. 
What should I say to the insurance company? 
The simple answer is as little as possible! Anything you say to the insurance company (even something as simple as, "I'm feeling alright today") could be used against you. This fact is why all communication about the claim must go through your attorney. If the insurance company does contact you, give them your attorney's information. 
What type of lawyer do I need? 
The best lawyer for your case will be someone who has experience with your particular circumstances. This experience includes both the type of accident and the type of injuries you have suffered. So if, for example, you suffered a traumatic brain injury after being hit by a truck, you should find a lawyer who has experience with both truck accidents and those types of injuries. The experienced personal injury lawyers at Arash Law have experience with many kinds of injuries and auto accidents.
What happens if I can't get a fair settlement offer? 
The insurance company will rarely make a fair settlement on the first try. Instead, they will try to lowball you with an offer that does not fully compensate you for your pain and suffering. These methods are why it is crucial to be represented by an experienced car accident lawyer. A lawyer knows how to respond to lowball offers and then prove what the claim is truly worth. 
If a fair settlement offer cannot be reached in negotiations, your lawyer might want to file a lawsuit on your behalf. In many cases, the mere fact that a lawsuit was filed is enough incentive to get the insurance company to raise its settlement offer. If not, the parties will engage in the discovery process, which involves investigating the case to find evidence that is then exchanged. Evidence found in discovery can also affect the insurance company's settlement offer. 
---
The Bottom Line
Will I have to go to court? 
If your attorney files a lawsuit on your behalf, there is a chance that you might have to come to court. Before trial, there are status conferences to handle scheduling and other administrative matters. You usually will not have to speak at these conferences. If the attorneys disagree on the evidence that can be used at trial, the court might hold a hearing to determine whether the evidence can be admitted.
While this may sound overwhelming, it is essential to understand that very few personal injury cases ever go to trial. The vast majority of car accident cases in the United States settle outside of court. This fact makes it unlikely that you will have to go to court, but if you do, your attorney will thoroughly prepare you for what to expect and what will happen. 
What will it cost me to hire a lawyer? 
Unlike criminal defense or divorce lawyers, who charge an hourly rate, most personal injury lawyers work on contingency. Working on contingency means that they will be paid an agreed-upon percentage of any eventual settlement. If you don't get paid, the attorney doesn't get paid. If the attorney must file a lawsuit on your behalf, the work required on your case goes up dramatically. This fact is why most personal injury lawyers often take a higher percentage if a lawsuit is filed on your behalf. There will also be court costs and litigation expenses, so it is important to be clear on who will pay those fees if the case goes to trial. 
The key thing to understand is that you can hire a personal injury lawyer with no upfront fees. Some injury victims do not get representation because they are worried about the cost. Not hiring a lawyer can lead to you hurting your claim. You might say something to the insurance company that leads them to believe you were at fault for the accident. 
Experienced, Aggressive Auto Accident Lawyers For All California Cases
There is a lot to learn about car accidents. You aren't expected to be an expert in auto accident claims – especially while you are recovering from painful injuries. Let the experts at Arash Law handle your case so you can focus on getting better. We serve clients in San Francisco, Riverside, San Jose, San Diego, Sacramento, Sherman Oaks, and throughout California. We have collected over 150 million dollars for clients across the state. Our California auto accident lawyers have decades of experience. They know how to negotiate fair settlement offers with insurance companies. We also know how to prove cases to win at trial. Call (888) 488-1391 or contact us online to schedule your free consultation. Don't wait to get legal advice: the sooner you have an experienced auto accident lawyer fighting on your side, the better protected your legal rights will be.