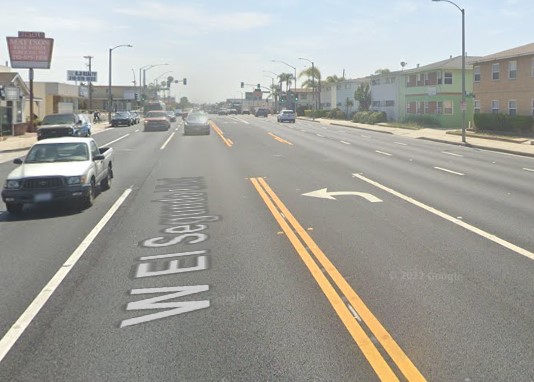 Authorities said a boy was killed and a man was hospitalized after being struck by a vehicle in Hawthorne on Sunday evening, January 08, 2023.
According to the Hawthorne Police Department, the fatal crash occurred around 8:35 p.m. near the El Segundo Boulevard and Truro Avenue intersection.
Initial investigation revealed that a man, a boy, and a girl reportedly left a laundromat and crossed the street when a vehicle eastbound on El Segundo struck them.
The man was transported to a hospital after sustaining injuries that were non-life-threatening, while the boy, about 12 to 13 years old, passed away from his wounds. They were believed to be related. No updates on the girl were released.
The driver that struck them stayed at the site and cooperated with the investigators.
Clothes can be seen lying around in the roadway as authorities investigated the collision.

Fatal Pedestrian Accident Statistics
The number of traffic fatalities decreased by 14 percent between 2007 and 2016, as reported by the Governors Highway Safety Association. Yet, over the two periods, there was a 27% rise in pedestrian fatalities.
In light of the preceding, it's reasonable to assume that the risk of serious injury or death for pedestrians in the United States as a result of automobile collisions will increase to levels never seen before in the not-too-distant future.
Eight hundred and nine people were killed and fourteen thousand were injured in car accidents in 2012. This means that the state of California has the highest rates of pedestrian accidents in the country, both fatal and nonfatal.
According to official data, there were about 6,000 people killed in car accidents in the United States in 2016. More and more people learned that 88 people were dying per minute in 2016. After a year, around 137,000 Americans were critically injured and hospitalized.
Pedestrian Accident Lawyers in Hawthorne
Injured pedestrians and the family of killed ones in the Golden State have the same rights as those who file a personal injury or wrongful death suits in the event of a car accident.
In the event that you or a loved one were to sustain life-threatening injuries as a result of someone else's carelessness, what steps would you take? Our highly regarded legal team stands ready to assist you in making a claim with your insurer if you or a loved one have been hurt or killed as a result of the negligence of another.
Our trusted pedestrian accident lawyers in Hawthorne have extensive experience and accolades advocating for accident victims. Our clients have been awarded compensation totaling $400 million.
Call (888) 488-1391 now or click the "Do I Have a Case?" on our website to set up a free consultation with one of our attorneys.