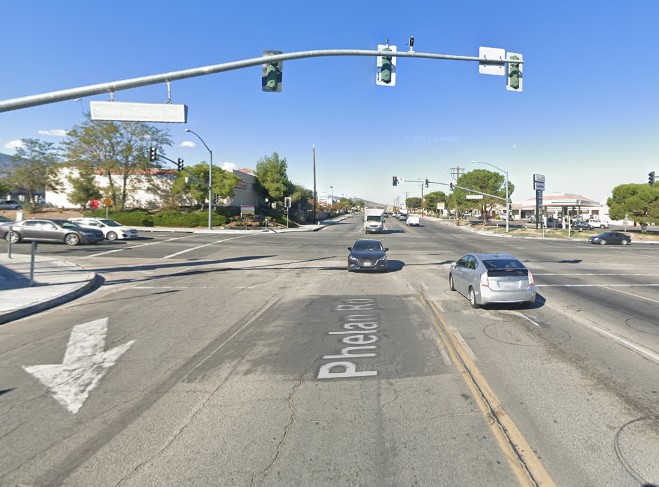 One person was critically injured following a multi-vehicle crash in Phelan on Monday morning, January 9, 2023.
According to reports, the collision transpired around 7:29 a.m. at Phelan Road and Sheep Creek Road intersection.
Authorities discovered that a Walmart semi-truck, a Nissan Frontier pickup truck, and an SUV were all involved and found one person in critical condition.
A helicopter was requested to transport the individual to a trauma center; however, the individual required CPR. The request was canceled since the individual was not stable enough to fly.
The victim was taken to a nearby hospital by ground ambulance, with lights and sirens activated.
According to his relatives, he was rear-ended by the SUV while waiting for the light behind the semi-truck.
Meanwhile, the SUV driver was not hurt, nor was the Walmart truck's driver.
The accident happened in the northbound left turn lane on Sheep Creek Road, closing it down for an investigation.
Further investigations into the crash are still ongoing.

Multi-Vehicle Crash Statistics
Car accidents exceed all other sorts of accidents in terms of severe injuries and fatalities among Americans. About 200,000 people are killed or seriously injured in car accidents every year.
A car collision occurs every 60 seconds, based on statistics from the National Highway Traffic Safety Administration (NHTSA). In 2016, there were over 3,300 fatal car accidents in California. Over 94% of all accidents are caused by preventable human error.
According to the National Safety Council, automotive accidents kill one out of every ten people in the United States annually. In 2019, three thousand eight hundred ninety-eight people were killed, and over 2,765,000 others were injured in car accidents in California. Since 2013, the number of fatalities and injuries caused by car accidents has climbed by 23.5%.
Three or more automobiles are involved in a multi-vehicle accident. Six vehicles could become trapped in a car collision wreckage.
Multi-vehicle crashes are less likely to result in fatalities, major injuries, or property damage than traffic accidents. Those in the vicinity may be hurt if someone loses control or has poor situational awareness. In most circumstances, such a crash is more likely to occur.
Car Accident Lawyers in San Bernardino County
Multiple people are usually injured in multi-vehicle incidents. Victims frequently get serious brain injuries, spinal injuries, fractures, and abrasions. After suffering from these diseases, a person may require years of therapy and substantial healthcare bills to get back into shape.
Accidents can harm a person's mental and emotional health and physical health. As a result, receiving legal advice as soon as possible is crucial to avoid future problems.
Our car accident attorneys in San Bernardino County can assist you if you have been injured in a car collision. Their knowledge and experience in handling situations like these make them well-versed in this field.
Our legal team works tirelessly to ensure that every client receives the compensation to which they are legally entitled to win their case.
Have you been in a car accident? To schedule a free case evaluation with one of our attorneys, call (888) 488-1391 or fill out the "Do I Have a Case?" form on our website.