An elderly Asian woman was shoved down by a stranger in Oakland Chinatown on Monday morning, January 10, 2022.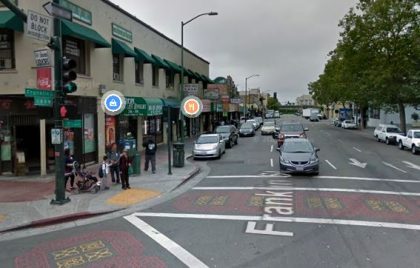 The attack happened near 9th and Fraklin in broad daylight. CCTV footage revealed that the older woman was walking slowly when she was suddenly shoved from behind by the attacker.
It's unclear what motivated the suspect to push the older lady. The older woman then fell on the sidewalk. A bystander came to her aid and helped her get up.
Unfortunately, the suspect was not identified. The suspect walked away from the scene and did not help the woman.
The elderly Asian woman sustained minor scrapes to her legs. She was described to be approximately 70 years old and is around 5'0 tall.
Once caught, the suspect will most likely be charged with assault with force likely to cause bodily injury and elder abuse. He was last seen walking northbound on Franklin Street.
The case is currently under further investigation. Witnesses that can give more information about the incident are urged to contact the Oakland Police Department's General Crimes Unit at (510) 238-3728.

Elder Abuse Statistics
According to the California Welfare and Institutions Code Section 15600, elders (defined as anyone older than 65 years of age) and dependent adults are legally protected from various types of neglect and physical abuse.
Physical Elder abuse includes violent contact with the victim. Some examples could be punching, slapping, or hitting. It can also involve being physically restrained violently or too tightly.
At least 10% of adults 65 and older will encounter some elder abuse in any given year, with some older adults enduring more than one type of abuse at the same time.
It's unclear whether race was also a factor in the assault. The nationwide Stop AAPI Hate coalition recorded over 9,000 documented anti-Asian events in the United States since the pandemic began in August of last year. In California, the state attorney general reported that anti-Asian hate crimes increased by 107 percent in 2020.
Elder Abuse Attorneys for Victims in Alameda County
Senior citizens are regrettably not always treated with the respect they deserve. Because of their advanced age, criminals see an opportunity to take advantage of them financially through schemes and fraud.
Common elder abuse methods include tricking an older adult into purchasing a product, misleading them into believing that they have won some grand prize, or posing as their primary caretaker to access their property illegally.
Any form of elder abuse is a direct attack on the fabric of our society. A California elder abuse injury attorney can help you accomplish your legal objectives while ensuring that you or a loved one is adequately protected and cared for.
Please speak with one of our Alameda County Elder Abuse Attorneys from Arash Law now! Call (888) 488-1391 or contact us online to schedule your free consultation.