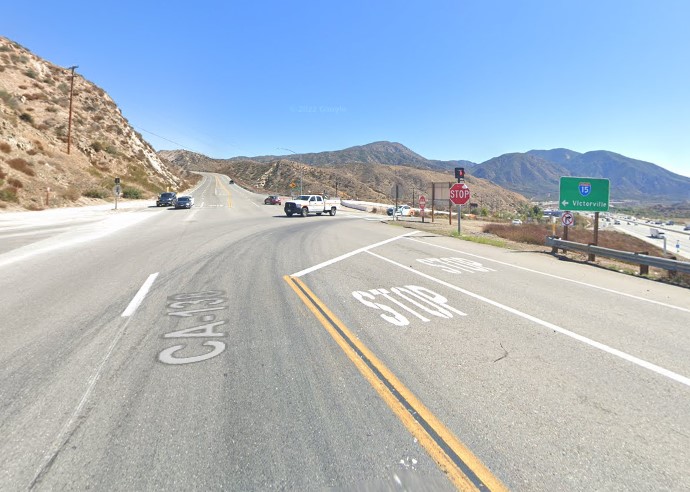 Two people were hospitalized following a single-vehicle collision near Cajon Junction in San Bernardino County on Tuesday afternoon, January 17, 2023.
According to the California Highway Patrol, the solo car crash occurred shortly before 12:46 p.m. along Highway 138 in the westbound lanes, east of Interstate 15.
The vehicle involved, a black SUV, was heavily damaged after it hit a pole and toppled over, coming to rest on its roof and trapping one person inside.
Responders from the San Bernardino County Fire Department extricated the trapped victim listed in critical condition. After a request for a helicopter was canceled, the injured victim was transported via ambulance to Arrowhead Regional Medical Center.
Another occupant of the vehicle sustained minor injuries, requiring a second ambulance. The authorities released no details on their current condition.
Highway 138's entire westbound lanes were shut down during the rescue. No other information is available as CHP looks further into the crash.

Car Accident Statistics
It seems to reason that risky habits such as speeding, drunk driving, and inappropriate usage of safety devices like seatbelts contributed to a rise in traffic fatalities in 2020, as anticipated by the National Safety Council.
The 8.3% spike in traffic-related fatalities is extremely troubling in view of the three-year declining trend in fatalities. The number of people killed in car crashes rose from 39,107 in 2020 to 42,338 the following year.
In 2020, the world's population have increased by 0.4% from its all-time high in 2010. The normal levels of traffic activity, including the number of persons and cars on the road and the number of miles driven, were notably higher than usual. There is a close relationship between the rise in deaths (up 21.7%) and the rise in new car registrations (8.5%).
The number of people injured in motor vehicle collisions expected to visit emergency rooms in 2020 is 4.81 million, according to projections made by those in the know. Over $473.2 billion was projected to be spent on care for persons harmed in car accidents.
Car Accident Lawyers in San Bernardino County
Injured passengers in a car accident in California can sue the driver and any other parties they find liable. Please get in touch with a member of our legal team as soon as possible if you have any queries or need assistance submitting an insurance claim.
If you or a loved one has been hurt in a car accident, don't wait to get in touch with our reputable legal company for help with a wrongful death or personal injury claim.
Our trusted car accident lawyers in San Bernardino County have the recognition and vast experience advocating for accident victims. Our clients have been awarded compensation totaling $400 million.
Contact (888) 488-1391 or click the "Do I Have a Case?" on our website to schedule a free consultation with one of our lawyers.