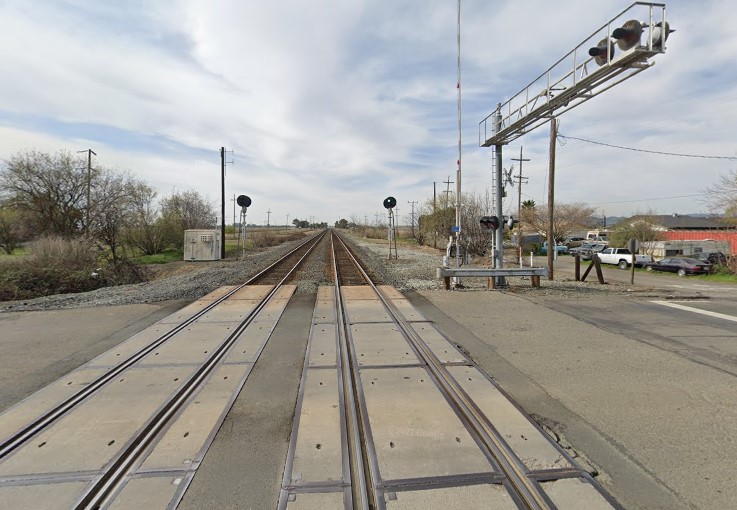 A fiery train collision involving an AmTrak killed one person near Vacaville early Thursday afternoon, January 19, 2023.
Reports indicated that the deadly crash occurred around 12:30 p.m. near California Pacific and Elmira roads.
Authorities immediately responded to the scene and discovered a fully engulfed automobile.
According to officials, one person died, and no one else was in the vehicle. When the car was hit, the railway crossing arms were down.
Train movement on the Capitol Corridor was delayed due to the collision. A report from Capitol Corridor showed that Train 532 was stuck in Fairfield-Vacaville, while Train 543 was delayed in leaving Sacramento.
Approximately a hundred people were on board the train when it crashed, and AmTrak worked with authorities to determine the cause.

Fatal Train Collision Statistics
According to the National Transportation Safety Board, pedestrians are killed in train accidents more frequently than in automobile accidents. Unsafe crossings, outdated or missing safety equipment, and insufficient warning systems cause most fatal train accidents.
Every two hours, a train collides with a person or a car. A train accident kills over a thousand people every year. The number of people who were injured exceeded 2,300, with 600 people being killed.
In terms of efficiency, trains are the best mode of transportation. A conductor's skill level and the frequency of repairs contribute to the safety of passengers and employees. Passengers are at risk as a result of their recklessness or inadequate shortcuts.
U.S. train accidents have claimed nearly 7,200 lives since 1997. Train crashes with pedestrians are currently the primary cause of mortality on American railroads, outnumbering all other reasons.
Derailments, worn-out tracks, contempt for safety requirements, insufficient security, and other irresponsibility are the most common causes of railway accidents.
Trusted Train Accident Attorneys in Vacaville
Most people have taken the subway or other public transportation at some point. Accidents still occur despite being a reasonably safe and effective transportation method.
The risk of injury or death in a train accident is lower than for many other modes of transportation, but it is still present. You may be eligible for compensation when a train accident causes you, or a loved one injury.
Count on our legal team to contact your insurance company to ensure your accident-related expenses, such as lost wages, medical care, and pain and suffering, are covered.
Our train accident lawyers in Vacaville have considerable experience fighting for the legal rights of those injured in train accidents. Our goal is to ensure that you can focus on your recovery while we pursue the compensation you deserve.
You can reach us at (888) 488-1391 or fill out our "Do I Have A Case?" form online to schedule a free legal consultation.