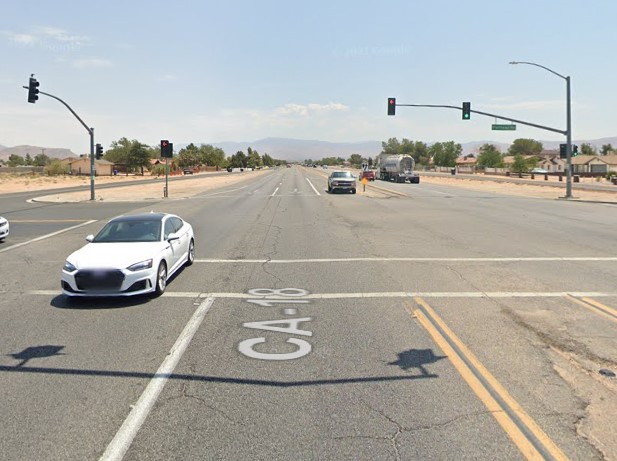 An 86-year-old man was killed, and another was injured after a two-vehicle collision in Apple Valley on Sunday morning, January 22, 2023.
According to reports, the crash occurred around 6:03 a.m. on State Highway 18 near the intersection with Flathead Road.
Authorities responded to calls and discovered a black 2015 Dodge Challenger traveling westbound on State Highway 18 and a red 2016 Kia Sorento traveling northbound on Flathead Road.
It is still unknown which car failed to stop at the red traffic signal, leading the two vehicles to collide in the intersection.
The Kia's driver, 86-year-old Byron W., was taken to St. Mary's Hospital, where he succumbed to his injuries and was pronounced dead.
Meanwhile, the Dodge driver was sent to St. Mary's Hospital with minor injuries.
Major Accident Investigative Team (M.A.I.T) investigators arrived and conducted an investigation.
For roughly 2 hours, all lanes of State Highway 18 between Kiowa Road and Dale Evans Parkway were stopped as investigators analyzed the scene for evidence.
Anyone with information about the collision or who witnessed it is asked to call Deputy R. Grissom at the Apple Valley Sheriff's Station at (760) 240-7400 or Sheriff's Dispatch at (760) 956-5001.

Fatal Two-Vehicle Collision Statistics
According to the Fatality Analysis Reporting System, 35,766 individuals were killed in traffic accidents in the United States in 2020. There were 1.34 deaths for every 100 million kilometers traveled or 100,000 individuals.
Accidents that result in injuries or permanent disability affect between 20 and 50 million individuals globally. In the United States, there are around 3,287 road fatalities per day.
Unintentional road fatalities are common in California; over 10,000 individuals are killed in car accidents yearly. This graph depicts the gravity of the situation.
Tens of thousands of automobiles are on the road every day. It is critical to use safety precautions while driving. Avoiding drunk driving, utilizing child safety seats and seat belts, boosting visibility, and using appropriate lamps and road illumination can all help prevent such tragedies.
Car Accident Attorneys in Apple Valley
Recovery may take a longer time and require more effort for accident-traumatized individuals. They may have difficulty finding employment and be in substantial debt due to medical expenses.
After filing an insurance claim, it takes time to decide what to do. Our firm aims to help you and your lawsuit succeed during these difficult times.
Getting compensation from the negligent party or their insurer can help reduce your financial burden. To ensure a successful outcome in your case, consult with an experienced lawyer who can guide you through the lengthy legal process.
Our car accident attorneys in Apple Valley are dedicated to helping clients achieve the best possible results. We work to reduce the time it takes to recover so you can get back to your routine as soon as possible.
To find out more about your legal options, call us at (888) 488-1391 or submit our "Do I Have A Case?" form online.