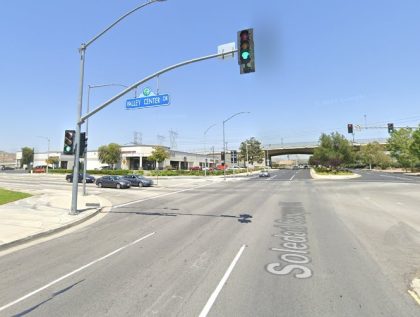 A pedestrian collision injured a skateboarder in Santa Clarita on Monday night, January 30, 2023.
According to authorities, the crash occurred around 6:00 p.m. at Valley Center Drive and Soledad Canyon Road.
Reports confirmed that an SUV struck the victim. Paramedics transported him to a trauma center in an unknown condition.
Details surrounding the victim's condition have not been released.
Further details into the collision are underway.

Pedestrian Collision Statistics
A new report from the Governors Highway Safety Association estimates that 7,485 pedestrians were killed in 2021 as a result of being struck and killed by vehicles, which is a record high for the past 40 years.
Speeding was a factor in 8.6% of pedestrian fatalities in 2020, up from 7.2% in 2019. Safety for pedestrians is greatly influenced by speed. The risk of a pedestrian dying increases rapidly with vehicle speed, from 10% at 23 mph to 90% at 58 mph.
Almost always, a pedestrian struck by a car sustains serious injuries. When a vehicle collides with a group of pedestrians, they will be most injured.
Failure to yield to pedestrians or braking too suddenly is one of the leading causes of pedestrian fatalities and injuries.
It is advised that pedestrians always use sidewalks, abstain from drinking or using drugs while walking, and proceed with caution when crossing parking lots or driveways. Thus, they will be less likely to sustain injuries in these collisions.
Police Report: How to File One Following an Accident
If a collision occurs, make sure that the police are called, and a report is filed. Be honest about what you observed and experienced when questioned at the accident scene. Avoid making assumptions about situations with which you are unfamiliar, and exercise caution when speaking. Due to shock and anxiety, victims may apologize profusely for an accident even if they weren't at fault. Insurance companies may use this act of kindness as evidence that you admitted guilt to deny your claim.
In California, many traffic accidents have injured pedestrians, cyclists, and car passengers. Regardless of whether you were a passenger in a moving vehicle at the time of the incident, our knowledgeable car accident lawyers are available to assist you. As you focus on getting better, we'll pursue the money you're owed under the law while we keep you informed of our progress.
Pedestrian Accident Lawyers in Santa Clarita with a Winning Track Record
The safety of the pedestrian should always come first, even when a crosswalk is not strictly required. In collisions with other vehicles, pedestrians always have the right of way. Any driver who is thought to be breaking the law will be interrogated.
It can be a lengthy process to file an insurance claim. Our firm will successfully handle your lawsuit.
Your financial burden might be lessened by compensation paid by the responsible party or their insurer. It is best to speak with an experienced lawyer who can help you win your case and has experience navigating the convoluted legal system.
Our Santa Clarita pedestrian accident lawyers strive to meet our clients' needs with the highest level of service possible. After a severe injury, we work hard to get you back to your routine as soon as possible.
You can find out more about your legal options by calling (888) 488-1391 or filling out our online "Do I Have A Case?" form.