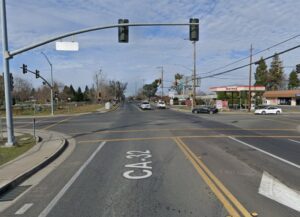 A pedestrian crash claimed the life of an unidentified person in Chico on Friday night, February 24, 2023.
Authorities reported that the collision occurred around 6:15 p.m. on State Route 32 at the intersection of E. 8th Street.
According to reports, responders were notified of a vehicle versus pedestrian report.
Deputies immediately performed life-saving measures on the pedestrian. The victim suffered severe injuries and was pronounced dead at the scene.
It was corroborated by a witness that a vehicle had struck the pedestrian near the intersection.
Alcohol and drugs do not appear to be a factor in this collision.
Officials stated that the intersection at Forest Avenue was still closed to westbound State Route 32 traffic. They anticipated that the road would reopen around 8:30 p.m.
Anyone with information about this collision should call the Chico Police Department's Traffic Unit at 530-895-4911.

Fatal Pedestrian Accident Statistics
Speed-related pedestrian fatalities increased from 7.2% in 2010 to 8.6% in 2020. The impact of speed on pedestrian safety is significant. The fatality rate rises with vehicle speed, reaching 90% at 58 miles per hour.
Governors Highway Safety Association reports that pedestrian deaths totaled 7,485 in 2021, the highest number in forty years.
In 2016, 5,937 pedestrians were killed in the United States. Predictions show that eighty-eight people died every minute until the end of the year. Approximately 137,000 pedestrians were injured in 2017 and required medical attention.
California is the state with the highest number of pedestrian fatalities and accidents. In 2012, approximately 14,000 pedestrians were injured, with 893 deaths.
When crossing parking lots and driveways, use caution. They must stay on the sidewalks, avoid drugs and alcohol, and stay on the sidewalks. Following these guidelines can help lower your chances of being injured in an accident.
What Should I Do Following an Accident
A police report can be obtained from the local police department where the accident occurred.
You may obtain a copy of your report from the police department by providing them with the necessary information. Alternatively, if you cannot receive a copy of your report directly from the police department, you may submit a request through us. Our online form can be used for this purpose.
Upon receiving your request for a copy of your report, we will begin the claims process on your behalf without charging you any upfront fees. Our team will assist you in obtaining all the documentation and information you need.
Trusted Pedestrian Accident Attorneys in Chico
Pedestrian safety is always a top priority, even when crosswalks are not required. In car and pedestrian accidents, pedestrians should always have the right of way. An individual will be questioned if they commit a legal offense.
A "wrongful death lawsuit" allows the victim's family to seek financial restitution for their loss. Damages may be sought for economic and psychological losses incurred due to a victim's death.
You can rely on our Chico pedestrian accident attorneys at Arash Law, led by Arash Khorsandi, Esq., to fight for your rights and ensure you obtain the maximum settlement possible.
Holding drivers accountable can help to reduce traffic accidents. For a free case evaluation from our legal team, call (888) 488-1391 or fill out our website's "Do I Have A Case?" form.