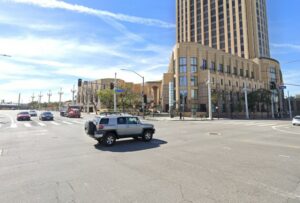 Three people, one of whom was trapped, were injured when their car collided with a pole in Downtown Los Angeles on Friday, February 24, 2023.
The Los Angeles Fire Department occurred around 1:02 a.m. at Vignes and Cesar E. Chaves Avenue.
The authorities discovered three victims inside a sedan that had struck a light pole.
The trapped victim was thought to be in critical condition. A third victim was in stable condition, and there was another victim inside the car in serious condition.
All three victims were taken by LAFD to a nearby hospital.
The Los Angeles Police Department is handling the crash investigation.

Single-Vehicle Crash Statistics
The Fatality Analysis Reporting System reports 38,824 fatal motor vehicle accidents in the United States in 2020, with 35,766 people killed. There were 1.34 or 11.7 fatalities per 100,000 people for every 100 million miles driven.
Unintentional traffic events cause approximately 10,000 fatal car accidents in California each year. This diagram depicts the gravity of the situation.
California has seen a 23.5% increase in fatal car accidents since 2013. In 2017, 3,898 people died in 4,850,866 car accidents, while 276,823 were injured.
To protect your safety and the safety of those around you, you must obey traffic laws, maintain a safe following and leading distance, and drive with caution. There are still fatal car accidents every day, despite these precautions.
What Should I Do After an Accident?
When you get involved in a collision, it is crucial to contact the appropriate authorities immediately. Don't provide any assumptions when being questioned. Simply tell them what happened.
Even though they had nothing to do with the incident, the victim may nonetheless feel responsible for it. Such behaviors can provide the insurance company with an excuse to reject the claim.
If you formally request it, the relevant authorities must give you a copy of the report. If you'd like us to submit the request for you, please fill out our online form. As soon as we have the report, we'll get started on your case. Get a free evaluation of your insurance claims right now.
Los Angeles County Car Accident Lawyers
You have the right to file a lawsuit against the person responsible for your injuries if the accident occurred in California and you were a passenger in the vehicle. Contact an attorney on our team as soon as possible to explore options for resolving your insurance claim.
If you or a loved one have been injured and you want to discuss your options in the event of a personal injury or wrongful death lawsuit, please don't hesitate to contact us for a free consultation with one of our specialists.
Our trusted Los Angeles County car accident lawyers at Arash Law, led by Arash Khorsandi, Esq., have the recognition and vast experience advocating for accident victims. Our clients have been awarded compensation totaling $400 million.
Contact (888) 488-1391 or click the "Do I Have a Case?" on our website to schedule a free consultation with one of our lawyers.