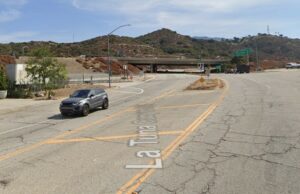 A man was killed after a car collided with a largely dry flood control channel in Tujunga on Friday, February 24, 2023.
According to the Los Angeles Fire Department, the collision happened around 3:10 p.m. in the 6300 block of West La Tuna Canyon Road.
According to LAFD's Brian Humphrey, one man in the car was ejected and died at the scene.
Two additional men were able to leave the car by themselves before the firefighters arrived.
They were transported by ambulance to a hospital with non-life-threatening injuries for those two men.
Fire crews took the car out of the roughly 4-foot-wide flood control channel. It wasn't clear if the rain contributed to the collision.

Fatal Single-Vehicle Crash Statistics
According to the Fatality Analysis Reporting System, 38,824 fatal car accidents in the United States in 2020 resulted in 35,766 fatalities. For every 100 million miles driven, there were 1.34 or 11.7 fatalities for every 100,000 people.
In California, unintentional traffic events result in approximately 10,000 fatal car accidents yearly. This figure illustrates the severity of the problem.
Since 2013, California has experienced a 23.5% increase in fatal car accidents. Three thousand eight hundred ninety-eight died in 4,850,866 car accidents in 2017, while 276,823 people were injured.
You must observe traffic laws, keep a safe following and leading distance, and exercise caution when driving to protect your safety and those around you. Even with these precautions, fatal car accidents nevertheless happen often.
What Should I Do After an Accident?
It is crucial to file a police report after gathering information, assuming it is safe to do so. This allows the police to keep information on what happened during the accident on a central database, keep those records on file within the police department, and ensures that that information is held securely in one place.
If the police are not present at the scene of an accident, you can contact your local police department via phone or in person and file an accident report. If the police are not present at the scene of the collision, they will collect that information, and a police report will be rendered after the fact.
Los Angeles County Car Accident Lawyers
Accident victims who suffer serious injuries may need additional time and effort to recover completely. In addition, they may be unable to find employment and have to deal with significant medical debt during this period.
Insurance claims can be challenging to process. Working with our firm will ensure that your lawsuit will be successfully settled.
Your financial burden can be eased if you seek monetary compensation from the negligent party or their insurance company. It is best to hire an experienced attorney who can guide you through the complicated legal process and assist you in winning your case.
Our Los Angeles County car accident lawyers at Arash Law, led by Arash Khorsandi, Esq., are dedicated to assisting our clients in meeting their legal needs. You may rely on us to expedite the process so you can resume your regular activities as soon as possible.
Contact us at (888) 488-1391 or fill out our online "Do I Have A Case?" form to learn more about your legal options.