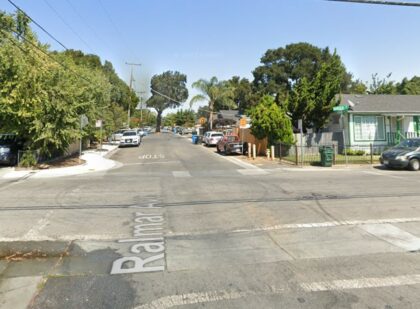 A hit-and-run crash claimed the life of a 64-year-old man in East Palo Alto on Sunday morning, February 26, 2023.
Reports confirmed that the deadly collision transpired around 10:08 a.m. on the 2200 block of Ralmar Avenue.
When authorities arrived, they discovered that the accident involved a car and a pedestrian and that the vehicle may have fled.
The victim was discovered unconscious and injured on the driveway of a home. He was taken to the hospital and died there.
According to officials, the victim was discovered unconscious and injured on the driveway of a home. It was determined that the victim had died at the hospital.
Three vehicles parked in the area were also hit.
The car that hit the man was discovered about a block away, where it had collided with two other vehicles and a home's fence.
Initial investigation revealed that the driver was not under alcohol or drugs.
The police provided no information about the driver or whether the driver knew the victim.
Those with information are urged to call the East Palo Alto Police Department.

Fatal Hit-And-Run Crash Statistics
As per the AAA Foundation for Traffic Safety, hit-and-run accidents injure or kill 680,000 people annually. Hit-and-run accidents have claimed more lives in recent years. In 2020, these accidents were responsible for 24% of pedestrian fatalities.
The term hit-and-run refers to a vehicle colliding with another and escaping without stopping to help the injured.
Aside from the anguish and financial and emotional costs, hit-and-run injuries can cause victims to be injured due to negligence or a delay in treatment.
Accidents involving pedestrians are most commonly caused by distracted driving. A driver can talk on the phone, communicate with passengers, or change the radio while driving. You are more likely to miss someone crossing the street when you multitask.
Wearing bright clothing in certain situations is critical to reducing the likelihood of an accident. By crossing the street cautiously, you allow approaching cars to see you.
How Do I Obtain a Police Report After an Accident
We can help you obtain a police report after an accident.
All we need is details about what happened and where it happened. Once we have contacted the appropriate parties, we can provide all the necessary information.
Our team handles this process for every client, so there is no need to worry that your insurance will cover any damages or accidents – we will ensure they are covered!
Hit-And-Run Accident Attorneys for Victims in East Palo Alto
After an accident, traumatized victims may need significant time and effort to recover. Consequently, they may have to pay a substantial amount for medical treatment and be unable to work.
Anyone injured in such an accident must seek legal counsel immediately. Even hit-and-run drivers may be liable for their damages even if they are never caught.
With our legal team on your side, you can be assured that your case will be handled professionally and appropriately. In all cases, reckless drivers must be held accountable for their actions.
You can rely on our East Palo Alto hit-and-run accident attorneys at Arash Law, led by Arash Khorsandi, Esq., with a successful record of assisting victims of hit-and-run accidents in these legal proceedings. We will seek the settlement you are entitled to without asking for any out-of-pocket expenses.
Call us at (888) 488-1391 or fill out our online "Do I Have a Case?" form to schedule a free consultation with our reputable legal team.