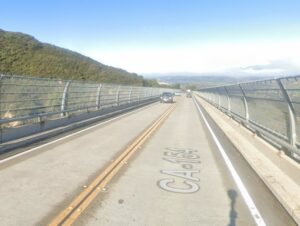 Three people were hospitalized after a multi-vehicle crash in Santa Barbara County on Sunday morning, February 26, 2023.
The collision reportedly occurred around 7:30 a.m. on the Cold Spring Bridge.
When firefighters arrived, they discovered icy road conditions, including a semi-truck, had caused an eight-vehicle crash.
An older man with moderate injuries needed to be extricated and two pregnant women were taken to the hospital as a precaution.
According to officials, the highway was closed for an unknown period.
The roadway was completely blocked as of 8:15 a.m. as crews worked to clear the scene.

Multi-Vehicle Crash Statistics
The National Highway Traffic Safety Administration reports 36,560 people were injured and 33,654 died in car accidents in 2017.
One of every four traffic accidents involving multiple vehicles is fatal, and 13,000 people are killed in similar situations yearly. California has the nation's highest rate of fatal car accidents.
Multi-vehicle accidents are more likely than traffic accidents to cause property damage and severe fatal injuries. When someone lacks situational awareness or control, those around them may be affected. The majority of the time, these crashes occur.
Keep an eye on the road, monitor your speed, and pay attention to your surroundings to avoid being involved in these catastrophic incidents.
What To Do Following an Accident
For a police report regarding the accident, you should contact the local police department. Your local police department can provide you with the necessary information to obtain a copy. We can provide you with a copy of your police report if you are still waiting for one from the police department. Fill out our online form to do so.
Upon receiving your request for a copy of your report, we will begin the claims process without charging you anything. We will work closely with you until all necessary documentation and information are obtained.
Trusted Car Accident Lawyers in Santa Barbara County
Multi-vehicle accidents frequently result in multiple injuries. Injuries such as fractures, abrasions, spinal cord injuries, and head injuries are common among victims. The recovery process may require years of therapy and hefty hospital bills.
In addition to affecting one's physical health, accidents can also negatively affect one's emotional and psychological health. Due to this, it is critical to seek legal counsel as soon as possible to avoid further complications.
Our Santa Barbara County car accident lawyers at Arash Law, led by Arash Khorsandi, Esq., are prepared to help if you have been hurt in a similar accident. They specialize in dealing with these types of situations daily.
Our attorneys are dedicated to each case they handle and work hard to ensure clients receive their due compensation.
Our firm can help you with all of your legal issues. Call (888) 488-1391 or complete the "Do I Have A Case?" form online to schedule a free consultation.